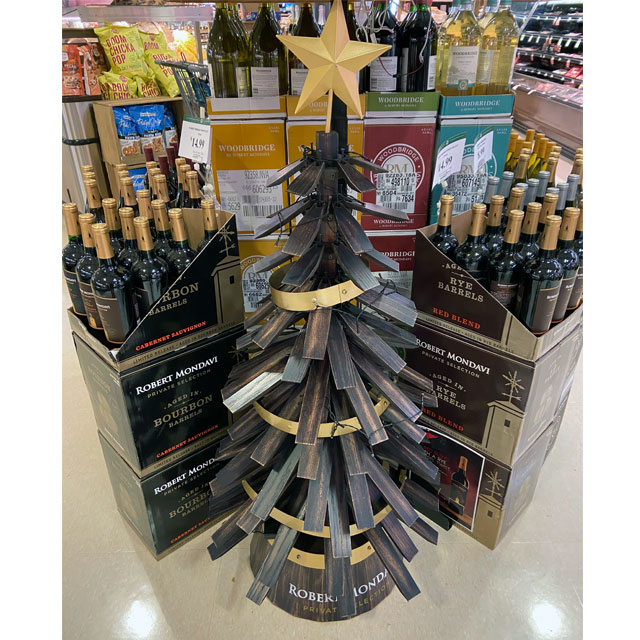 Winemaking With Time-Honored Tradition
Robert Mondavi celebrated the holidays with a seasonal release of barrel-aged wines known as their Private Selection. To help support retail marketing efforts, the brand created this tree display to promote their Bourbon Barrel-Aged Cabernet Sauvignon and Rye Barrel-Aged Red Blend.
About the aging process……Our unique Bourbon Barrel-Aged Cabernet Sauvignon & Chardonnay, Rum Barrel-Aged Merlot and Rye Barrel-Aged Red Blend bring together meticulous winemaking with the time-honored tradition of aging fine spirits in oak casks. After our winemaker crafts our Cabernet Sauvignon, Chardonnay, Merlot and Red Blend, select lots are chosen to be aged in bourbon, rum or rye barrels, lending character and complexity of flavor and creating special wines to be savored slowly.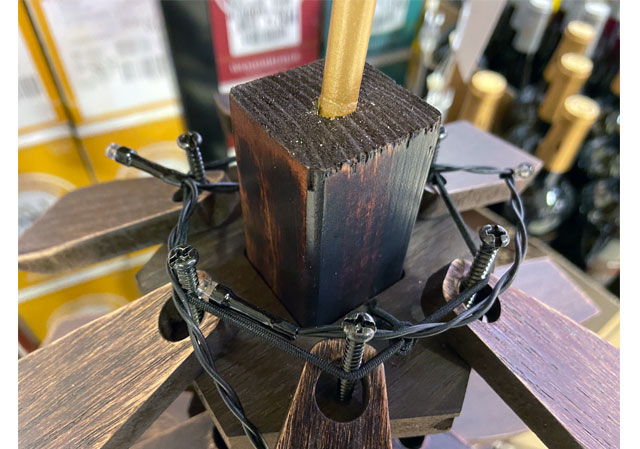 The construction of the tree display is quite elaborate from a production perspective. The main 'trunk' support was a stained 2 x2 post that had hexagonal pieces attached to it. Each of the hexagonal pieces had several screws drilled into place which supported wood blanks…….resembling wood used to construct barrels. Can't say if the wood planks were from actual barrels but regardless, they sure looked convincing.
Other neat elements used on the display were the gold bands that separated the wood tree branches, string of twinkle lights and a festive tree topper to complete the holiday look.
Related
Robert Mondavi Barrel Aged Floor Display
Robert Mondavi Wines Floor Display
Bubble Display Highlights Tradition
Sources include:
Robert Moldavi