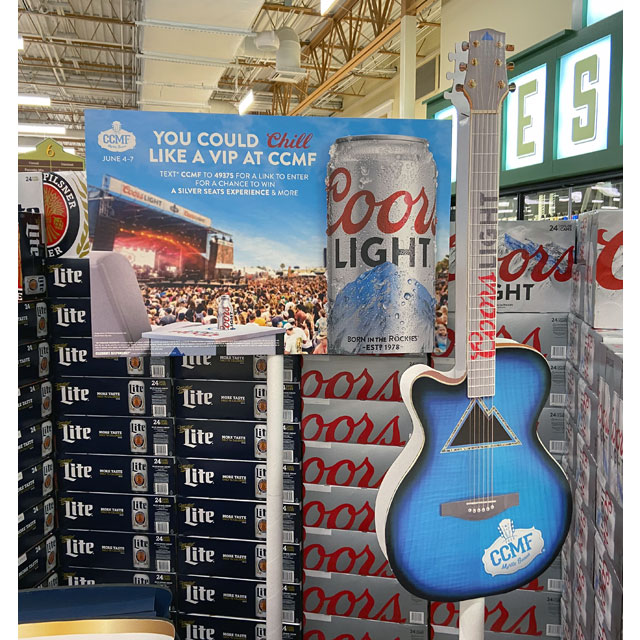 Hey music lovers, save the date for the Carolina Country Music Festival 2020 to enjoy 3 days of country's hottest artist. Originally planned for June 4-7, the event had to be rescheduled for September 17-20 because of the 'virus'. Named by Billboard as one of the top country music festivals, the CCMF brings dozens of artists to perform on the scenic shores of Myrtle Beach, SC.
Coors Light has partnered up with the CCMF to give music fans a chance to win the ultimate Country Music Fest experience. In addition to several instant win game prizes, fans can enter to win the grand prize – an all-expenses paid package – which includes two 4-day main stage VIP passes, four nights hotel accommodations and a single-day "Silver Seats" VIP experience for two………..which is sponsored by Coors Light.
Coors Light is running an in-store promotion to bring attention to the event and their Silver Seats sweepstakes contest using this stacker-style pole display. One of the poles highlighted the Silver Seats Experience via the large image showing fans partying down at the festival. The other pole displayed a two-sided guitar branded with both partners logos. The nice thing about using pole displays around stacked cases of product is the flexibility retailers have to position both pole displays together or independently.
If you want to view more pole displays, visit the image gallery. Once there, use the DISPLAY TYPE drop down button to select Pole. You can also type the words POLE DISPLAYS into the search box to pull up the results.
Related
Coors Light Frozen Guy Standee
Coors Light Inflatable Shoulder Pads