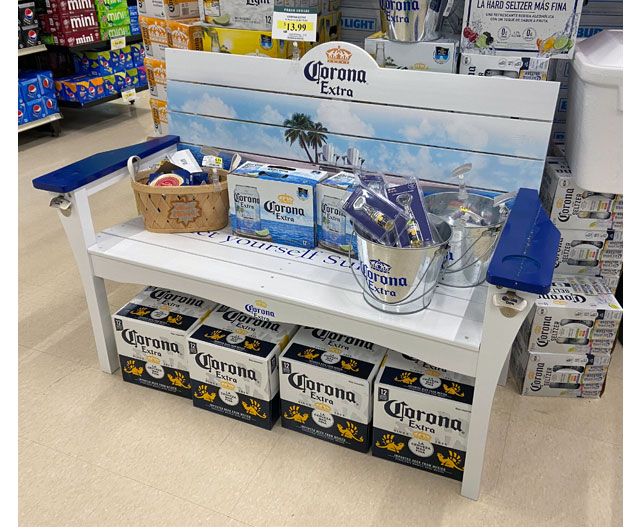 Mexico's Grupo Modelo, the maker of Corona beer that's owned by Anheuser-Bush InBev, recently reported a strong uptick in sales despite the coronavirus and its impact on the brand.
"Most consumers understand Corona the brand has nothing to do with corona the virus. Our consumers are very comfortable with the brand and the results speak for themselves. Recent data show our Corona brand is up over 20%. So very strong performance," Constellation Brands CEO Bill Newlands said on Yahoo Finance's The First Trade.
Corona is weathering the storm with in-store promotions to help manage the negative publicity and keep the brand front and center. On a recent store check, we spotted one of their ongoing promotions in the beer aisle.
Known for their beachy campaign themes, the brand played off the fun-in-the-sun with this Corona bench display. Bright and durable, the bench was produced using wood that was printed with, you guessed it, beach graphics! The bench is fully functional, complete with two branded bottle openers on each end.
Related
Corona Extra Airplane Ceiling Display
Coach Gruden Corona Extra Display
Corona Find Your Beach Stacker Display
Sources include:
Yahoo finance