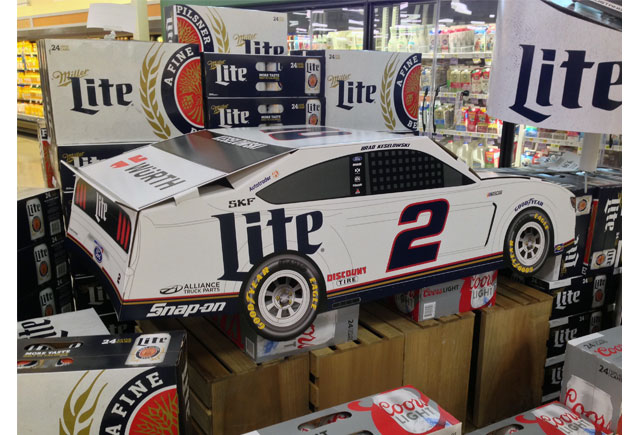 MillerCoors drove into retail just in time to kick off the NASCAR season for the first of two Daytona 500 races. Last year's Daytona 500 went flat with no beer sponsorships on any of the cars but that is changing in 2019 with several breweries climbing in for a ride.
To help support Team Penske and Miller Lite, the brewery rolled out a one-two punch with this stacker display.
"The Team Penske partnership is one of the longest in MillerCoors' history, and it continues to be one that gives us a lot of pride," said Adam Dettman, director of sports and entertainment at MillerCoors.
The number 2 Miller Lite car, driven by 2012 NASCAR Cup champion Brad Keselowski, was the star on this display. Featured as a miniature replica, the race car was designed to rotate on a battery powered oval which was wrapped with brand messaging. Another larger car was used as a standalone piece. MillerCoors is hoping to rev up sales with this great display.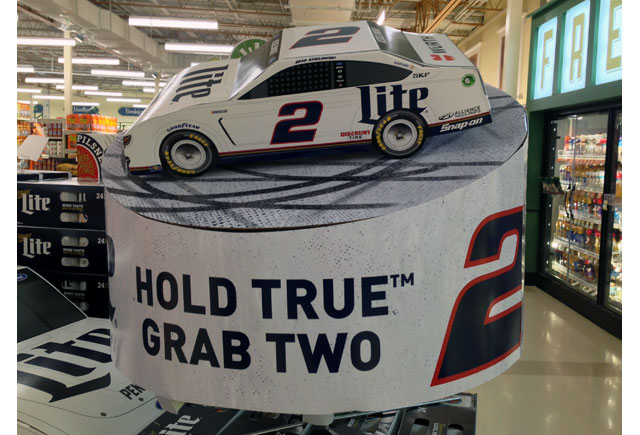 If you want to view more beer displays, visit the image gallery and type the word beer displays into the search box…….click enter or use the magnifying glass icon to see search results.
If you would like your display images uploaded into our global image gallery, click here to learn more.