The pet industry continues to outpace most other retail segments in 2015 with pet owners spending almost 60 billion dollars. According to a recent PRWEB press release, "Increases in spending are being led by both ends of the pet owning spectrum- aging baby boomers paying more to provide care for their pets and younger Gen Y owners who prefer the conveniences of high-tech and pampering products and services," said Vetere, President and CEO of the American Pet Products Association
Pet services led the spend pool, followed by food and pet gear. In 2015, attention to design and functionality mark the latest trends in the competitive pet gear category. Flexi, a multi-award winning, German based manufacturer, has established itself as a global leader in the marketplace with its innovative product lines such as the VARIO dog leash.
The flexi VARIO is the new generation leash for little dogs, cats or other small animals. Everything about the VARIO characterizes ingenuity and research at its best. What makes this product a real standout are the customization features and accessories pet owners can purchase to make their leash accommodate their needs and enhance the walking experience.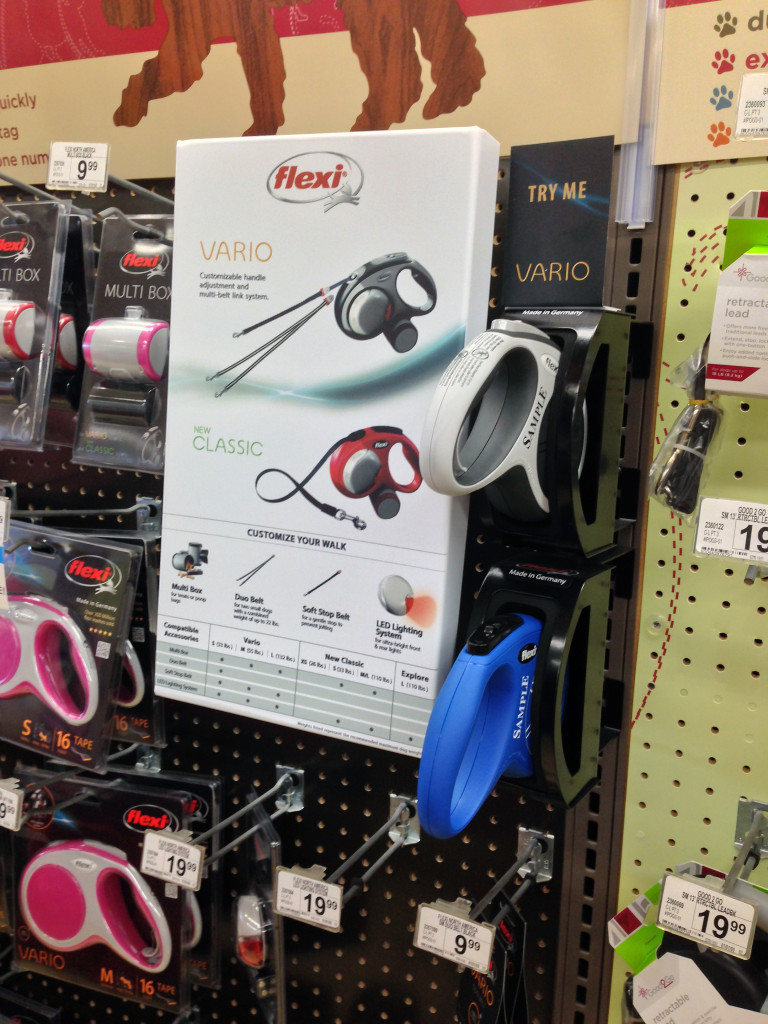 The current accessory line includes – front and rear LED lighting systems, nylon coupler for walking two dogs, shock absorber to avoid jolting and a multi-box where pet owners can store treats or poop bags….as shown in the top image.
In addition to their online presence, Flexi supported major retailers with high-profile, interactive Point of Purchase presentations in store to endorse the U.S. marketing launch. "With this campaign, we are intentionally pursuing our company goal of strengthening the flexi brand internationally, further enhancing our quality and market leadership, and impressing retailers and consumers every day with our on-going innovations," said founder and CEO Manfred Bogdahn.
One of the POP merchandisers used to debut the VARIO was this pegboard display which we located at a major pet retailer. The well-constructed plastic display offered shoppers a great intro-visual with in-use images and an informative chart that highlights some of the accessories that help customize pet owners walks.
To help demonstrate some of the product features, the brand included interactive models for shoppers to test. Adjacent to the copy panel, the two retractable 'Try Me' demo products offered pet owners a first hand look at the patented soft grip, braking system and retractable leash.