Diageo is targeting the shot market with the launch of its Captain Morgan Cannon Blast. The new product was launched in late summer and is described as an "intensely delicious shot" with a mix of Caribbean rum, natural flavors and a "bold spice blend" of citrus, chipotle and jalapeño pepper.
In a recent press release, Michael Ward, global head of innovation at Diageo, said: "Consumers are making more choices around mixers, and shots have really changed in the US. They used to be something for guys to show they are guys, but now men and women do them together.
"For a brand like Captain Morgan that's about nights out, Cannon Blast is a really fun, high energy drink that we are having a lot of fun with. It demonstrates how innovations can solve consumer needs that the base brand cannot fulfill."
Back in October, Diageo held it's first-ever Cannon Blast Bar Crawl in Orlando Florida which featured a human cannonball who was shot from multiple cannons at several different bars. The brand partnered with Campfire at SapientNitro to help plan and launch the social components for this event.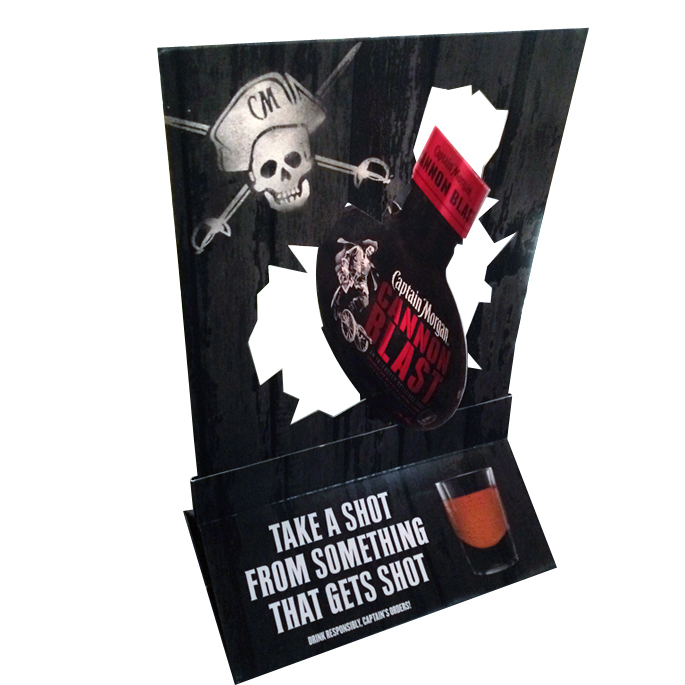 To kick the party into high gear at bars across the U.S., the brand created this clever tent card to help support the launch. Manufactured using paperboard, the efficient design allowed the unit to ship flat and be easily set-up by bartenders. Other than erecting the base, the only other assembly consisted of attaching the cannon ball shaped packaging replica into the jagged cut-out area using the two slotted nubs located on the side and bottom of the cannon ball. Great product and promotion.