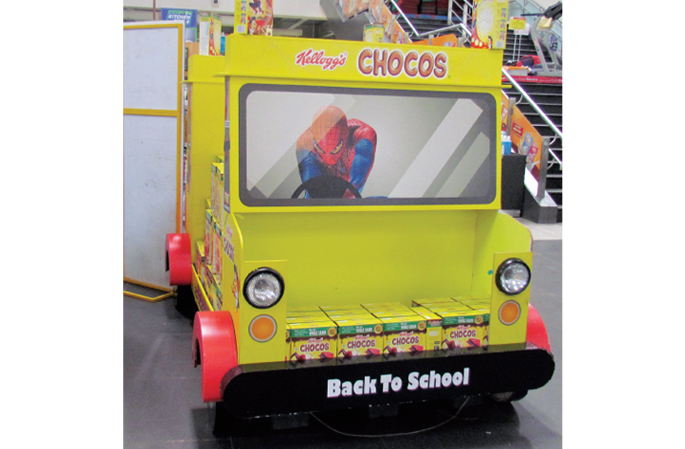 Capitalizing on this summer's Spider Man 2 blockbuster movie, Kellogg's debuted a special edition theme-based cereal in support of the global launch which reached 180 countries.
With this promotion, Kellogg's was able to introduce a new and unique concept of limited edition theme-based food for their Chocos product line, changing the design of the cereal from a scoop to a web shape. India was one of the few countries in the world that the specially designed "web-shaped cereal" was introduced on a limited time basis.
In addition to the uniquely shaped cereal, each limited edition pack included specially designed Spidey-Signals (which project web or spider-shaped images) and Spidey Water Squirters with every purchase of Kellogg's Chocos, Chocos Planets & Stars and Corn Flakes in India. Further incentives included a twenty per cent discount on the Spider-man movie DVD/VCDs through on-pack coupons.
As reported by Point of Purchase Magazine, India…..Kellogg's has created this bus shaped POP with Spiderman replacing the Chocos mascot. Splashed with a 'back to school' theme, the body of the bus display, produced using sunboard, served as the stocking space for the Chocos cereal boxes and was an instant hit at retail. A companion "spin to win" display added excitement and encouraged shopper interaction.
"Kellogg's Chocos is built on the core equity of fun and adventure. Our aim is to bring the Spider Man adventure through Chocos to kids across India. With specially web shaped Kellogg's Chocos, the special toy box packaging and the fun filled giveaways, kids can experience the excitement of being Spider Man," said Kellogg India managing director K Venkatachalam.

"Our communication for Kellogg's Chocos has been based on the adventure platform. Linking Chocos with Spider Man was an obvious extension for us, thereby providing our consumers with the complete adventure experience," he added.