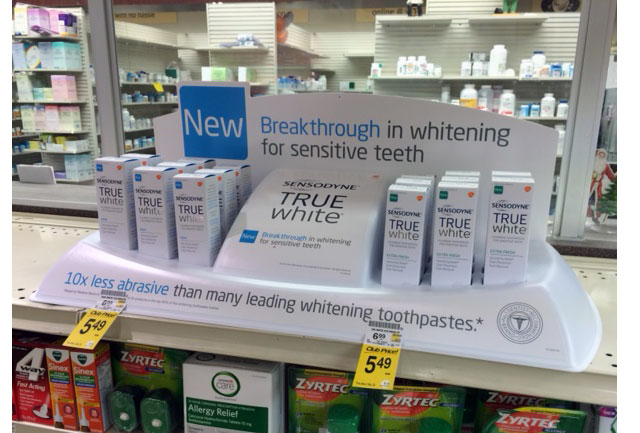 UK based Glaxosmithkline recently debuted a new oral care product that offers sensitive tooth care and whitens teeth.
Available in two variants, Extra Fresh and Mint, True White is formulated to be 10x less abrasive than other whitening toothpastes. How it Works : The abrasive component in most other toothpastes abrades teeth in order to expose the whiter inner layer of the teeth. With True White, you get the best of both worlds with the combined power of whitening and sensitivity control.
Considered a category breakthrough Sensodyne True White was developed to extend the brands offerings and help reduce shopper confusion by simplifying its range.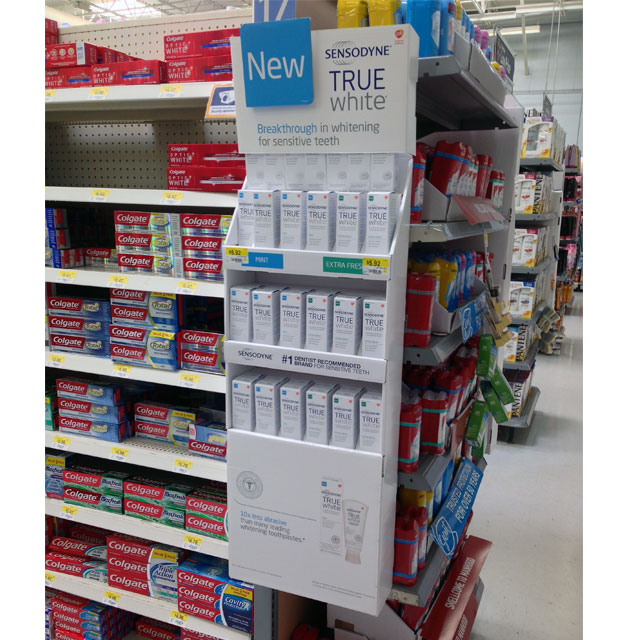 Last fall, GSK announced that it was cutting its number of Sensodyne SKUs from 27 to 19, segmenting their offerings into clearly defined sub-brands – Essential Care and Advanced.
The displays shown here are a small portion of the brands marketing mix which heavily favored TV and print.
Related
Sensodyne Curved Floor Display
Sensodyne Repair Sensitive Teeth End Cap Display