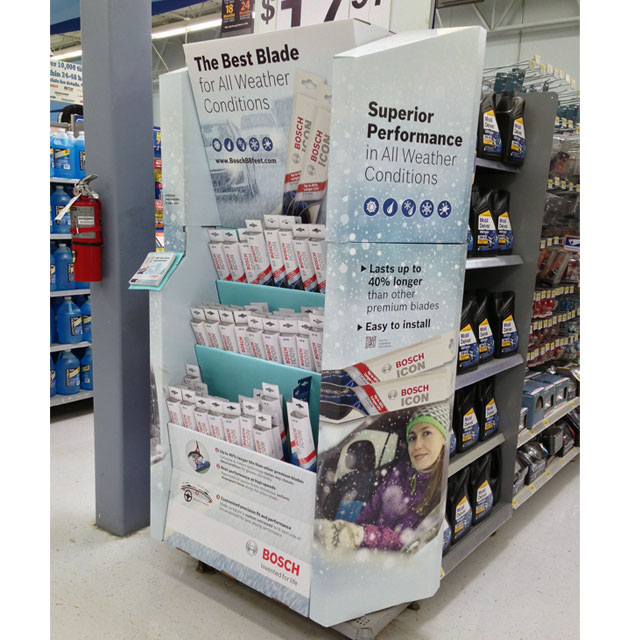 Bosch, the largest OE supplier of bracketless wiper blades. recently launched a new ultra performance windshield wiper blade. Called Bosch ICON, the award-winning design distributes more uniform pressure along the entire length of the blade for all-season performance that lasts up to 40% longer than other premium wiper blades.
"With Bosch innovation driving its continued premium-level performance, Bosch Icon has consistently held the top spot in the beam blade category since its introduction in 2005," says Martin Kashnowski, director, product management, wiper systems.
According to Kashnowski, ClearMax 365 adds a permanently-bonded coating to the rubber wiping edge that helps it maintain its shape and form over the life of the blade. The rubber remains pliable and does not crack.
To promote the ICON in store, the brand rolled out this large end cap display which commanded attention in the automotive category at Walmart. The end cap incorporated all of the key 'POP marketing elements' that make for a solid display. Huge copy panels on the sides and in the center showcased the ICON blades and highlighted a few product attributes. The blades were well-presented with angled divider supports and an additional copy panel near the bottom.
To help educate, QR codes were printed on the sides which guided shoppers to installation instructions. In addition, a web address was printed on the upper, front copy panel which provided a very detailed product overview via links and a video. Lastly, a spiral bound sizing flip chart affixed to the display added further support.
Last year, Bosch promoted their Steel Tech Wiper Blades at Walmart with this very solid end cap display.
Related Automotive Displays
Michelin One Great Choice Counter Display
Rain-X Expert Fit End Cap Trays
Michelin Let Our Family Counter Display
Drive In Freshness End Cap Display
Bridgestone Drive Guard Floor Display