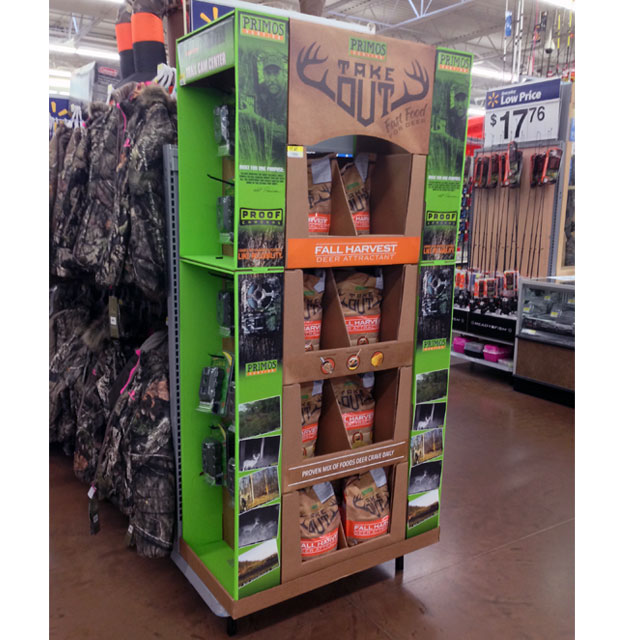 Primos Hunting, a leading innovator of game calls and outdoor accessories, gives hunters irresistible options for luring in big bucks with their new fast food deer attractants…….Take Out Fall Harvest and Take Out Row Crop.
Just in time for fall, the brand launched a seasonal campaign at Walmart to promote their Take Out Fall Harvest deer attractant and trail cam accessories. Take Out Fall harvest is an enticing combination of grains, molasses and corn that mimics whietail food sources found in woodlands. The products strong aroma helps the deer find the feed quickly, bringing in the big bucks with its savory flavors that deer can't resist.
To support their fall campaign, Primos rolled out this modular-looking end cap display. The display utilized side kick-style trays that merchandised a variety of trail camera products. The center section held several 5lb bags of their new Take Out Fall Harvest in spot-labeled stacker trays. A simple arched riser finished off the unit with logo and brand asset call-outs. Overall, the display was structurally sound and presented well in-store……simple but effective. The green and brown color scheme worked well together given the product and time of year.
Related
Thermacell Heated Insoles End Cap
Field and Stream Oakwood Mini Tent Shelf Display