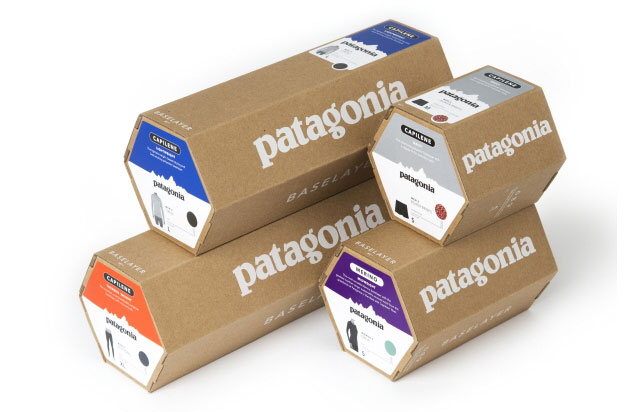 Design Thinking Helps Drive Sales For Patagonia
Inspired by the hex nuts that Yvon Chouinard and Tom Frost invented, Capsule and Patagonia partnered up to look at ways of improving their existing baselayer packaging, often referred to as the 'sushi roll'. The existing packaging involved rolling up the baselayer, securing it with two rubber bands, adding a hang tag – all which were then slid into a plastic bag to protect the product when shipped internationally. The bags were discarded once they arrived at retail.
After evaluating Patagonia's current pack and some initial ideation, the Capsule design team moved forward with several key drivers, one of them being the environment. The new baselayer package uses 100 percent post-consumer waste corrugate, which is easily recycled. In addition, the box does not require glues or adhesives for assembly. They considered every step in the packaging process from the hands of the manufacturer to the hands of the customer.
The look and feel was also kept functional and on-brand for Patagonia. The corrugate is left in its natural state with minimal printing, using stickers to designate style, color and size. The front of the package easily opens to reveal the baselayer inside and gives the customer easy access to touch the material or remove and replace the baselayer. This allows for a clean on-shelf look even after a customer has replaced the baselayer.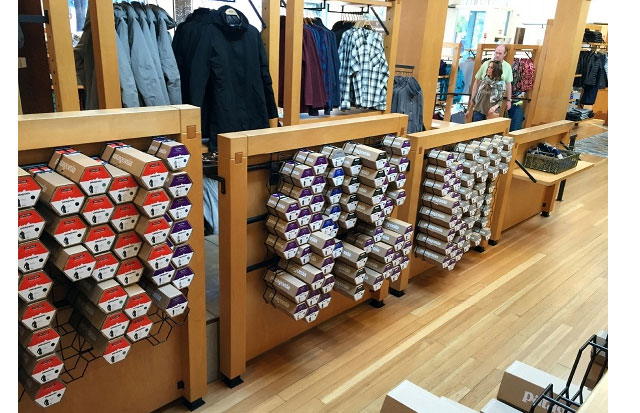 Patagonia was able to use their current retail displays with the new hex package which was a huge cost savings not having to retool their in-store merchandisers. The existing POP displays were produced by Lotus United based out of Seattle, Washington.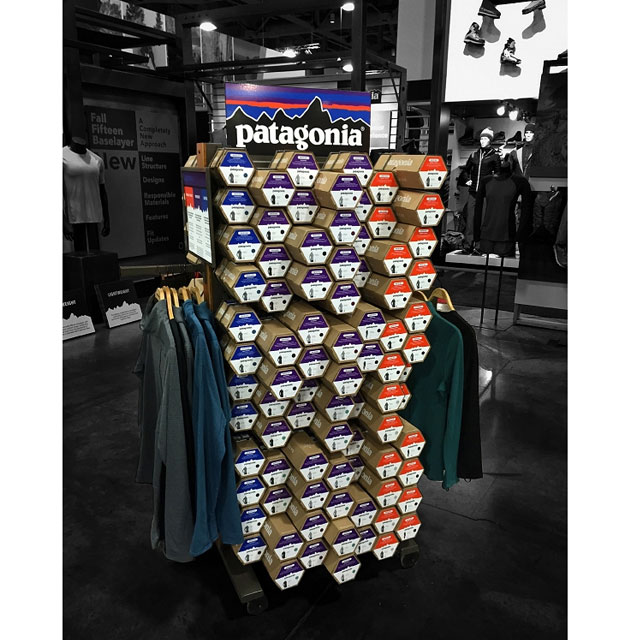 ABOUT CAPSULE
Capsule is a design firm. We design moments to create a brand experience. This means we design logos, packaging, displays, retail environments, brochures, websites, social conversations, signage and mobile environments while considering the desired customer experience. Our mission is to create an emotional bond between your brand and an audience by designing an engaging conversation.
We've blended a culture of witty writers, odd marketing professors, ethnographic researchers, wide-eyed designers, and nit-picky project managers, keeping the work done on-time and inside a budget. And, Capsule's leadership team is involved with every client and in every project.
ABOUT LOTUSUNITED
Over the course of 1o years, our clients have specifically selected Lotus United precisely because of our unique approach to design, engineering and manufacturing.
Microsoft, Patagonia, K2, Burton, Cloudveil, Jackson Hole Ski Resort, Hualalai Resort, Pebble Beach Golf, and Smith Optics are all world leaders and forward-thinking companies within their industries. Each hired us to work with them to rethink the status quo and discover, design, and deliver solutions that exceed their business goals and secure their dominant standing within their respective fields.
They engaged us because we excel at working together within our firm, with our clients, with our consultant team, and with our contractors, taking full advantage of the value and power of the "brain-trust" approach to design.