Our good friends over at Fixtures Close Up were on a recent store check and found a couple of marketing programs they thought would be of interest to our community so here goes.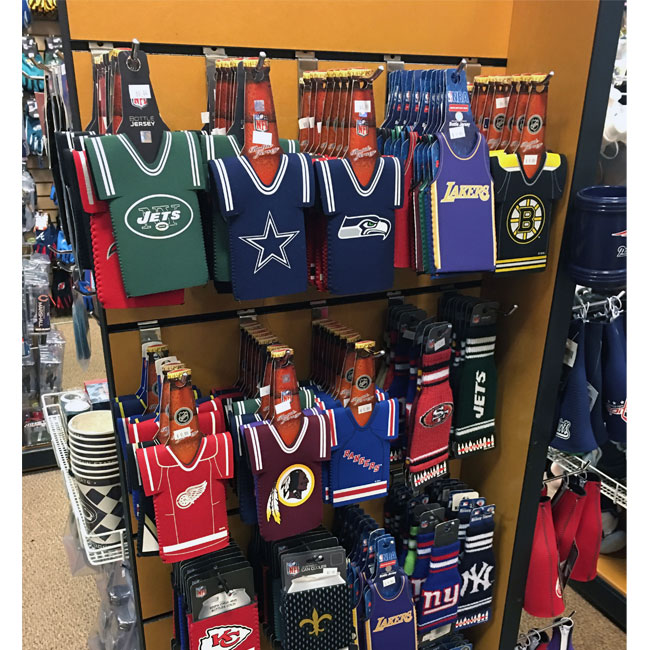 Team Branded Beer Bottle Cozies
Texas-based Kolder, a manufacturer of high quality products that can be found in many retail outlets, is well known for their branded sports team bottle cozies. Licensed by the NFL, MLB, NBA, and NHL, Kolder bottle insulators are a great way to keep your favorite beverage chilled.
As reported by Fixtures Close Up……Keep your favorite brew the perfect temperature with these Beer Bottle Buddies in the shape of NFL / NBA team emblazoned Jerseys. Great branding, but the true fixture and merchandising story is that these cozies are carded for Hook Display by die-cut Beer Bottles. One wouldn't want you to get the impression the Jersey shapes were designed for hand puppets. The bottle shape communicates use quicker and better than the Jersey. Inspect the concept from various distances in the thumbnail and gallery of photos. Outfitting is Flatback Slatwall Single-Prong Display Hooks with Straight-Cut Frontwire. Know that Ball-End Hooks can typically be had for the same price.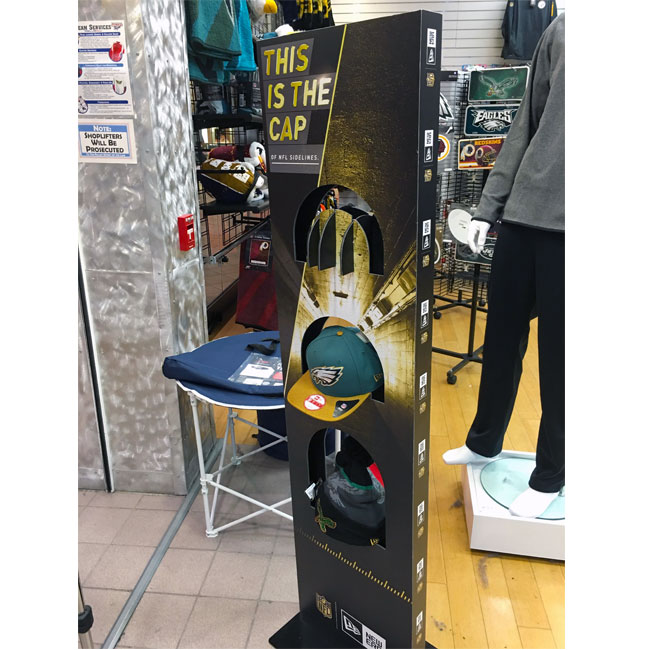 Floor Display Showcases Branded Head Gear With Headform Assemblies
Dating back over 90 years, Buffalo-based New Era has been providing authentic sports gear to fans around the world. Best known for being the official on-field cap for Major League Baseball and the National Football League, the brand also manufactures an extensive line of apparel and accessories.
As reported by Fixtures Close Up…..If your Point-Of-Purchase Display is flat-ish, keep this concept in mind to assemble a roundish cap headform from extra die-cut elements. And having the NFL Baseball caps pass through the display body is a unique promotional construct. Foamcore, Gatorboard, or even heavy corrugate could work in this application.
FixturesCloseUp is a pictorial inventory of unique or otherwise interesting small-scale fixtures seen across the entire range of retailing. Just as a city-scape is built up of individual bricks, beams and boards, so a store is constructed of many small-scale fixtures that combine to help create the selling-floor environment. Many of these small elements are unsung heroes in creating an effective, functional, appealing merchandising space for goods. Because of the wide-ranging creativity of designers, similar display problems are often solved in unique ways. This site attempts to document these varying solutions … and provide a source of ideas and inspiration for additional new solutions or new applications of existing fixtures.
Be sure and visit them at fixturescloseup.com