Popon is pleased to bring you our 17th installment of cool POP displays, trends and ideas. Our vigorous store checking schedule presents us with numerous interesting examples of designers and brands coming together to deliver outstanding promotional materials that we like to share with our audience of dedicated POP professionals.
As always, if you are interested in showcasing some of your unique designs and promotions, do not hesitate to contact us for more details.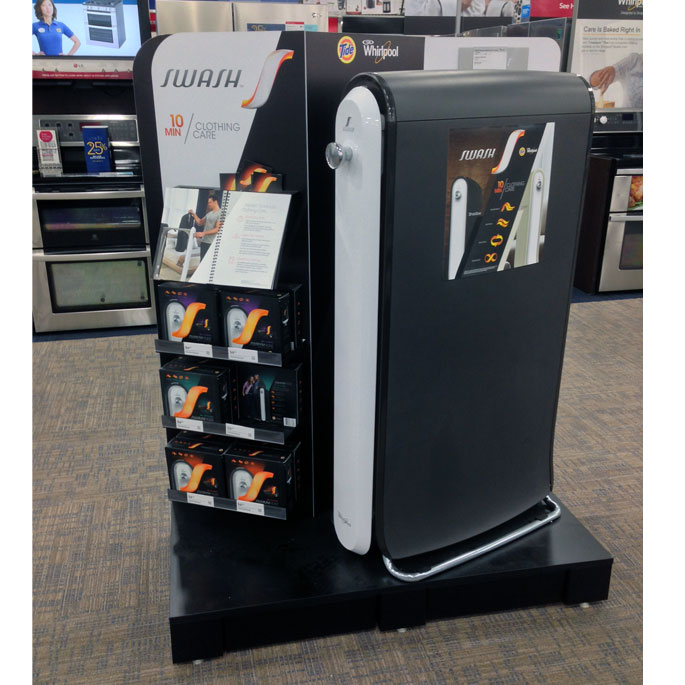 Floor Display Introduces Shoppers To Swash
Created through a collaboration between Procter & Gamble and Whirlpool, The Swash machine is a product you can buy for in-home fabric care. "Swash is a revolutionary at-home clothing-care system that reduces wrinkles, refreshes fabric, restores the fit lost after wear and preserves clothing in just 10 minutes with the push of a button," says Lauren Thaman, associate director of communications for Swash.
Best Buy recently promoted the revolutionary Swash in their appliance section with this floor display. An angled copy panel served as a backdrop for the live unit which sat on a durable platform base. Adjacent to the Swash, 3 shelves merchandised the Pods cups. Available in 3 varieties, the Pods spray a superfine mist on both sides of the clothes to remove light wrinkles and neutralize odors. Just above the shelves, an instructional manual offered shoppers some educational information on the functionality of the Swash.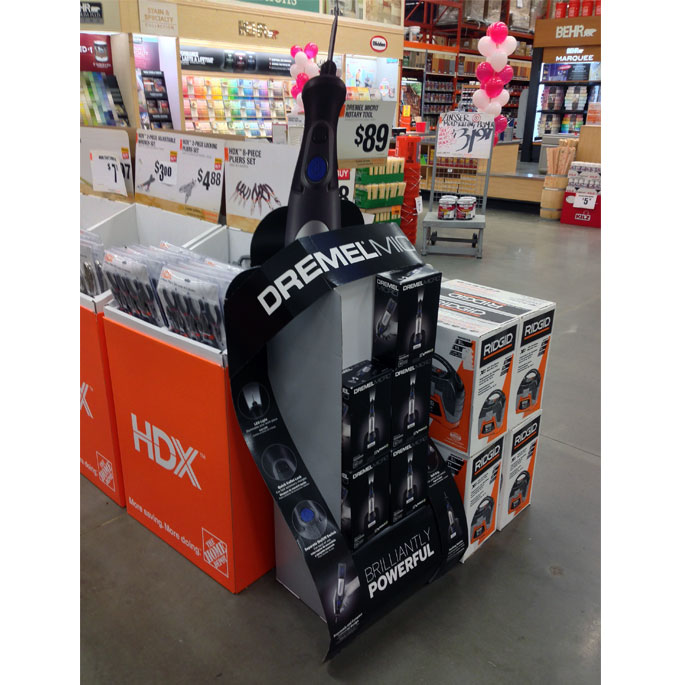 Dremel Micro Stacker Makes An Appearance In Lowe's
Since inventing the high-speed rotary tool in 1934, the Dremel brand has expanded its legacy of industry leadership and excellence into a full line of versatile tool systems that deliver the perfect solution for almost any job.
Maintaining its commitment to innovation and quality, the brand recently celebrated the roll out of their Dremel Micro at Home Improvement retailers. According to Dremel's website……..the Dremel Micro is the perfect combination of size, ergonomics and power that make it the ultimate tool for both precise and light duty DIY tasks. Designed to be held between the thumb and forefinger like a pencil, the Dremel Micro allows a grip that is close to the work-piece for superior maneuverability and control.
The brand is using this floor display to translate all of these product attributes to shoppers at Lowes. Curvy informational panels surround the product with a facade that mimics the charger base. A product replica of the tool manages the stacked skus just below it. Nice display and refreshing departure from the typical units found in most home improvement environments.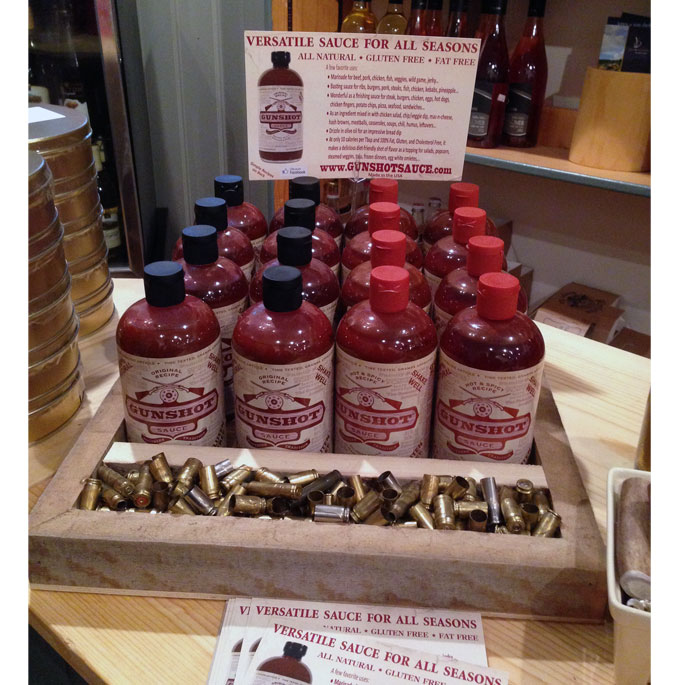 Gunshot Sauce Shells Shoppers With Savory Counter Display
Background – Inspired by Grampa Wilford, Gunshot Sauce® is a savory, ALL NATURAL, vinegar-based, gourmet sauce tailor made to enhance the flavor of a multitude of culinary creations. Grampa Wilford, a colorful country tobacco farmer and BBQ enthusiast, earned quite a reputation for smoking some of the best pork shoulders around. But his technique was far from conventional. Assisted by his old 12-gauge, he would pack home-made shotgun shells with his secret sauce and shoot the shoulders full of intense flavor and spice as they slowly smoked to perfection. Every mouth in earshot would water whenever Gunshots rang out from Grampa Wilford's farm. And while delicious on all kinds of pork BBQ, you'd be surprised how many delectable uses there are for this remarkable sauce (courtesy of Gunshot Sauce website).
Available in several flavors, Gunshot Sauce was spotted in a specialty retailer merchandising its original and hot & spicy variants. Apropos to the brand image, we found the sauces residing in this rustic counter display complete with spent casings in the front compartment. The header design and messaging could have used a little more kick….maybe next time!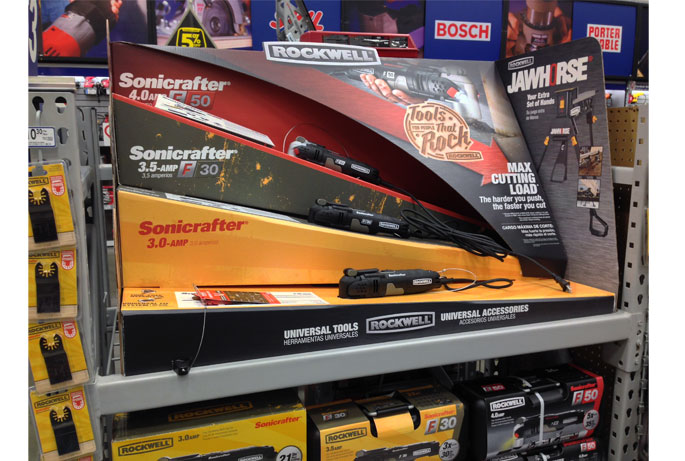 Rockwell Sonicrafter End Cap Rocks Home Improvements
Rockwell recently unleashed their next generation of oscillating multi-tools on end caps at home improvements retailers across the U.S. Rockwell's unique Universal Fit System accepts competitor's blades and delivers a speed of cut that is unrivaled in-class. In addition to speed, The Sonicrafter's Hyperlock tool-free blade design provides 1 ton of maximum clamping force to prevent blade slippage and ensure that your accessories are securely held in-place.
Rockwell chose this rugged end cap display to demonstrate the versatility associated with the Sonicrafter product line. Merchandising three different Sonicrafters, the angled display enables shoppers to pick up the tools which were held in place with simple die cut circles. The presentation on-shelf represents each tool nicely via the angled tiers which also convey product features.
Ultimate Ears BOOM At-Retail With Round POP Floor Display
The Ultimate Ears BOOM is a 360 degree speaker design that delivers big sound in the round. The colorful acoustic skin with plasma coating makes UE BOOM water and stain resistant. In addition to its protective shell, the UE BOOM lets you switch songs and take phone calls from up to 50 feet away.
Spotted at Best Buy, this large product replica floor display delivers the BOOM and marketing message. Shoppable from two sides, the round display is minimalistic with the only graphic consisting of a colorful product image adjacent to the merchandising compartments. Well built and super clean, this display takes big sound to the next level.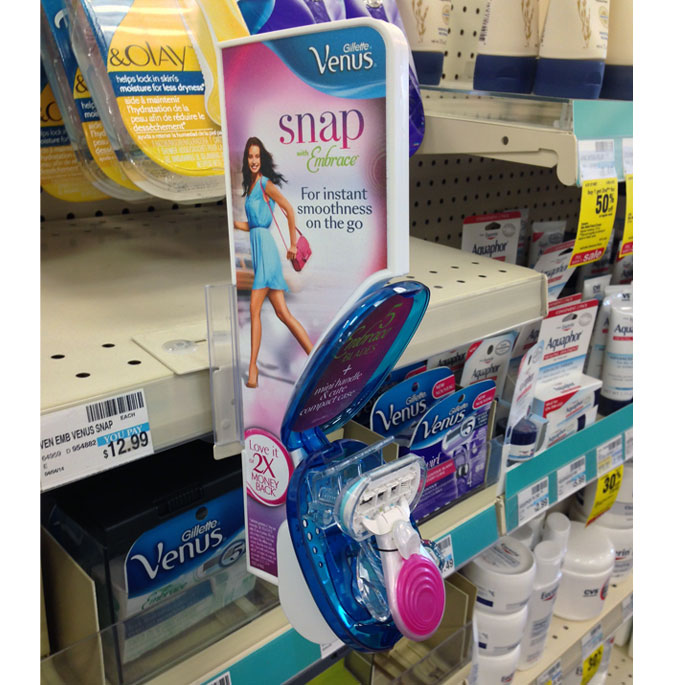 Embrace Smoothness On The Go
Once again, Gillette has delivered innovation to the women's razor category with the Snap Embrace Razor. Designed as an on-the-go product, the 5 blade razor and water activated moisture ribbon gets virtually every hair for an ultra-close shave and long-lasting smoothness. The mini-handle and portable compact ensure that you'll be ready for anything, anytime, anywhere.
Cutting through the category clutter, Gillette is standing out with this interactive aisle violator. The durable interactive violator is visible from two sides and molded to display a live razor and compact for shoppers to touch and feel, creating a convincing try-before-you-buy experience.