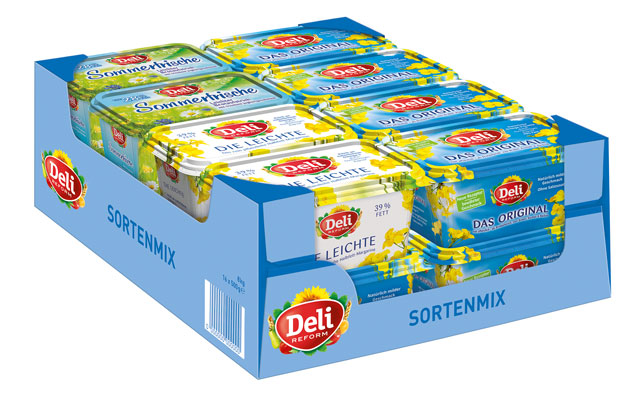 Thimm recently developed a POS tray system for Deli Reform to help the company promote their margarines and spreads. Deli Reform's products are made primarily from vegetable oils and fats which are heavy and require durable trays for distribution and merchandising. To meet those requirements, Thimm designed an automated EE-flute tray with integrated stacking corners to protect the products along the entire supply chain. A combination of flexo-preprint and digital printing are used to brand the trays.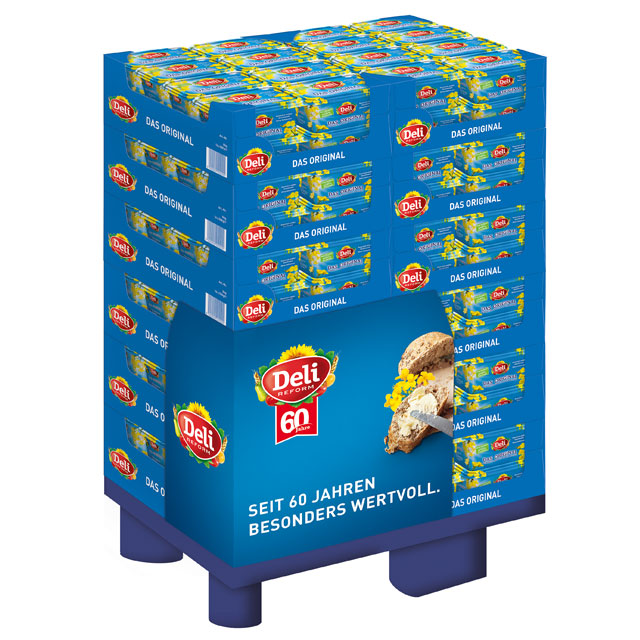 In addition to the tray program, Thimm also developed the display corners that attach to a Chep pallet and provide a high-impact advertising surface to highlight both the brand and sales promotion.
About Deli Reform and Walter Rau Lebensmittelwerke GmbH
The high-quality food products from Walter Rau have enjoyed the trust of consumers for over 110 years. The company's most famous brand is Deli Reform whose products are produced from carefully selected raw materials. In 2019 the Deli Reform brand is celebrating its 60th anniversary. The brand represents nutritionally valuable products, high quality and loyal consumers. More information at www.deli-reform.de and www.walter-rau.de.
About Thimm
Thimm Group is the leading solutions provider for the packaging and distribution of goods. Its portfolio includes corrugated cardboard transportation and sales packaging, high-quality promotional displays, packaging systems combining a range of materials and print products
for further industrial processing. The company's product offerings are further enhanced by a wide range of associated packaging services covering the entire supply chain. Its customers include prestigious branded product groups from across all sectors. Founded in 1949, the family-owned business has currently more than 3,300 employees at 20 sites in Germany, Czech Republic, Romania, Poland, France and Mexico and generated in 2018 annual revenues of around 645 million euros.