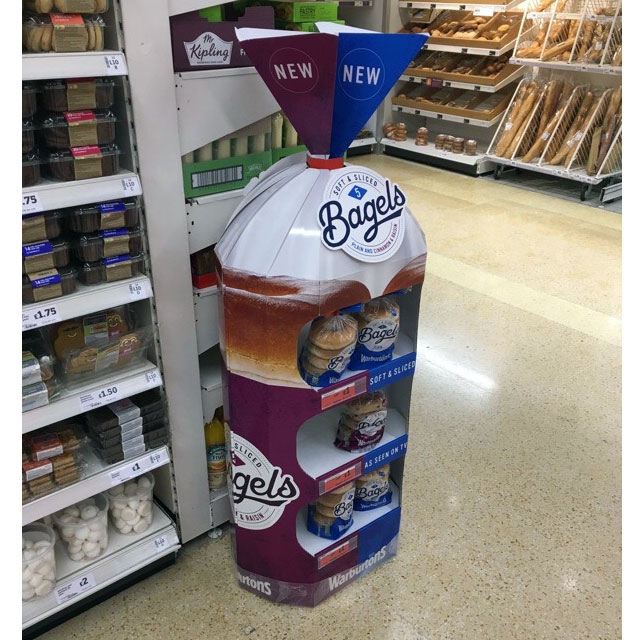 Warburtons, a well-known baker of bread products in the UK, recently expanded their line of bagels to compete with another UK- based brand that has a very 'American-like' presence in the category. To help support their marketing campaign, Warburtons launched online and TV ads featuring Robert De Nero who is seen clearing the competitions products off supermarket shelves and replacing them with Mr Warburtons Bagels.
To help support in-store promotions, the brand rolled out this creative floor display which was designed and produced by UK-based Print & Displays.
According to owner Paul Manson, "We were tasked to come up with design ideas that caught shoppers attention and created instant product recognition. We chose designs that replicated how the product would sit on store shelves which resulted in the display looking like a pack of Bagels.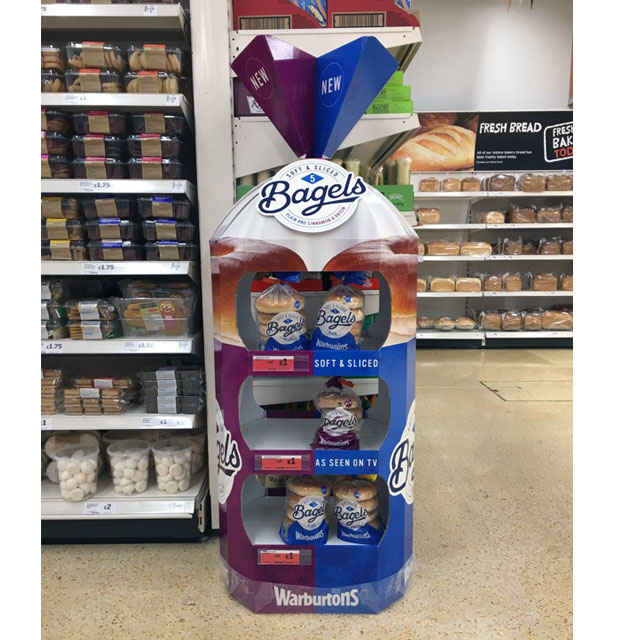 With regards to production, EB Corrugated & 600 micron folding box board were used to construct the display. All of the parts were printed digitally on an HP11000 flat bed platform and then overprinted with high gloss UV varnish on a Sias screen printing machine. The finished units had to ship as flat packs so the display needed to be really easy to put together. All components were die cut, glued together, then packed individually into shippers and sent to several different retailers.
Submit Your Company's Latest And Greatest Story…..It's Free!