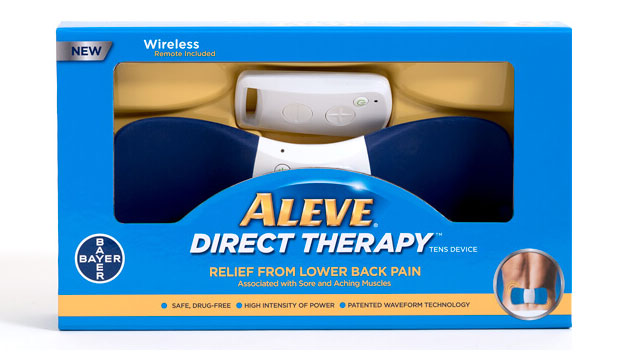 Aleve Puts The Power In Your Hands with their new Direct Therapy nerve stimulation device. Marketed as an OTC nonpharmacological strategy for relieving lower back pain, the device employs TENS (transcutaneous electrical nerve stimulation) technology that can be wirelessly adjusted by the patient to control intensity.
What is a TENS device? According to Bayer's website, Since the mid-1970s, doctors, chiropractors and physical therapists have used TENS technology to treat body pain. There are two clinical theories of how TENS can relieve pain: by blocking the transmission of pain, and by stimulating endorphins, the body's natural pain-reducing chemicals. Aleve Direct Therapy uses patented 3-stage waveform technology to incorporate both clinical theories of TENS to provide pain relief.
"Aleve Direct Therapy puts controllable TENS technology in consumers hands without having to visit the doctor. It provides high intensity of power and its wireless remote control makes it easy to adjust the power of intensity to fit the user's needs," said Andre Schmidt, VP, US Medical Affairs, Consumer Health Division, Bayer.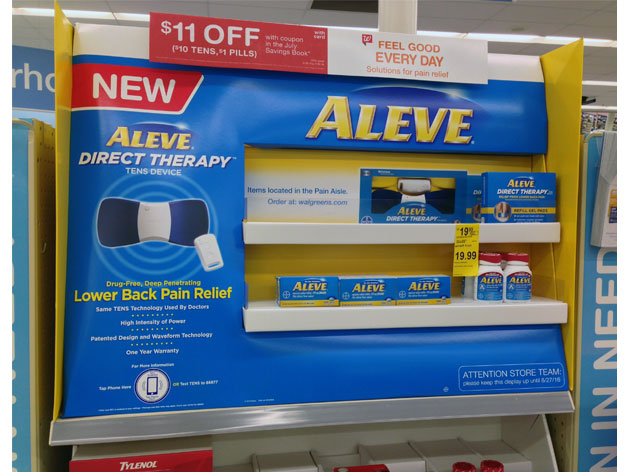 Bayer and Walgreens recently partnered to create a pain management end cap featuring the Aleve Direct Therapy device and a few variants of their caplet products.
Yellow book-end panels created a destination-feel for the display, separating Aleve from their competitors trays on the shelves below. Simple and clean, the messaging and brand identity are easy to visually digest. In addition to a concise presentation of the product and its benefits on the left side, the copy area just below it encouraged shoppers to tap their phone in the NCF enabled circle or text the word TENS to acquire more information. To stimulate purchases, Walgreens offered shoppers up to $11.00 off coupons in their July Savings Book.
Related
Icy Hot Smart Relief Inline Shelf Display
Icy Hot Blocks Chronic Pain Tower Display
Aleve Find Fast Relief Mini Wing
Visit our image gallery and type aleve into the search box to view more displays.