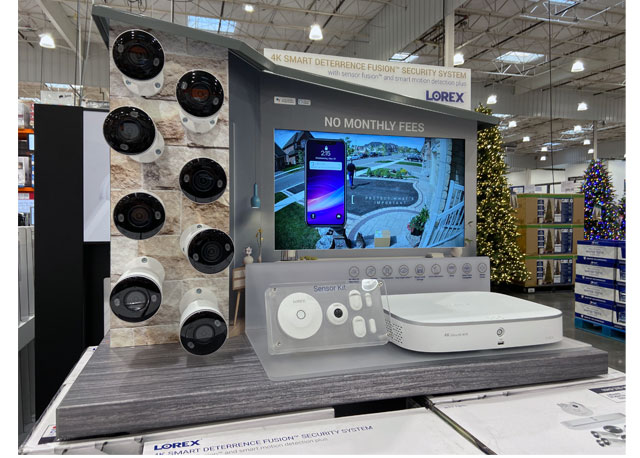 Security is more than just a feeling – it's a state of mind
In a world gone crazy, home safety and security concerns are driving many people to purchase security systems to offer added protection for their homes and businesses.
For more than 30 years, Lorex has been a leader in the marketplace when it comes to security. The company was recently spotted at Costco promoting their latest security system with this interactive pallet topper display. The Smart Deterence Fusion Security System is a feature-rich 8-channel 4K system that includes advanced motion detection, two levels of low-light or no-light recording, smart home voice control, and compatibility with all major smart home platforms.
The topper display showcased all of the hardware included in the security system using a great home environment motif. Adjacent to eight cameras mounted on a faux brick wall, a large simulated screen demonstrated their smart phone connectivity which can control the entire system and offer visibility when things get dicey.
To bring functionality awareness to shoppers, a frosted feature wedge was created to highlight the systems Sensor Kit and all its capabilities. A wood grain base served as a sturdy platform to support all of the hardware and display elements.
Sources include:
Lorex