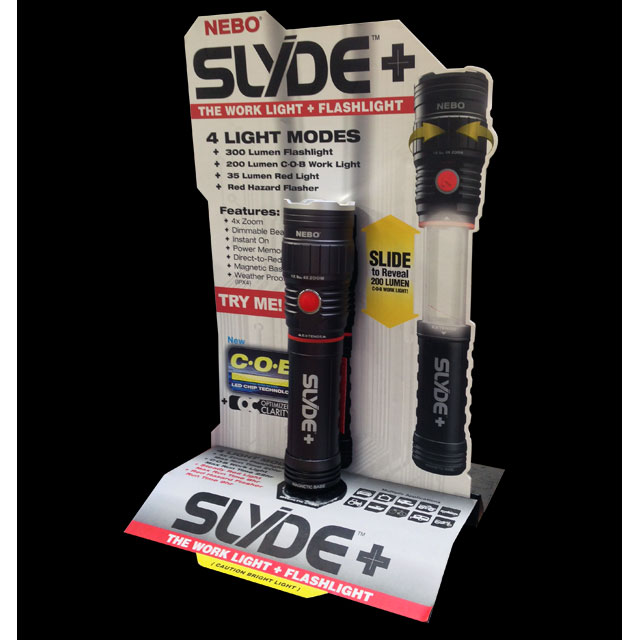 According to their website, NEBO® is one of the world's best-selling lines of innovative, consumer-friendly flashlights and tools. Ever-changing and never compromising, we create and see our products through every phase of development.
That mantra is reflected with the company's latest improvements to their SLYDE+ flashlight. The brand took its best-selling flashlight and improved it every way imaginable. The new SLYDE + is now equipped with programmable memory settings for each light mode, a new C•O•B red light function, a 4x adjustable zoom and instant slide on.
To help promote all of these new improvements, NEBO® is using this interactive counter display, which we spotted at a Mast General Store. A live flashlight was affixed to the plastic graphic riser so shoppers could check out all of the great features and upgrades. Note how the artwork was designed with the faux beam of light shining upward….great touch!
In addition to the interactivity, the overall graphic layout and product attribute call-outs are real standouts on this display. From the bullet point list of features on the left, to the graphic of the flashlight in its expanded position on the right, the display packs a lot of content into a small area. Every piece has its place.
Kind of hard to tell from the photo, but the back of the display was designed to hold boxed flashlights so shoppers could readily purchase them.
Related
Nebo Highbeam Flashlight Counter Display
Nebo Larry Work Light Shelf Display
Nebo Micro Redline Shelf Display