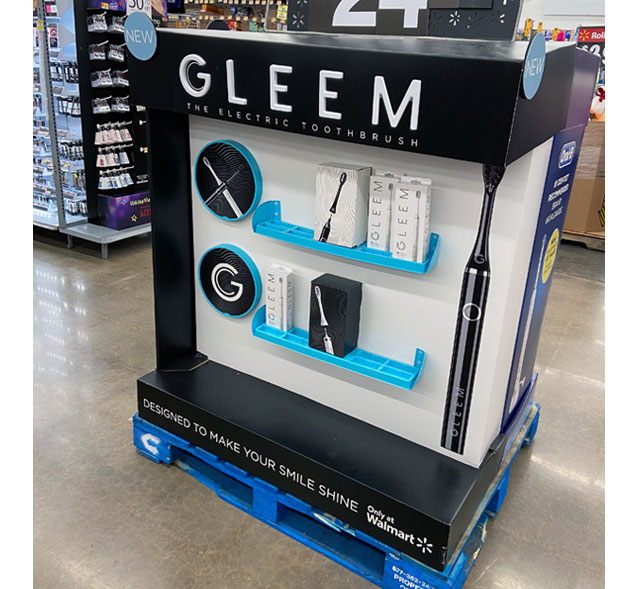 New Gleem Toothbrush Creates Brilliant Smiles
Proctor & Gamble Co. is pumping new life into their iconic brand Gleem with the launch of a new battery-powered toothbrush. Designed to compete against category leaders such as Sonicare, the Gleem, which only costs $25, still has all the bells and whistles of the more expensive alternatives.
"Gleem features a slim profile and neutral colors that blend with virtually any décor – plus, it features vibrating bristles and a built-in timer to help you brush more effectively," said Greg Barntsen, a P&G associate brand director who is the founder of the new Gleem brand.
Sold exclusively at Walmart, the new toothbrush was recently spotted on this pallet display sharing space with an Oral-B display. Designed to merchandise toothbrushes and replacement heads, the black and white Gleem display was simple, crisp and clean. Several dimensional components were incorporated into the design to give it a high-end appearance. The Gleem logo, product trays, and round icon rings were all vacuum formed.
You can view more oral care displays in our image gallery. There are two ways to search: You can use the PRODUCT CHANNEL button to select Oral Care or you can use the search box by typing in oral care displays.
Sources include:
Proctor & Gamble Co
Biz Journals