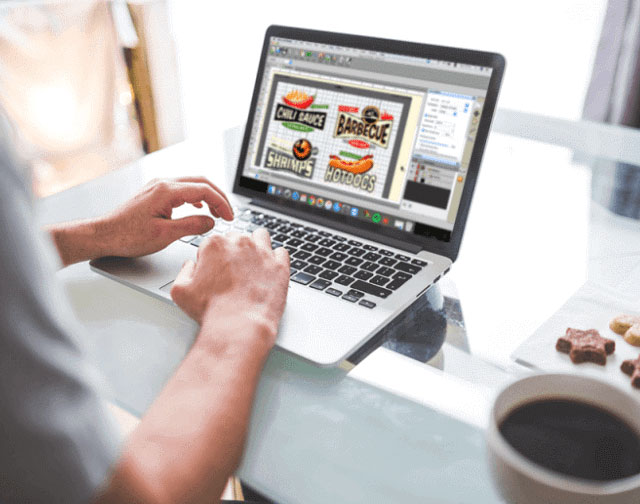 Easy Cut Studio adds support for BDF, CUYI, Vinyl Systems, Dragon and ROHS cutters.
A powerful vinyl cutting software enables users to make the most of their hardware.
NEW YORK, United States, December 7th, 2021, EasyCut Studio, a leading developer of sign-making and specialty graphics solutions, today announced the global availability of Easy Cut Studio 5.016, the company's newest software version release of industry leading vinyl cutting software. The latest build of the software is fully supported by many industry standard vinyl cutters, including the BDF, Vinyl Systems, CUYI, Dragon, Blacksail and ROHS brands. This version also brings a range of new innovative features, including new OS support, several new drivers, as well as performance optimization, and several minor bug fixes. It is now being rolled out to global customers and company distributors.
An advanced vinyl cutter is not complete without suitable design and cutting software. Easy Cut Studio is developed with the user in mind. That's why our cutting software not only provides a user-friendly and intuitive interface, but also provides all common functionalities specific to cutting programs. The software is great for both novices and more experienced users and compatible with over 500 different vinyl plotter models on the market. Ready for the latest Mac OS and available in multiple languages.
"The ability to cut vinyl has been around for a long time. What we've done is used the same cutting hardware to make your cutting jobs easier, more efficient, and reduce material waste," says Eric Lee, Product Director at EasyCut Studio. "The new upgrades to our easy cut studio software offer significantly increased functionality to users of the vinyl cutters solutions, The response that we have had from end-users as well as our reseller channel who have seen the preview to this release has been outstanding,"
Easy Cut Studio v5.016 adds dozens of new cutting machines, including:
–  BDF AIP-0720 Cutter
–  BDF AIP-0800 Cutter
–  BDF AIP-1120 Cutter
–  BDF AIP-1360 Cutter
–  CUYI CS630
–  CUYI CS1200
–  CUYI CTO330
–  CUYI CTO630
–  CUYI CTO900
–  CUYI CTO1200
–  CUYI MK630 (24")
–  CUYI MK1200 (48")
–  CUYI MG630
–  CUYI MG1200
–  Dragon DP800
–  Dragon DP1000
–  Dragon DP1200
–  Dragon DP1260NX
–  Dragon Pro LGZ 1380
–  Vinyl Systems Specialist 14″ Plotter
–  Vinyl Systems Specialist 28″ Plotter
–  Vinyl Systems Specialist 34″ Plotter
–  Vinyl Systems Specialist 52″ Plotter
–  Vinyl Systems Edge 28″ Plotter
–  Vinyl Systems Edge 52″ Plotter
–  Vinyl Systems Evo 28″ Plotter
–  Vinyl Systems Evo 52″ Plotter
–  ROHS 361PE
–  ROHS 721XE
–  ROHS MH721
–  ROHS MT720
–  ROHS MT871
For additional information or to download a free trial, please visit the official website: https://www.easycutstudio.com/
Pricing and Availability:
Easy Cut Studio is compatible with all Windows versions, including the newly released Windows 11 and Windows 10, 8, 7, Vista, and XP systems. as well as Mac OS X 10.10 and above computers, The lifetime version is the best value price: $59.95 USD. A fully functional free trial version may be downloaded from https://www.easycutstudio.com/download.html .
About EasyCut :
EasyCut Studio is focused on developing sign-making program to maximize time and materials savings. Its flagship product, Easy Cut Studio is available in over 100 countries worldwide, in 10 languages.
### MEDIA ONLY CONTACT:
Eric Johnson
Director of Marketing
E-mail: support@easycutstudio.com
Website: https://www.easycutstudio.com/