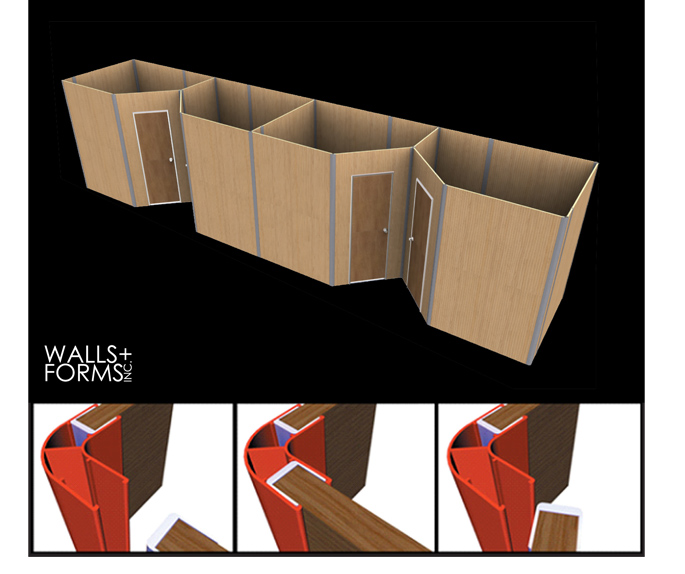 Walls + Forms, Inc. has added three end caps to its proprietary CornerForms™ system .  They include a finished end cap, a finished angled end cap, and a finished double end cap.
CornerForms finished end cap #2810 is a single panel (edge) profile that provides a decorative "edge treatment" for vertical and horizontal edges.  It can be mechanically attached to a wall and/or fixture surface to receive a panel. Applications include end of perimeter wall application, mounting a panel perpendicular on to a wall or fixture. CornerForms finished angled end cap #3181 is a single panel (edge) profile designed to be mounted to a substrate along with a 30 degree profile to create a pop out. Applications include product category dividers; angled edge cap along with 30 degree profile to create "V" shape pop out.  CornerForms finished double end cap #3563 connects two panels back to back. It can be mechanically fastened to a wall or display. Applications include a pop out perimeter wall, fitting/privacy rooms, partitions and more.  CornerForms end caps measure 96″ long (custom cuts available) and are available in standard white, gray, almond and black finishes.
CornerForms  now includes nearly 40 standard CornerForms components.  No other perimeter wall system offers the adaptability or versatility of this patented perimeter wall system.
Panels connect together via a channel locking system with CornerForms.  Three basic components create the easiest panel connection ever:  the CornerForm, EdgeCap and Panel.  Panel types selected such as slatwall or solid panels come equipped with EdgeCaps pre-installed.  Panels and EdgeCaps engage easily into the CornerForms connectors.
With a variety of angles and colors to choose from, CornerForms is highly adaptable and versatile.  You simply insert panel, engage, and rotate to disengage.  The standard sizes available allow you to be able to connect ¼", ½" and ¾" thick materials. The numbers of types of materials it can utilize are nearly endless. MDF, Slatwall, Melamine, Particle Board, Sintra, ECT, Wire Grid, Gator Foam, and Foam Core are just a few examples.
No tool or hardware is required for assembly.  The resulting configurations are solid enough to be permanent, yet equally suited to be taken down and used over and over. This extreme flexibility makes it ideally suited for any rapidly changing market place.