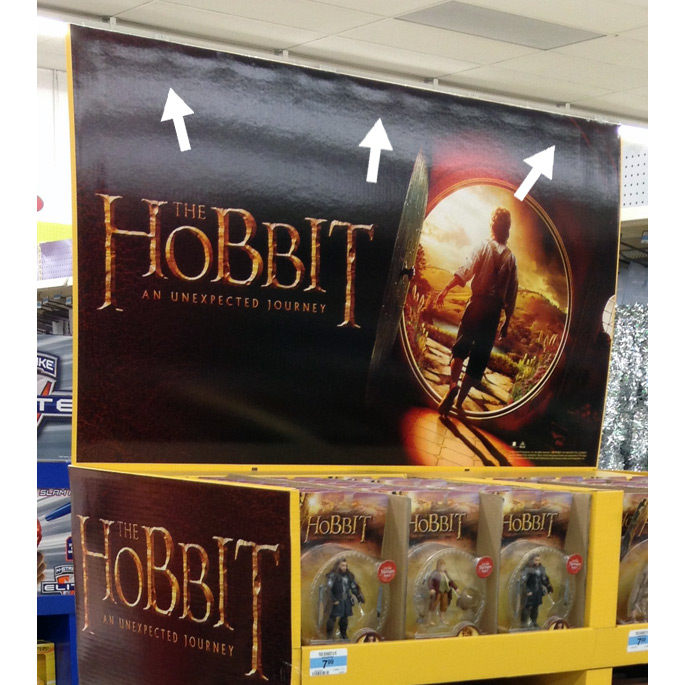 On a recent store check, our creative eye in the field came across a launch pallet display for the new Hobbit movie. What first caught our attention was the paper-based pallet that the display was shipped on. Always great to see the use of eco-friendly materials. Next thing we spotted were the dreaded "teeth" marks that bordered all three sides of the riser.
If you look at the top edge of the riser in the above image, you can see the impressions of single pieces of ejection rubber used along the perimeter. Rubber is used on cutting dies to ensure that the material doesn't stick in the die during the manufacturing process.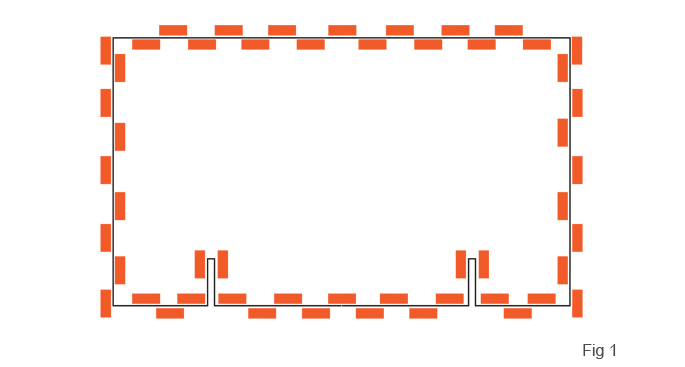 We created a quick illustration of how the die was probably made for The Hobbit riser. Note that this diagram may not be indicative of best practices for spacing ejection rubber on dies…..it's strictly a visual aide for discussion purposes.
When a tooling like the one shown in Fig 1 is used to die cut litho labeled risers, the "teeth" effect tends to be more prominent, especially if the lithos were printed using dark colors. The dark colors add more visual disturbance in the form of glare pockets that reflect off of retail lighting which makes them more noticeable. As you can see, the spacing of the rubber dictates the finished pattern. If you are not that particular about  having "teeth" marks on your designs, then no need to do anything different with your specs or die vendors.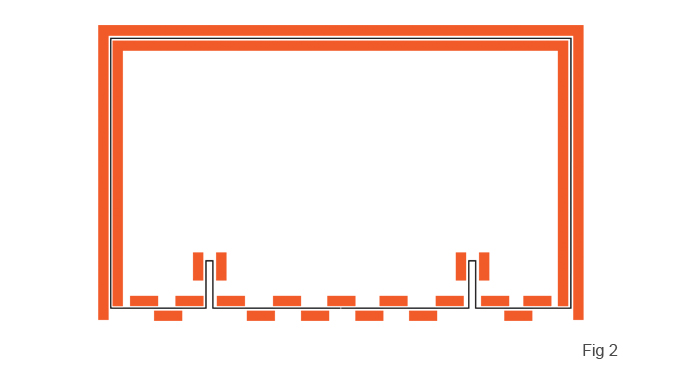 However, if you are looking for the remedy to "teeth" marks, then you need to order your dies like the example shown in Fig 2. which represents the use of solid rubber along the perimeter of the die. If your company has never used solid rubber on dies, you will need to adjust your production cads to state something along these lines….."solid rubber all 3 sides of riser" or "pillow edge 3 sides of riser'. In addition, you may need to work with your die makers to be sure they understand your intentions and machine specifications.
Typically, solid rubber is called out to prevent cracking and create pillow-edging when die cutting foam-core based substrates but is also used on corrugate boards as well. Ejection rubber is rated by hardness (durometer) which is determined by the material you are die cutting, with medium to hard rubber most commonly used for b flute corrugate. If need be, softer rubber can be used in critical areas like near tight bends or sharp points.
If you order a die that uses solid rubber, you will notice that the rubber is slightly higher than the steel cutting rule and that it does not touch the steel rule. This prevents the rubber from getting cut as well as blade dragging. If you wish to create a more gradual pillow-edge effect, you can spec out a wider profile rubber stripping.
Pillow-edging is a great way to create clean, continuous edges along critical areas where visibility is at it's highest. Give it a try, there's nothing you won't like about the finished product!