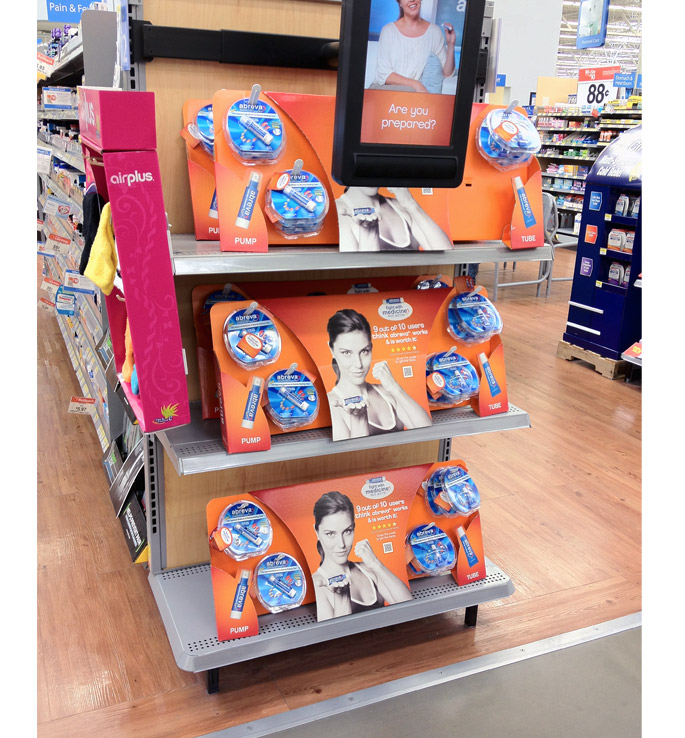 Abreva, the only FDA approved over-the-counter-treatment for cold sores, recently launched a retail promotion showcasing their Fight With Medicine Not Myth campaign that encourages consumers to learn more about cold sore treatment and the benefits of using Abreva to reduce healing times.
According to a report published by brand owner GlaxoSmithKline, almost 25% of Americans will experience a cold sore outbreak this year so part of their marketing message is to share the importance of starting treatment at the first tingle. If cold sore sufferers start treatment early, they can lessen the days of their cold sore embarrassment and discomfort. The proprietary Abreva formula contains a patented ingredient called docosanol that works at the cellular level to block the virus from entering healthy skin cells, which is what enables the product to be highly effective.
To ensure that Abreva received optimal marketing support in-store, the brand team developed a display that was granted exclusive space on Walmart's end cap TV. Brightly decorated in orange and intended to disrupt shoppers, the end cap trays were great attention grabbers that drove visibility, shopper engagement and education. With regards to education, each product package included a miniature booklet that explained the healing power of Abreva.
The curvy display was designed with a "cosmetic" feel that neatly separated the tube and pump products which were denoted on the displays with large image shots. The curved center panel was printed with the female "fighting" talent image that can also be found online as well as in commercials. Additional graphic elements included the 9 out of 10 users recommend trial driver tagline and a qr code which connected shoppers with Abreva ratings and reviews when snapped on. Lastly, the one-piece, collapsible design of the display enabled retailers to easily fit 2 units deep per shelf – no assembly required.
The entire execution in-store tells a consistent story, leveraging brand assets throughout the marketing mix. The looping video included actual user reviews and mode of action demo (how Abreva works), as well as a few introductory frames for the new Abreva Conceal variant. Conceal is a non-medicated patch that "conceals" cold sores allowing makeup to be applied over it. The idea of the patch is to create a protective barrier that allows air in while keeping contaminants out.