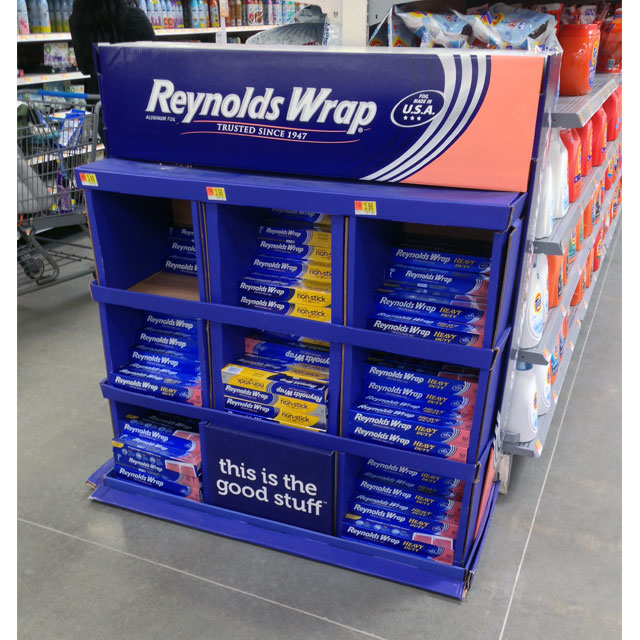 Ever wonder why foil has two sides to it, a shiny and non-shiny side? According to the experts at Reynold's Kitchen, the difference in appearance between the two sides of aluminum foil is simply a result of the foil manufacturing process and serves no real purpose.
"Regardless of the side, both sides do the same job cooking, freezing and storing food," Mike Mazza, marketing director for Reynolds Wrap, told TODAY Home via email. "It makes no difference which side of the foil you use unless you're using Reynolds Wrap Non-Stick Aluminum Foil."
Non-Stick foil actually has a protective coating on one side, so the company recommends only placing food on the side marked "non-stick" for maximum efficiency.
The company was recently spotted in Walmart promoting their non-stick foil with this end-of-aisle merchandier. Typically not know for using elaborate POP displays, the brand went above and beyond with this pallet display by incorporating a huge product replica on top which served as a 'beacon' to help shoppers quickly locate the number one selling brand in the category.
Related
Reynolds Wrap Pan Lining Paper Self Shipper Display
Reynolds Wrap Non Stick Stacker Trays
Reynolds Wrap Race Time Pallet Display
Sources Include:
Reynolds
Today