The A-side? Earthy, fresh hop aromas. The B-side? A smooth, balanced malt groove.
Earlier this year, Great Lakes Brewing Co. held an official release party for their newest year-round beer, Turntable Pils. Debuted in April 2016, Turntable Pilsner became GLBC's sixth year-round offering in May of 2017.
To celebrate, GLBC converted their tasting room into a vinyl record shop where patrons were encouraged to bring their favorite vinyl records in for a spin. Each purchase of a Turntable Pilsner earned a free raffle ticket for a chance to win a limited edition Great Lakes-themed Audio-Technica AT-LP120-USB Turntable!
"When it came to naming this beer, we wanted to capture a similar throwback vibe," she says. "Nodding to vinyl seemed like a perfect way to do that, since both pilsners and vinyl are experiencing renewed – and well-deserved – appreciation, says communications supervisor Marissa DeSantis."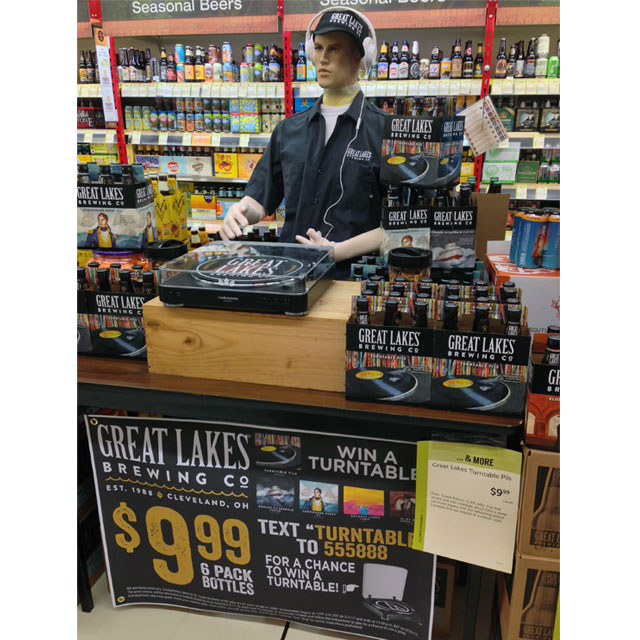 Which record do you pair with Turntable Pils?
GLBC also created a Facebook campaign where beer / vinyl lovers snapped a pic of their favorite Turntable Pils vinyl pairing for a chance to win several different prize offerings.
In-store, Great Lakes went a step further with their Turntable Pils release by creating a record-themed display complete with a DJ, turntable and plenty of six packs. The banner below the table explained the promotion and provided how-to-win details. Very unique and definitely an attention-grabber.
Related
Great Lakes Brewing Co Overhead Sign
Great Lakes Brewing Co Wood Floor Display
Great Lakes India Pale Ale Wall Sign