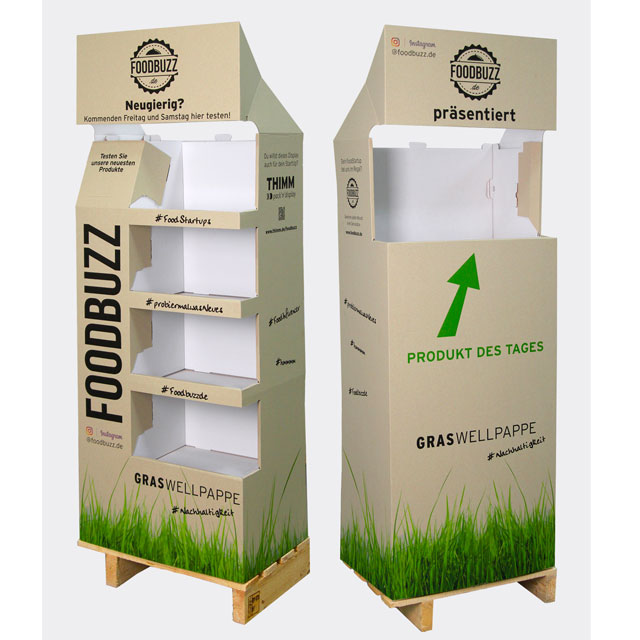 Growing Grass-Based Cardboard Displays
The use of innovative and sustainable raw materials has always been a focus for Thimm, and now with the production of grass corrugated cardboard, Thimm is offering its customers another environmentally-friendly alternative. The corrugated cardboard is based on grass paper, which has an improved eco-balance when compared with wood-based paper. Grass paper consists of 30 percent grass pellets and 70 percent waste paper. The grass is acquired several times a year from legally-specified and non-previously used agricultural areas known as compensation areas. These green spaces have not been fertilized or chemically treated. Furthermore, cultivating these grass spaces also represents an additional income source for the farmer.
The pellets made from grass are prepared for paper production using purely mechanical processes which means that very little water is used in the production process. People, companies and the environment can benefit from lower CO2 emissions during the paper production.
Thimm is currently processing the innovative raw material at its corrugators in Germany and in the Czech Republic. Grass corrugated cardboard can be die-cut, folded and glued on processing machines just like normal corrugated cardboard. Excellent printing results using all the common printing processes available in Thimm Group can also be achieved on grass corrugated cardboard ensuring high-impact at the point-of-sale.
Corrugated cardboard made from grass paper can be used in all sectors of the packaging and displays industries as it promotes the trend towards paper-based sustainable solutions. Thimm has produced the first grass corrugated cardboard displays for Foodbuzz, a marketer for food start-ups. The displays shown above are from Thimm's modular "Sales Amplifier" system. The modular pallet displays consist of base components in the form of unprinted standard trays combined with a customized display wrap. The wrap-around cover was created using digital printing which offers a high-impact presentation surface.
About Thimm
Thimm Group is the leading solutions provider for the packaging and distribution of goods. Its portfolio includes corrugated cardboard transportation and sales packaging, high-quality promotional displays, packaging systems combining a range of materials and print products for further industrial processing. The company's product offerings are further enhanced by a wide range of associated packaging services covering the entire supply chain. Its customers include prestigious branded product groups from across all sectors. Founded in 1949, the family-owned business has currently more than 3,300 employees at 20 sites in Germany, Czech Republic, Romania, Poland, France and Mexico and generated in 2018 annual revenues of around 645 million euros.
Press Contact:
Nicole Gloth, Brand and Corporate Communications
THIMM Group GmbH + Co. KG, Tel.: +49 5551 703 423, Email: nicole.gloth@thimm.de
Michael Weber, Head of Corporate Marketing Thimm Group
THIMM Group GmbH + Co. KG, Tel.: +49 5551 703 891, Email: michael.weber@thimm.de