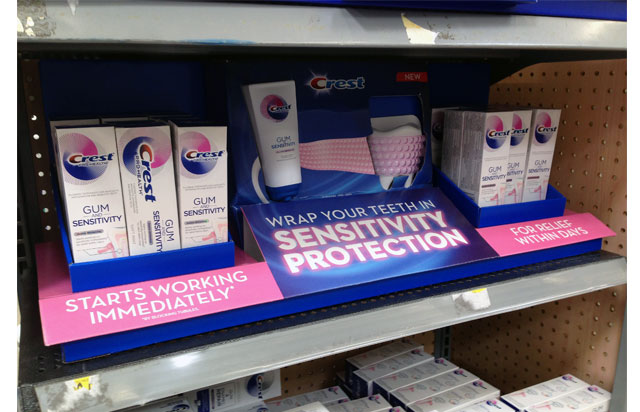 This past Summer, Crest expanded its line of gum health-focused toothpastes with Crest Gum and Sensitivity, a new variant that helps prevent sensitivity by wrapping your teeth in a shield of protection against hot and cold food and drink.
"Crest is tackling sensitivity at the gum line – where we know a majority of sensitivity starts. People shouldn't have to avoid their favorite foods and drinks in fear of the tooth sensitivity that can come with them," said Carlos De Jesus, Vice President of Oral Care North America, Procter & Gamble. "Our new Crest Gum and Sensitivity toothpaste provides instant sensitivity relief by blocking tubules for relief within days, by tackling sensitivity at the gum line. We want people to get back to enjoying their favorite treats – with reduced sensitivity pain."
The brand recently debuted their new variant with Walmart using display trays that were part of the Detoxify launch in 2018. For Crest Gum and Sensitivity, they created a spin-off tray that was customized for the new Sensitivity line. The pink works great to support the sensitivity messaging while the center copy panel does all of the heavy lifting with images that support brand claims.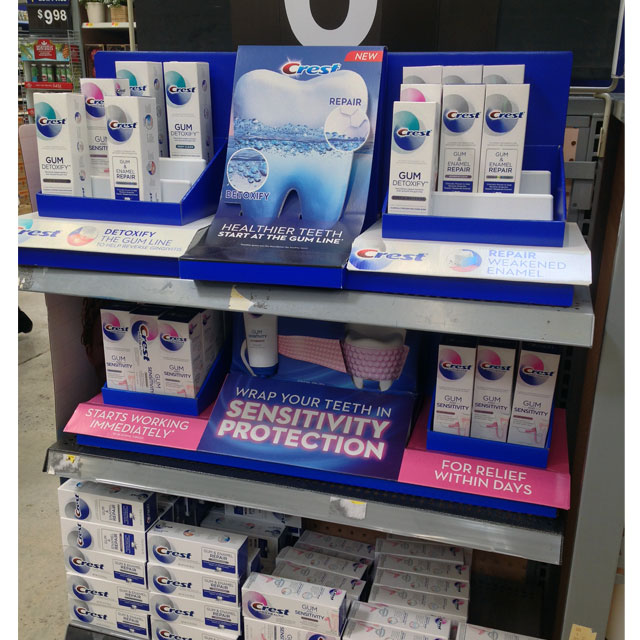 .If you wish to view more Crest related displays, visit our image gallery and type the word crest into the search box.
Sources include:
P & G