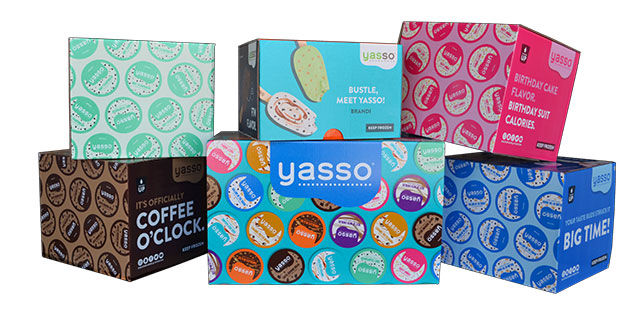 Abbott-Action can help you launch your new brand
Yasso was looking to create an enhanced consumer brand experience when introducing their pint category of products. The brand launch had 3 segments: retail buyers, industry influencers and various media outlets.
Challenges
Yasso presented Abbott-Action with the challenge of developing a package system that would withstand all the rigors of overnight transportation while delivering the brand integrity to their client's door steps.
Scope:
810 – Eight pack variety kits
110 – Four pack single favor kits x 4 flavors
50 – Four packs with individual personalization
Abbott-Action's design team developed a corrugated cooler pack that included a die-cut tray to contain the frozen pints. The system was insulated with Expanded Polystyrene (EPS) pads and a die-cut corrugated box for the dry ice along with a digitally printed master carton.
"Abbott-Action has been nothing short of miraculous, cost effective and extremely steadfast. We could not have asked for a better corrugated converter to execute on this project."
-Kelsey Revens
Communications Manager, Yasso
The challenge was how best to reproduce Yasso's brand colors and ensure the packaging and product would remain intact during transit for an excellent unboxing experience. Several factors were considered: Quantity, Color & Graphic Elements, Time to Market and the B word "Budget".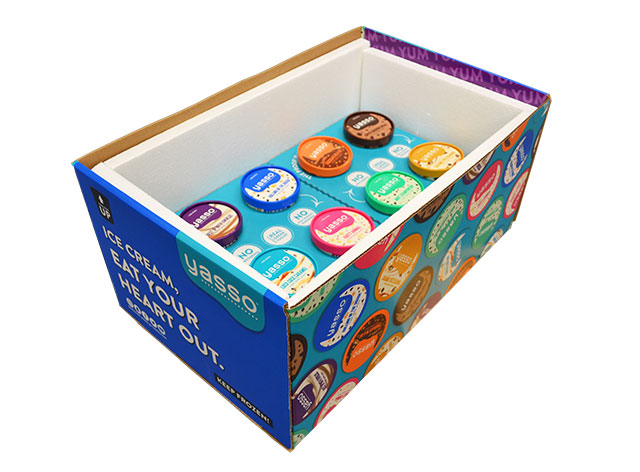 Benefits Exclusive to Digital
Product launches, test markets, brand campaigns or production trials all align well with this disruptive technology. Over the last 17 months we have had print runs with quantities ranging from a few hundred to tens of thousands. It's all about the fit.
When speed to market counts. All aspects of manufacturing are under one roof here at Abbott-Action: pre-flight, file-prep, proofing, manufacturing files through production. All this is accomplished within days, not weeks because of digital printing and finishing.
For the Yasso four pack which had 110 pieces of four different "flavored graphics", this project was ideal for digital versioning. Yasso was able to benefit from our 440-quantity run in one set up, versus traditional print methods.
Digital printing is being used to increase the emotional brand connection for the consumer. From the trending "unboxing experience" to personalization, Yasso's selected 50 media individuals who would receive the kits. Each kit was printed with the name of the Media outlet as well as the name of the individual receiving the kit. Yasso's feedback from its recipients was extremely positive with the delivery and presentation of their delicious treats.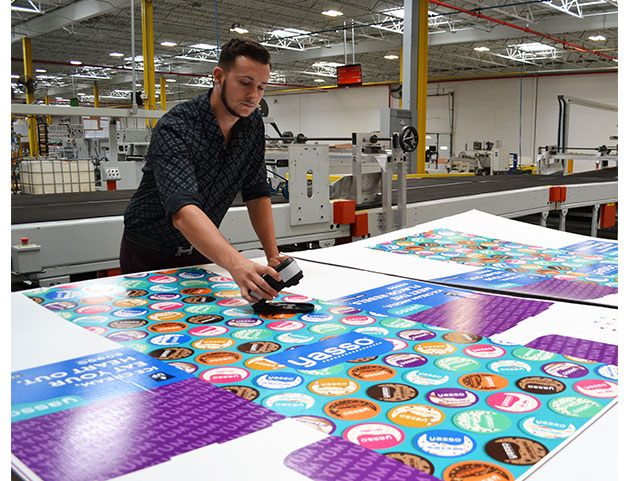 Reduced Time to Market is the single greatest benefit to digital printing. When time was of the essence for Yasso, they were able to launch a campaign that would normally have taken at minimum double the amount of time via any other printing method on the market. Yasso approved their final artwork on January 16, 2018, the entire order was shipped within 7 business days.
Lastly, the Flexibility which digital printing offers has helped Yasso avoid unnecessary high volume runs. In addition, Yasso avoided higher costs in traditional flexo print by eliminating print plates
and cutting dies.
"Keeping Yasso's brand intact was our highest priority during this entire project, they were a perfect fit for our digital printing and finishing capabilities. We look forward to our continued partnership with Yasso as they pave the way for Frozen Greek Yogurt."
-Chuck Slingerland
Vice President Sales, Digital Operations, Abbott-Action,
The Future is Bright, Grab a Spoon
This year marks the most exciting year yet for Yasso. With game-changing pints of frozen yogurt coming to freezers across the country, digital printing has made it possible for Yasso to spread their brand name. Households that normally would not have had a chance to experience their yogurt, will now enjoy a delicious treat due to savvy marketing.
Yasso was able to create an impact that they would not have been able to achieve had digital printing not been available to them. Seventy five percent of their targeted 'press campaign' personalized boxes were received with high praise from their recipients. This response has since lead to numerous articles and coverage from various media outlets. They continue to reap the ROI of their campaign efforts and have already started to plot their next campaign.
Abbott-Action, Inc.
3 Venus Way,
Attleboro, Massachusetts, United States
(800) 334-8030
Chuck Slingerland
Vice President, Sales, Digital Operations
cslingerland@abbottaction.com
www.abbottaction.com