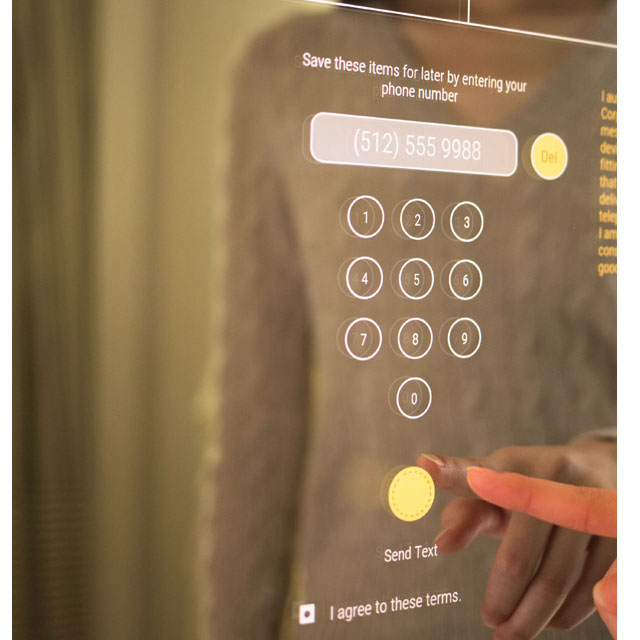 Online shopping data is an invaluable trove of insight into how people shop on the Internet. But as the line between online shopping and offline shopping blurs, what about in-person sales? How do you track customer brick-and-mortar behavior beyond inventory in, inventory out?
Oak Labs wanted that data. Building upon the RFID tracking already incorporated by many retailers, the company started with a smart fitting room mirror, the anchor cornerstone in its technological solution to follow products from the fitting room to the cash register—and chart every step in between.
The idea of connected mirrors has been cooking in Oak Labs CEO and cofounder Healey Cypher's head since at least 2013, when he was head of retail innovation at eBay. But in 2014, eBay announced plans to split from PayPal—and by 2015 it had spun off the retail innovation lab. (While at eBay, he worked on Rebecca Minkoff's Connected Store initiative)
Cypher left in April 2015 to bring Oak Labs to life—and augment his mirror idea with a suite of connected analytics software.
Oak Labs first tried out its own mirror tech during a pilot partnership with Polo Ralph Lauren last November. Since then, Oak Labs has quietly set up its tracking suite in multiple other stores across the U.S., and continues to work out kinks in its system. Oak Labs' pitch is simple: Line your store with connected tech, which will result in a better experience for the customer and field far more in-store data for the merchant. The end result should be more sales.