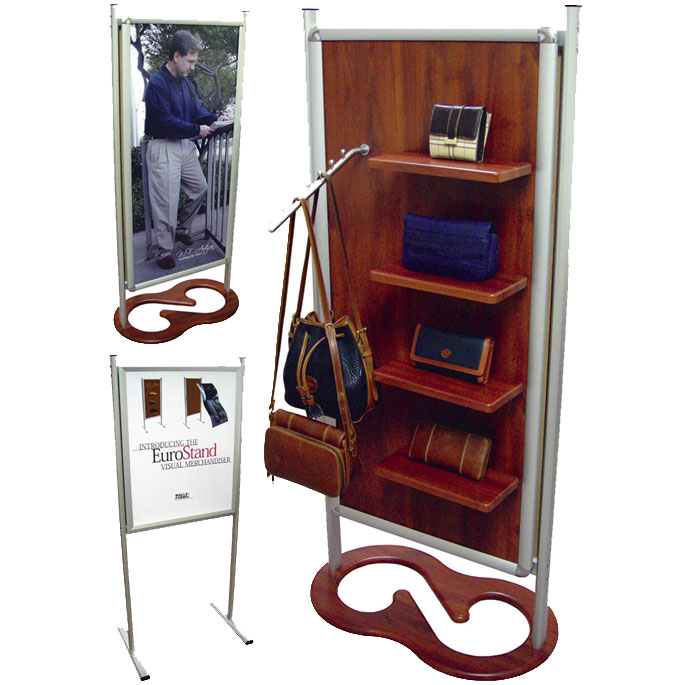 Walls + Forms has multi-functional merchandisers that offer the ultimate in versatility, mobility, and emphasis. EuroSign EuroStands do the job of high-impact visual merchandising and point-of-purchase whenever each is needed. They are ideal for applications including commercial graphics, point-of-purchase signs, convention centers, and exhibit halls, retail stores, bank, brokerage firm, insurance and mortgage company; travel agencies; movie theatres; live productions; casinos, hotels and resorts; restaurants; schools, general commercial; and more.
EuroSign EuroStands are simple to use, easy to install, and ready for personalization. They combine style with function and feature a user-friendly "front loading" frame design.
EuroSign EuroStands are ideally suited for full color lifestyle posters, promotional ads, or any other visual merchandising application. Materials securely in this frame and graphics can be changed in seconds. The components are made from industrial grade materials.
Signs, posters, and graphics can be inserted from the front, thus eliminating the possibility of unnecessary wear and tear. EuroStands are available in Clear Anodized Satin or Black Anodized finish along with a wide variety of eye-catching designer frame colors in aluminum or plastic. Frames and corner colors can be mixed and matched to enhance the look of any décor.
Walls + Forms offers standalone floor stands for all graphical needs in stores, malls, or every fast installation site. They also include Graphic Stands that offer a new look to a proven advertising vehicle and allow your message to be seen easily, and Banner Stand adjustable height floor stand banner displays. Folding frame displays offer users flexibility to apply vinyl graphics to an existing solid backer panel or purchase with a front-loading Walls + Forms display frame or Sekure frame pre-installed, and sample tables, an all-purpose promotional counter system for point of purchase applications and demonstrations.