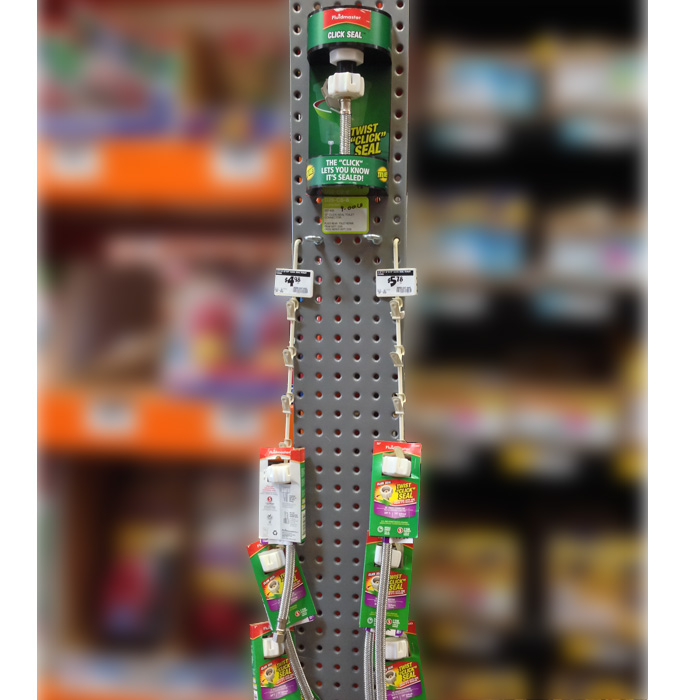 Fluidmaster, the leading global manufacturer of toilet tank valves and fluid management systems, has launched an in-store demo display that enables do-it-yourself and professional plumbers to try before they buy.
Most seasoned pros already know that there is nothing worse than having a toilet connector with a cracked plastic ballcock nut. These tiny micocracks can lead to a catastrophic leak that could cause thousands of dollars in water damage. Cracked nuts usually occur because of two reasons – overtightening or cross-threading during the installation process…..which is where the Click Seal Connect system comes into play.
The Click Seal Connector system features a ballcock nut with a ratcheting torque feature….similar to the gas cap on a truck or car. When the Click Seal gets to the appropriate tightness, the toilet connector nut "clicks" and won't tighten anymore.  This proprietary feature tells you that your connector has achieved a good seal and also prevents overtightening of the nut. Made of a tough polymer core covered with braided stainless steel wire, these connectors exceed every code requirement in the book for durability and are the only connecters in the market available with Click Seal technology.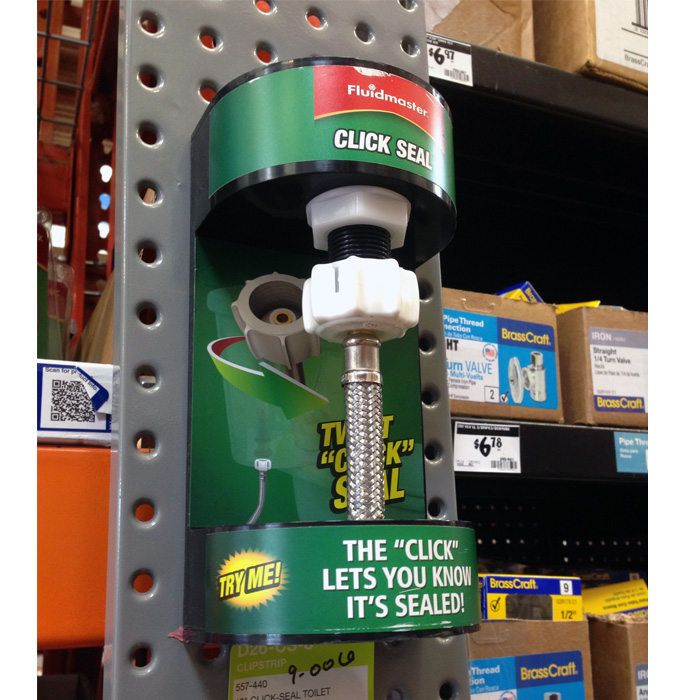 The interactive TRY ME display shown above was spotted in the plumbing aisle at a major Home Improvement retailer. Mounted to a vertical merchandising strip, the compact plastic display was designed to replicate a typical plumbing repair environment….but with a twist. Shoppers can actually thread the Click Seal connector on the display so that they can experience the "clicking" sound which signifies that optimal threading and tightness have been achieved.
Not sure if the two metal product hanging strips were part of the merchandising program but nonetheless, each strip held 6 products per and allowed for quick access to the Click Seal once the demo convinced them to make the purchase.
When marketing in the Home Improvement arena, the ability for consumers to touch, feel and even try the product are key drivers in sealing the deal. Another great example of a display that does all of that is the Rubbermaid Clean & Dry floor display.