The preprinting specialists at Christiansen Print won big at the Flexographic Printing Association e. V.'s DFTA Awards ceremony this year, taking home prizes in the categories of "Digital Package Printing" and "Preprinted Corrugated Cardboard". The jury focused on criteria such as print quality, innovation, environmental aspects, and complexity.
In the "Digital Package Printing" category, they received the award for a printed image for Aoste-brand displays; the design stands out due to its natural-looking wood-grain structure, which also creates significant challenges for the printing process. The design was printed on uncoated paper with a working width of 2.8 metres, and was realised using the digital web press printing system in Ilsenburg. "The award-winning product represents excellent print results with exceptional colour quality, creating a nearly 3D effect for the viewer," says Michael Weber, Director Corporate Marketing Thimm Group. "Digital printing makes it possible to realise even the most sophisticated print designs on uncoated papers, yielding cost advantages for the customer."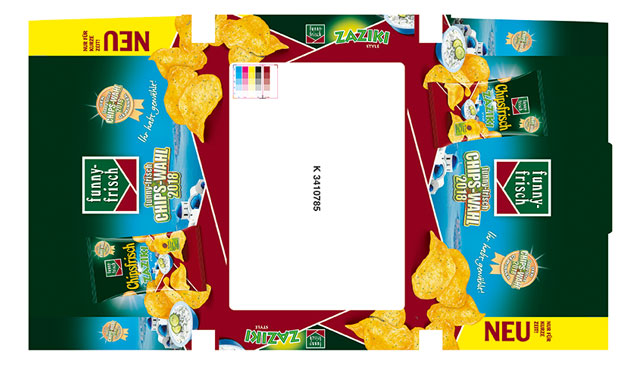 The "Intersnack Chips Choice 2018" printed image for Intersnack Knabber-Gebäck GmbH & Co. KG won the "Preprinted Corrugated Cardboard" category. It was created in five colours using a central cylinder flexographic process, and demonstrates the full range of possibilities this process affords. The colourful motif on a bright blue background won judges over thanks to its brilliant colours. The product name "funny-frisch Chips Choice 2018" runs all four process colours and requires 100 percent accuracy of fit. The same applies to the red or green areas in the lower and upper part of the print image, which shows no trace of the well-known orange-peel effect.
"The two awards reflect our commitment to quality and our high level of preprinting expertise," says Weber. "And, of course, it motivates our team to keep delivering first-class print products."
The Flexographic Printing Association e.V.'s awards ceremony is held every two years to honour exceptional achievements in Flexo printing. This year's ceremony included awards in nine categories, and was held on March 6, 2019, as part of the ProFlex trade fair in Stuttgart. The ProFlex is a professional trade fair for the flexographic and package printing industry.
About Christiansen Print
Christiansen Print is a business division of the Thimm Group and a European market leader in the web press sector for corrugated packaging and displays. Thimm Group is the leading solutions provider for the packaging and distribution of goods. Its portfolio includes corrugated cardboard transportation and sales packaging, high-quality promotional displays, packaging systems combining a range of materials and print products for further industrial processing. The company's product offerings are further enhanced by a wide range of associated packaging services covering the entire supply chain. Its customers include prestigious branded product groups from across all sectors. Founded in 1949, the family-owned business has more than 3,000 employees at 19 sites in Germany, Czech Republic, Romania, Poland and Mexico and generates annual revenues of around 601 million euros. More Information at www.thimm.com.