Popon is pleased to bring you our 21st installment of cool POP displays, trends and ideas. Our vigorous store checking schedule presents us with numerous interesting examples of designers and brands coming together to deliver outstanding promotional materials that we like to share with our audience of dedicated POP professionals.
As always, if you are interested in showcasing some of your unique designs and promotions, do not hesitate to contact us for more details.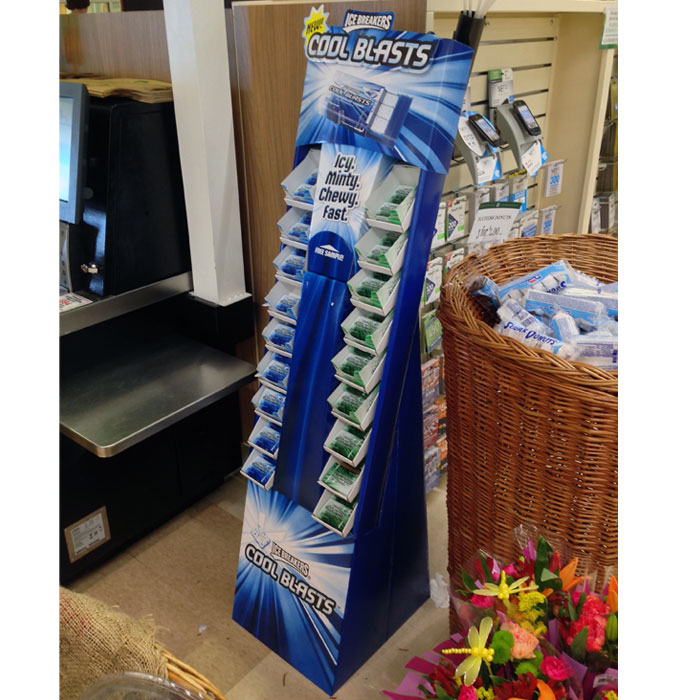 Ice Breaker Offers An Instant Refresh With Cool Blast
Hershey recently introduced a new alternative to traditional breath fresheners with their Ice Breakers Cool Blasts Chews. According to an online poll, nearly fifty percent of 'singles' say fresh breath is the most important component of prepping for a date, even more so than their outfit. Quick-dissolving Ice Breakers are powered by Ice Breakers cooling crystals which enable quick and discreet use, providing confidence for individuals in most social interactions.
The original debut was slated for late last year but was pushed back because of production issues and retail demand. According to a recent media report, "Hershey is dedicated to offering our fans new and differentiated products that fit with their needs and taste preferences," said Bill Blubaugh, Director of Refreshment. "As consumers seek out faster, more discreet ways to freshen breath, Ice Breakers Cool Blasts Chews offer a solution that provides long-lasting freshness in an instant."
The floor display shown above is just one example of the brand's in-store execution. Incorporating on-shelf product caddies, angled product trays presented both variants in a waterfall arrangement. A 'Free Sample' pull out bin built into the center divider offered shoppers a product sample. Bursts of cool color graphics visually completed the top and bottom of the display.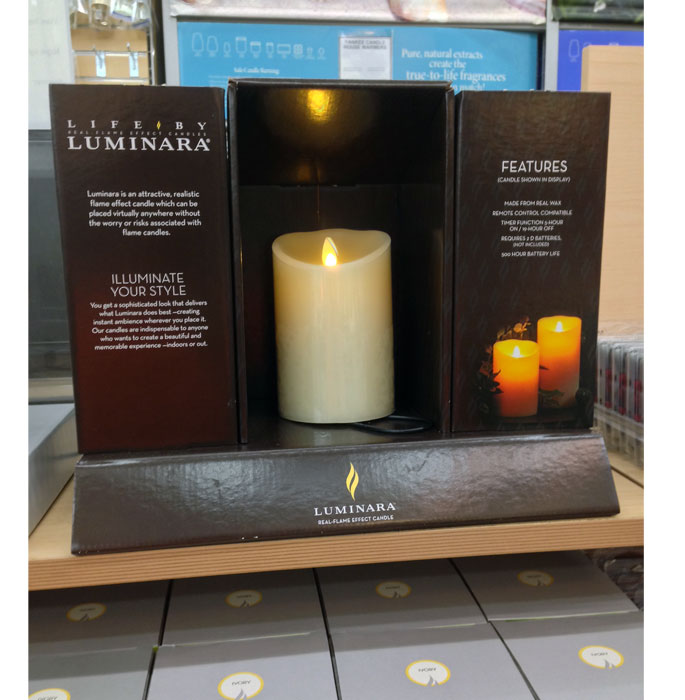 Luminara Glows In Shadow Box Display
Headquartered in Minnesota, Luminara is the global brand of real flame-effect designer candles that offer instant ambiance with the added benefits of convenience and safety. Luminara is touted as a smarter candle because it harnesses Disney technology which enables the 'realistic' flame to ebb and flow like a real candle flame.
Ideal for homes with small kids and pets, the battery operated candles are made using authentic wax and have built in timers that cater to the user experience. Adding to the convenience factor, the candles can be operated using a remote control.
In recent company news, Luminara announced its partnership with Darice, Inc. as its exclusive U.S. distributor which will make their products more available to consumers. "Darice's history of best in class customer service and unmatched ability to use creativity and technology to continually improve the customer experience perfectly aligns with our number one commitment to delight our customers," said Elliott Resnik, CEO of Luminara in a recent press release.
In addition to the new distribution partnership, Luminara is making a presence in-store with several shadow-box shelf displays. The product cubby on these displays were designed with an angled roof to help reflect the candle flame and showcase their unique glowing properties. The display copy panels provided a lifestyle story and the features associated with their unique product line.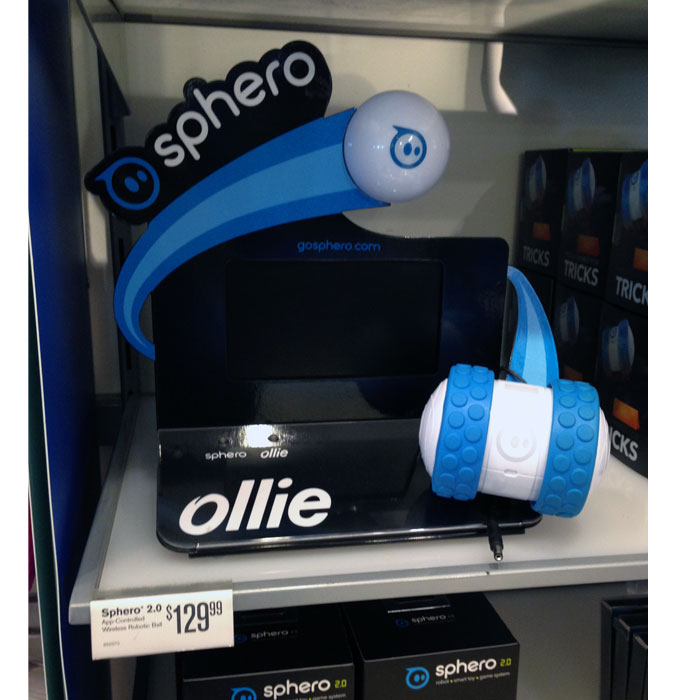 Ollie Sphero Kicks It Up A Notch On-Shelf
Located in Boulder Colorado, Sphero creates smart toys by fusing games with robotics. The company builds some of the most advanced and programmable toys (Sphero and Ollie) that are operated using smartphones….. for those looking for some fun away from the PC.
Both remote controlled gadgets are being showcased in-store on a combo shelf display that accentuates the toys in dynamic fashion. A curved, wrap around graphic adds dimension and visual interest against the black display which enables shoppers to touch and feel live product. An interactive screen demonstrates product usage by pushing one of the two 'brand specific' activation buttons.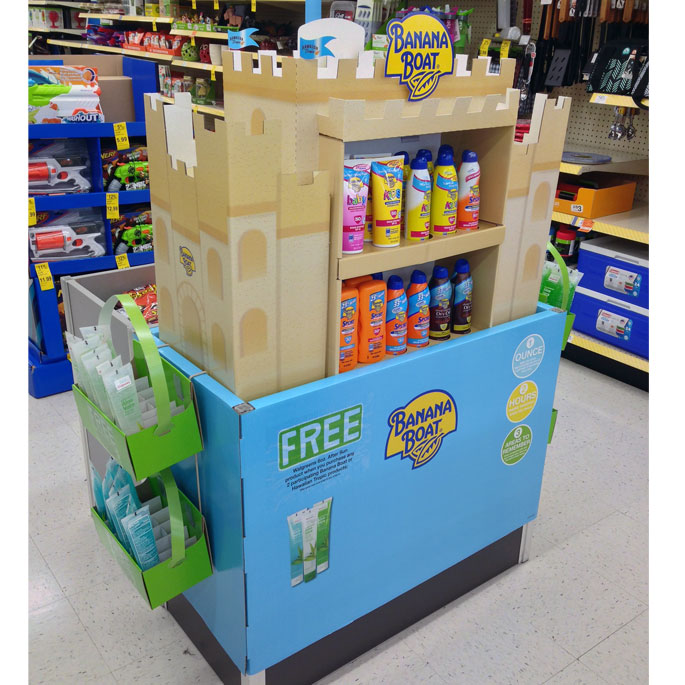 Banana Boat Table Display Offers Shoppers Protection
Walgreens, Banana Boat and Hawaiian Tropic recently kicked off Summer with a promotion to support and promote their skin care products. The retailer offered a 6oz after sun product with the purchase of any two products from either of the participating brands.
The campaign was presented to shoppers using one of Walgreens dump table displays. Created to represent a sand castle, the beach-themed table display neatly merchandised the sun care products on shelves. Brand recognition was shared via the use of tip-ons and little flags that were placed in the corrugate fluting at the top of the castle. The skirt called out the specifics of the promotion and also provided shoppers with sun protection tips.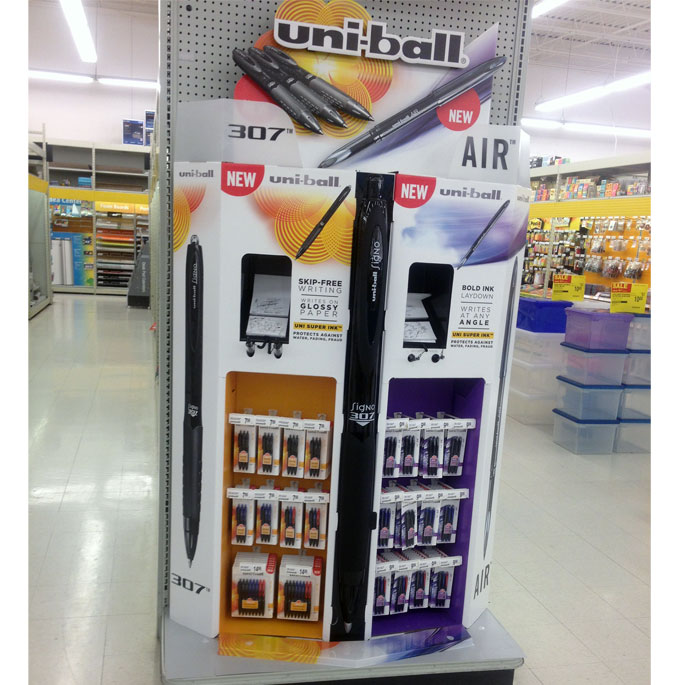 Uni-ball End Cap Display Helps Launch Two New Pens
OfficeMax recently announced that the new uni-ball 307 and the uni-ball AIR are now available to purchase at Office Depot and OfficeMax locations and online at officedepot.com.
In an earlier press release, "The evolution of the writing instrument aims to cater to customers' tailored preferences," explained Andrew Tomlin, writing expert for Office Depot, Inc. "These two new uni-ball lines provide a unique writing experience, equipping customers with the finest gear they need. With the uni-ball 307 writers don't have to worry about skipping while writing on glossy paper. The uni-ball AIR allows writers to write at any angle. These new models are truly a unique step forward for writing tools."
To bring their message in-store, Uni-Ball debuted the pens on a dedicated end cap display. The display was evenly split, providing equal billing for both variants. Color coded product cubbies neatly merchandised each SKU. Just above the cubbies, test writing pads along with feature copy panels for each pen provided shoppers with product attributes. Several other elements, like the 3D 307 pen replica in the center and the layered riser pieces, resulted in a very inviting and eye-catching display.