Earlier this month, GlaxoSmithKline officially launched its Flonase Allergy Relief onto store shelves at drug, grocery and mass retailers nationwide. Flonase is the first and only over-the-counter (OTC) nasal spray that offers relief for the roughly 50 million people who suffer from nasal-related allergy symptoms.
As compared to anti-histamines, which only block one, Flonase Allergy Relief helps to block six of the key substances that cause allergic reactions. In addition to the blocking 6 claim, the product boasts that it… 'Outperforms The #1 Allergy Pill'. Both taglines were key visual drivers in the marketing campaign which included several POP displays, print and social media. The displays below represent the national merchandisers deployed for the launch.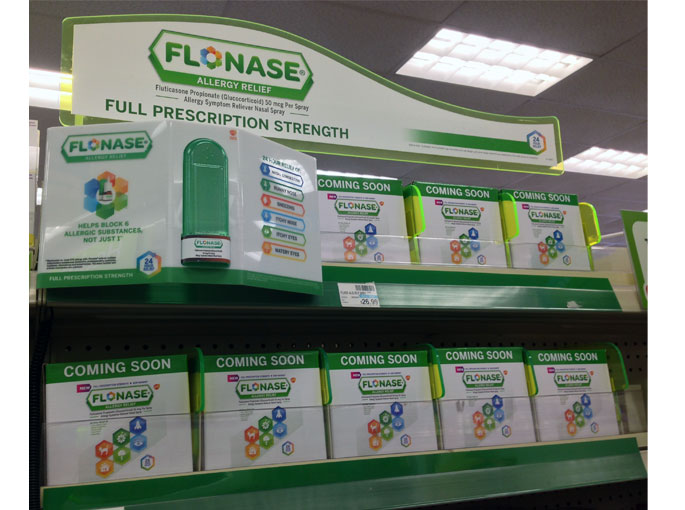 Inline Shelf Display
In anticipation of the launch, Flonase secured shelf space with an inline pusher display. Shown above with pre-launch package dummies, the brand was well represented with this permanent shelf system. To the left, an extended copy panel with product bottle added a bit of extra visibility to shoppers strolling down either side of the aisle. A large, curved edge-lit header added further visual interest in-store as did the dividers placed between SKUs.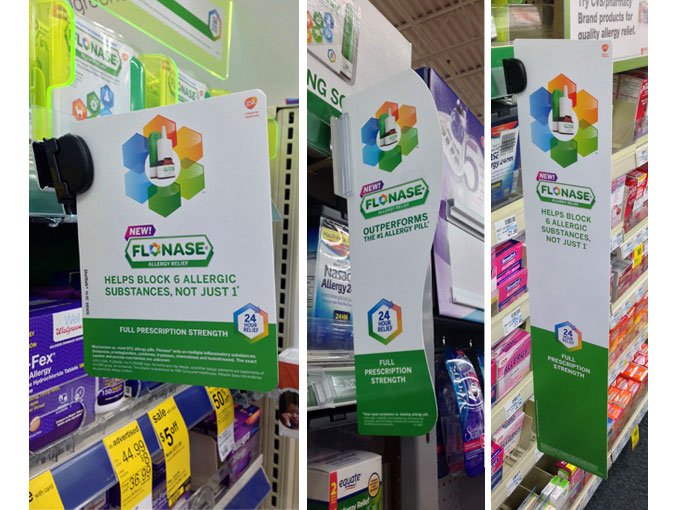 Flonase Violates The Aisles
Several aisle violators could be found at retail bringing the brand message front and center. Consisting of mostly basic shapes, the one in the center picks up some of the equities of the inline header shown in the image above it.
Flonase Counter Display Offers Relief at Drug Stores
Flonase hit the pharmacies at CVS with this two-tier counter display. Designed to hold both the 60 and 120 metered spray variants, the unit takes advantage of the angular features found in the graphic elements.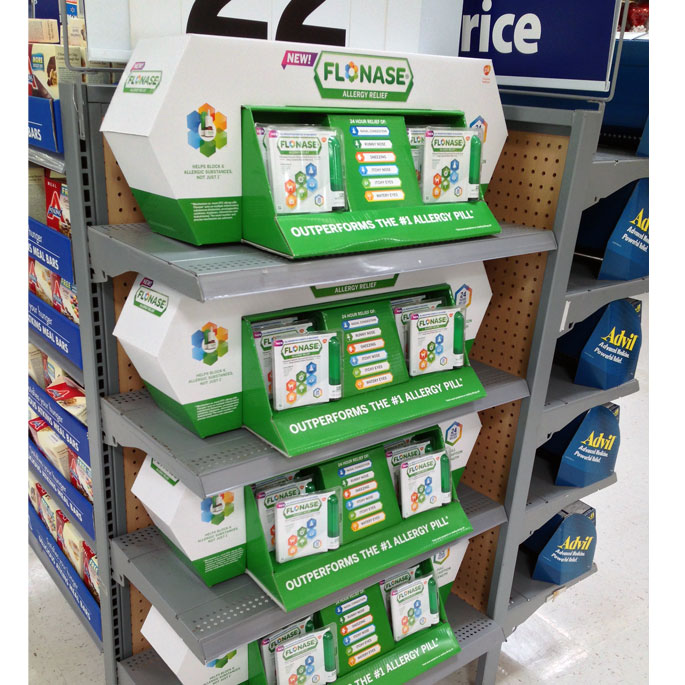 Outperforming On Walmart End Caps
Our favorite of the launch displays, these end cap trays utilize brand equities that make a big impact on-shelf. The overall shape of the display mimics that of the logo. Enhancing the packaging graphics, logo and center panel, the angular-shaped product tray pulls it all together, creating a clean and concise marketing message.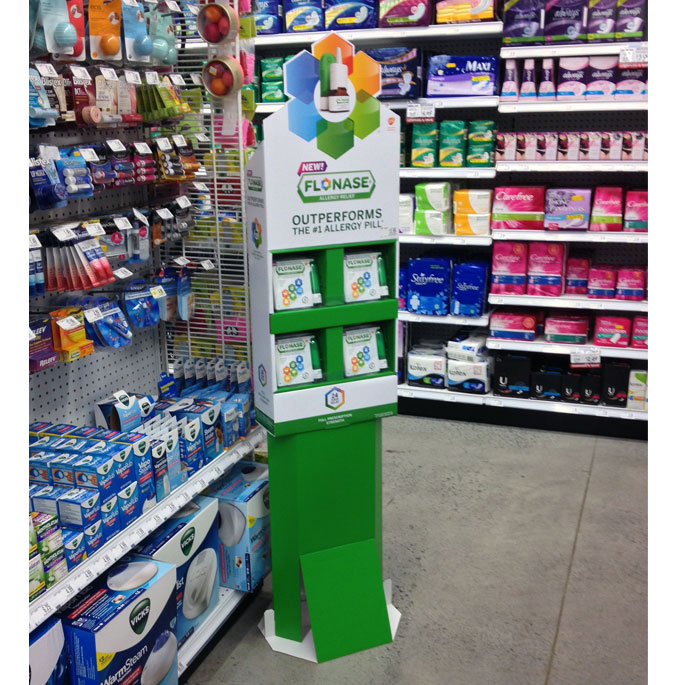 Flonase Floor Display Supports Brand Shapes
Lastly, this Flonase floor stand maintains trade consistency in-store with its angled features. The top section of the tray highlights a product image which is surrounded by colored hexagon shapes. Completing the look and feel, the sides, front & rear and bottom panels of the base integrate marketing forms quite effectively. It would have been a nice touch if the six 'relief of' symbols were printed on the lower tray lip or on the base.