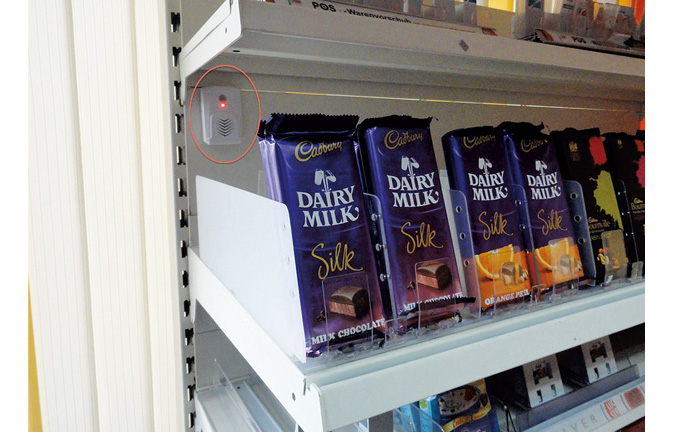 Innovaxis' Motion Activated Shelf Talker (MAST) senses the presence of a customer and plays a pre-recorded sound clip to inform about product on the shelf
Innovaxis Technology released its new product called MAST or Motion Activated Shelf Talker. The product is
designed to add sound to POP and shelf displays. The shelf talker has a motion sensor which senses the presence of a customer and plays a pre recorded sound clip to inform and engage the shopper.
MAST uses premium quality PIR sensors to sense motion on the ground. The sensors have a range of 2-5 meters. The MAST requires three AAA batteries which can give you 6,000 repetitions for a 10 second sound clip. All sound clips can be re-recorded, ensuring reusability of the product.
To deal with heavy footfalls, MAST comes with an built in adjustable timer. The timer can be adjusted between 20 to 45 seconds depending on how many times the merchandiser wants the message to be repeated. MAST also has a volume control switch to adjust the sound of the recording.
The product weighs about 90 grams with batteries and has dimensions of 90mm x 60mm x 25mm, which means it occupies very little space on the shelf. It also has a special shelf lock which prevents anyone from tampering with the equipment.
While talking about the response from the industry to their innovative product, Rohit Vedi, Senior General Manager of the firm, said "Our product is easy to install and can be used for multiple campaigns. Hence, the industry response has been very good. A number of big banners like HUL and Coco Cola have expressed an interest in our
product to capture the auditory edge. In the coming years, you will see an increased use of this audio medium in malls and retail outlets. MAST has given advertisers a new vehicle to showcase their creativity. We are sure that a lot of innovative applications for our product will be made."
In the future, Innovaxis hopes to create a device that can also record the customer feedback instantly. With greater functionality and more customization, there is no limit to the degree of innovation that will be witnessed with MAST.