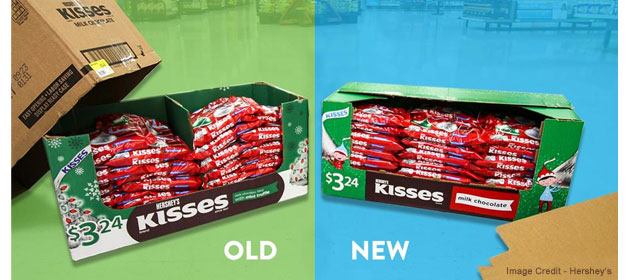 The Hershey Co. has redesigned the display-ready case for its chocolate packaged candy, proving that significant sustainability advantages can be achieved simply by rethinking the structure of an existing package. In fact, moving from a two-piece design to a one-piece box has resulted in a 32% decrease in corrugated materials.
Greg Gressel, Director of Disruptive Supply Chain for Hershey, says the project was driven by the need to find a balance between packaging that could market Hershey's brands and convey important nutritional information, while at the same time reduce the impact of Hershey's packaging footprint. "These changes are part of our broader efforts to minimize the environmental impact of Hershey's operations, reduce waste, and prioritize the health and safety of our employees," he says.
In addition to the links below, you can visit the gallery to view more of their promotional collateral. Type hershey's into the keyword search box once you land in the gallery.
Related
Cookie Layer Crunch Pallet Display
Hershey's Kitchens Floor Display