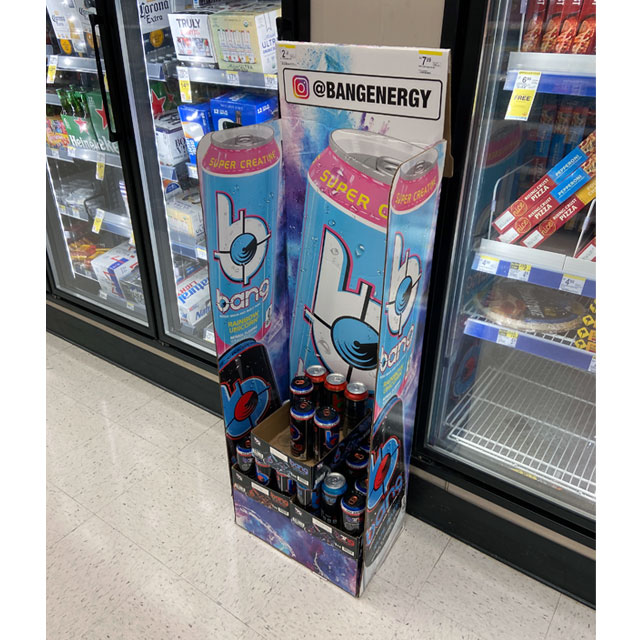 Introduced in 2012, Bang Energy is known for leading the energy drink category with new and innovative drinks. The brand, produced by Vital Pharmaceuticals Inc., is sold in more than 200,000 outlets in the United States.
Bang is not your typical sugar-filled soda masquerading as an energy drink. Every 16-ounce can of Bang contains 300 milligrams of caffeine, which studies have shown may increase endurance, as well as strength in some cases, along with essential amino acids, CoQ10 and Super Creatine.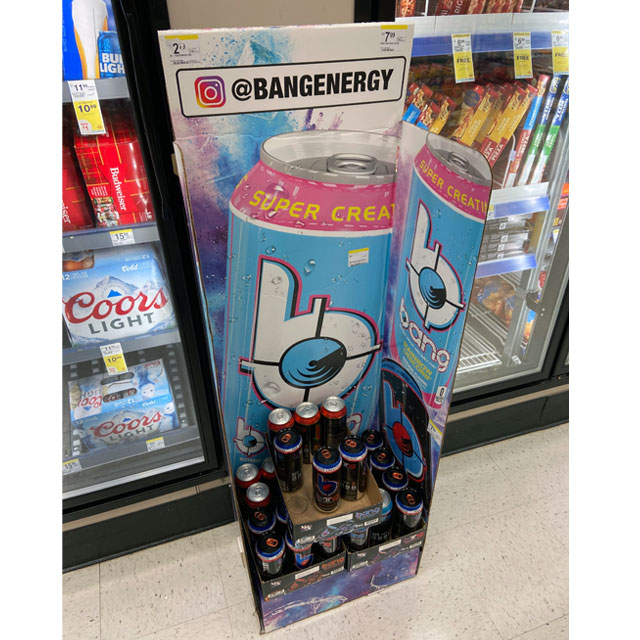 With over 40 different flavors available, there's a Bang for everyone. The brand was recently spotted at Walgreens promoting their Rainbow Unicorn flavor using this stacker display. Here at popin.net, we love publishing articles on displays which utilize simple structures that boost sales and look great while doing it…..and this one fits that bill.
A simple u-shaped body that was printed both sides with very impactful brand assets kept the product tidy and created visual disruption in the aisle. The inside of the display highlighted larger-than-life product shots which gradually became visible as cans were exhausted from the unit……good choice to use a printed kick plate to raise the product off the floor. Overall, great looking display that appears to be generating solid sales results judging from the little bit of remaining product.
Check out these other Energy Drink Displays
5-Hour Energy Curved Floor Display
Monster Energy Illuminated Sign
5-Hour Energy Fixes Tired Fast End Cap Trays
Monster Energy Import Rolling Cooler Display
V8 Fusion Energy Floor Display
Sources include:
Bang Energy
About Bang Energy
Jack Owoc is the CEO and founder of Bang Energy and its extensive portfolio of allied brands. Bang Energy was founded in 1993 with one goal in mind: to produce the highest grade, university-proven sports supplements, and performance beverages in the world. Bang Energy has funded roughly 30 landmark, human-subject studies on its products, including Bang and Redline energy drinks, at UCLA, University of South Alabama, Florida State University, Baylor, University of Southern Maine, Memphis University, College of New Jersey, FIU, and other top universities in the country. For more information and daily trendsetting updates, workout tips, and supplement research, stay connected by following Jack Owoc on Instagram, @BangEnergy.CEO, visit Bang Energy's website, Bangenergy.com, and follow Bang Energy on Instagram, @BangEnergy.