Buy – Enter – Win
Pepsi and Cheetos fans have a chance to win one of 322 cash prizes by playing the Grab a Cheetos – Add a Zero sweepstakes contest. During the promotion period, shoppers can purchase a specially-marked Pepsi Zero Sugar 12-pack or Cheetos product to find the code needed to enter the contest. For folks who want to play without having to make a purchase, they can mail in and request a set of codes. Either way, after obtaining the codes, participants were instructed to visit www.PepsiandCheetos.com and follow the on-screen instructions to register and enter their set of codes to determine if they won a prize.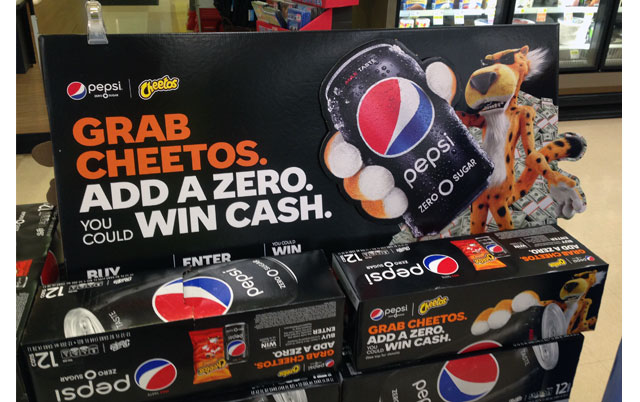 To help promote the contest in store, the brands created this two-sided, triangular case stacker sign. One side of the sign provided contest details while the other depicted brand ambassador Chester Cheetah holding a can of Pepsi Zero. Can't see it in the photo above, but the can in Chester's hand was motorized so that it moved back and forth.
The promotion started June 16, 2019 and ends August 17, 2019.
Related
Pepsi Live It ABH Truck Display
Pepsi Grabs Summer By The Bottle