Popon is pleased to bring you our 14th installment of cool POP displays, trends and ideas. Our vigorous store checking schedule presents us with numerous interesting examples of designers and brands coming together to deliver outstanding promotional materials that we like to share with our audience of dedicated POP professionals.
As always, if you are interested in showcasing some of your unique designs and promotions, do not hesitate to contact us for more details.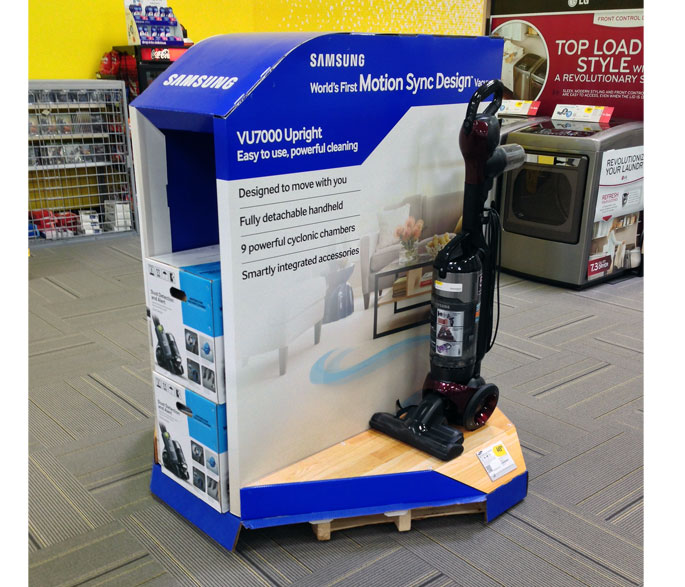 Samsung Motion Sync Pallet Display
Samsung rolled out this Motion Sync pallet display to debut a new vacuum cleaner that is designed to easily maneuver around furniture and obstacles in the house. According to Samsung's website, the sweepers' large, lightweight wheels roll with minimum effort because the cambered wheel design provides smooth motion during use. The display featured a live product that rested on a faux wood floor and included a huge stacker compartment which was printed with living room graphics and product attributes.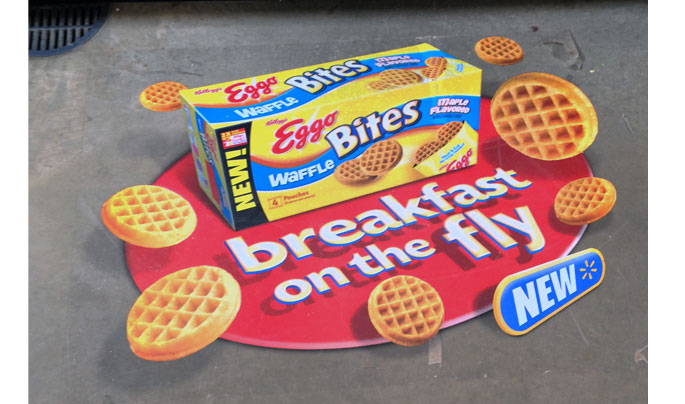 Breakfast On The Fly Floor Graphic
Kellogg's is making a nationwide appearance in grocery stores with a dimensional floor graphic promoting their Eggo Bites breakfast products. A new, away-from-the-table line of Eggo waffles and French toast, this breakfast treat is designed for busy moms who juggle those chaotic school day mornings.
The floor graphic shown above was created for Walmart and features their breakfast product in full blown 3-D. Several Bites appear to hover around the packaging graphics, creating a dynamic visual that is an instant disruptor for moms looking for a time-saving breakfast treat.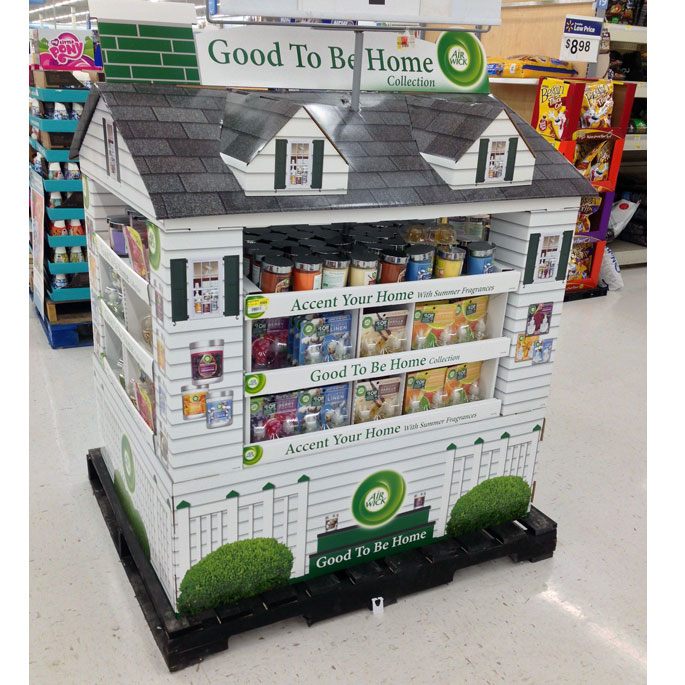 Good To Be Home Airwick Pallet Display
This past summer, Airwick launched their Good To Be Home Collection at Walmart with this pallet display which merchandised numerous seasonal fragrances. Shoppable from four sides, the house-themed structure featured several great structural and graphic details. From the white picket fence and bushes, all the way up to the shingled roof, this display visually emphasized the comforts of using Airwick products to create an enticing, at-home summer experience.
Summer Day Sales Snack Displays
Another summer promotion, Nabisco used these seasonal floor displays to promote a Summer Sale Days! campaign to merchandise a variety of SKUs. Shown holding Oreo cookies, the displays were designed to also accommodate Triscuit, Ritz and Chips Ahoy! products. The main end units were printed with festive beach-themed graphics on the sides and shelf lips. A lighthouse style roof with promotional graphics topped off the floor stands and added additional visibility in the aisles.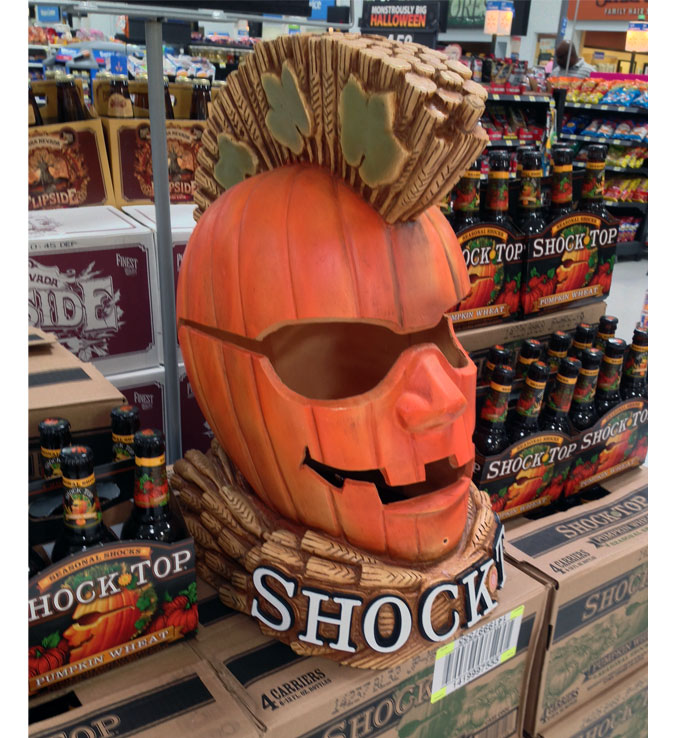 Shock Top Case Stacker Spooks Seasonal Fans
Anheuser-Busch is scaring shoppers this Halloween with a very cool Shock Top pumpkin carving case stacker. Created to promote their seasonal pumpkin wheat beer, the display interior was designed to light up and play spooky sounds when shoppers activated the motion sensor which was housed in the pumpkin's chin.