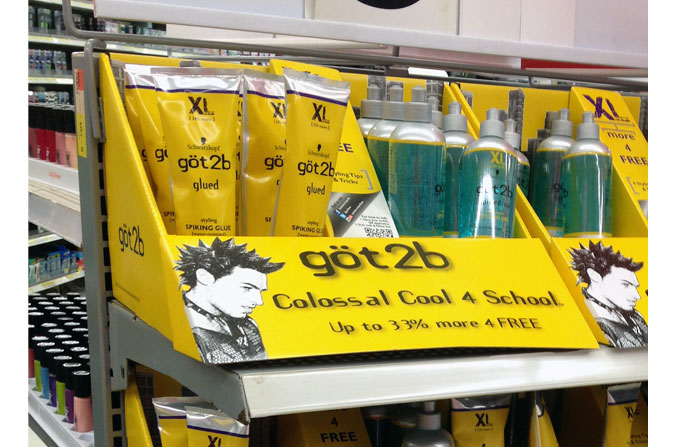 The Retrofit Extension Graphic Lip
Product Overview: Designed for the ultimate spiker, göt2b spiking glue delivers a hold so strong that it will keep your messy look intact until your next shampoo. Water resistant and wind-tunnel tested, göt2b is colossal cool and out on-shelf just in time 4 school. Spotted at Walmart, the above litho-laminated tray merchandised the göt2b spiking gel and spray products on a 4-way fixture.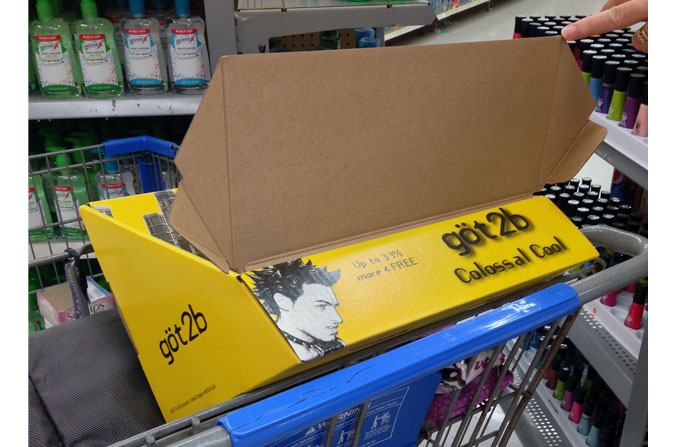 This tray was picked as our 'design insight' store check selection because of the neat extended front lip copy panel. Note that we will be assuming that its purpose was to meet Walmart's four-way shelf depth requirements as the tray minus the angled lip doesn't.
As you can see, part of the lip extension was designed to tuck behind the front roll-over then secured in place by tabbing the scored end flaps into the void 'gaps' on both sides of the tray roll-over…..similar to how a riser is attached to a tray. The design and method of attachment is clever, not to mention the purpose it served which was a cost effective solution to utilize existing tray inventory and meeting the retailers style guide requirements.