Popon is pleased to bring you our 13th installment of cool POP displays, trends and ideas. Our vigorous store checking schedule presents us with numerous interesting examples of designers and brands coming together to deliver outstanding promotional materials that we like to share with our audience of dedicated POP professionals.
As always, if you are interested in showcasing some of your unique designs and promotions, do not hesitate to contact us for more details.
Berocca Floor Display Helps Shoppers Stay Mentally Sharp
Need a boost of energy? Berroca can assist by offering support for your mind and body when the day's events have worn you thin. Available in two flavors – mixed berry and orange – Berroca contains a high dose formulation of vitamin B and C plus other essential minerals. Berroca's products are free from any artificial stimulants so they offer a healthy alternative to caffeine and sugar-based drinks.
Berroca is delivering their message in-store with this curvy floor display. The upper copy panel was printed with brand messaging and had a coupon pad adhered to it. A curved graphic strip on the right side of the product highlights in-use product imagery. The product itself is neatly displayed on hooks over an orange background that adds great contrast to the overall presentation.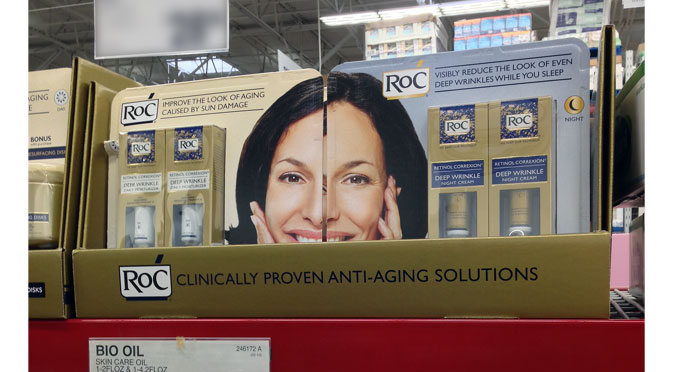 RoC Anti-Aging Splits Image On Club Store Shelves
Founded in France in 1957, RoC has a long history of providing effective skincare solutions for women around the world. Making their presence in club stores here in the U.S., RoC is showcasing two of their anti-aging products on-shelf in this stadium-style corrugate tray. This entry is not so much about the display tray but more so the packaging and the impact the split image has when combined. Other brands have achieved a similar effect in the past with graphic copy but in this case, using a four-color image split between two products created a dramatic effect for the brand.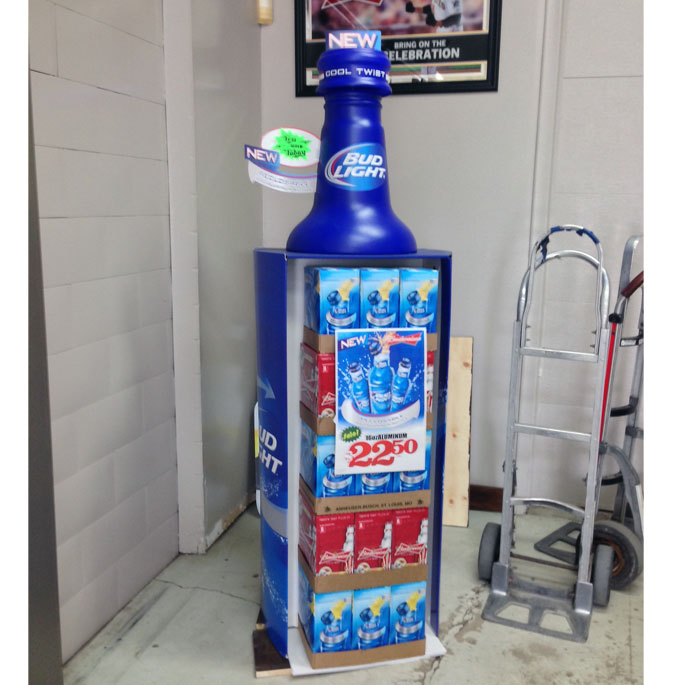 Bud Light Cool Twist Cap Spins at Beer Distributors
After a successful Super Bowl debut earlier this year, the Bud Light 'Cool Twist' is still doing well and chillin' at retail. For those not familiar, the new bottle design is a patented technology from Alcoa that offers a reclosable cap. In addition to manufacturing the bottle, Alco also assisted in the upfront design process.
The stacker display shown above was designed to draw in beer drinkers by highlighting the reclosable cap. Complete with a motorized rotating top, this well-branded display can merchandise several stacked cases of beer. Brand colors and large side panel graphics enabled this floor stand to stand out amongst the competition.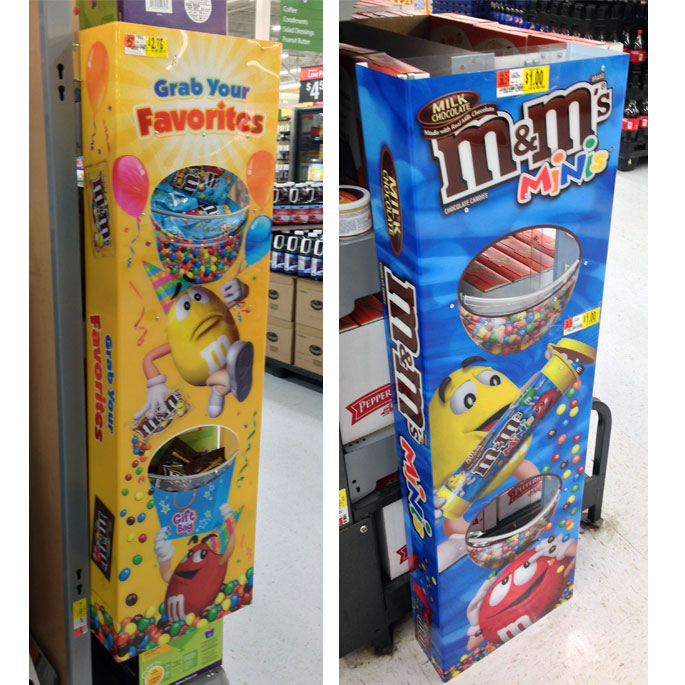 M & M's Side Kick Displays Capture Permanent Space At Walmart
M & M's secured a more permanent presence at Walmart with the two side kick displays shown above. Produced using a durable plastic outer shell, the dump-style displays have two easy-access pick points enabling the brand to merchandise different variants. The bright and colorful shells were printed with M & M characters that are playfully illustrated interacting with the delicious products that Mars is so well known for by chocolate lovers around the world.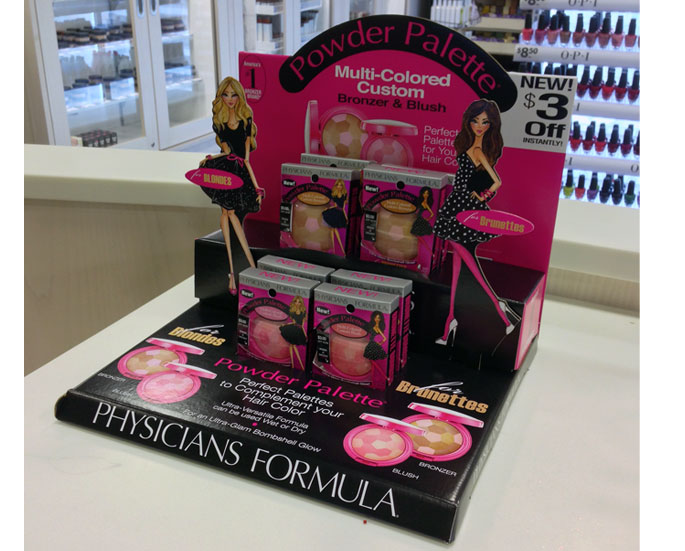 Physicians Formula Creates The Perfect Palette
Since 1937, Physicians Formula has been creating high-quality, hypoallergenic cosmetic and skincare products. Founded by Dr. Frank Crandall, the company is committed to creating innovative products that meet the rigorous standards of consumers which is why they retain  #1 status in key category segments.
Physician Formula is showcasing their line of Powder Palettes with this creative counter display. Designed to give each variant equal billing, the display was graphically split in half to distribute the copy elements for blondes and brunettes. Little die cut figures on the right and left helped shoppers distinguish between the two products as did the messaging on the front copy panel.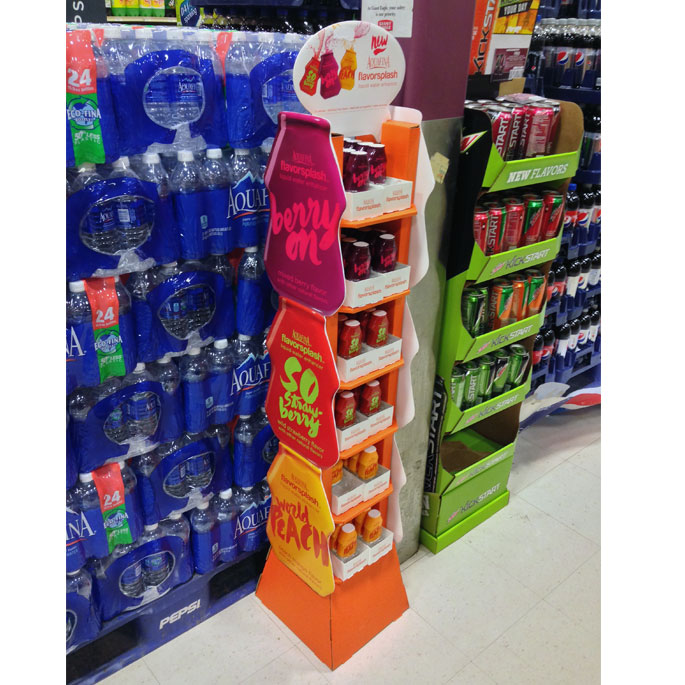 Aquafina Floor Display Makes a Splash in Beverage Aisles
Aquafina FlavorSplash is a new line of sparkling water beverages and liquid water enhancers created to target the teen consumer. Offering several different zero calorie variants in the line, Aquafina has launched this cool tower floor display to help promote their delicious water enhancer products.
You can't tell from the image but the display was designed to shop from two sides. The construction was impressive and the end result created a solid structure that didn't sway. All three water enhancer flavors were neatly merchandised in their inner packs on corrugate shelves. The colorful side panels and riser were litho printed and mounted to foam core. This vibrant display definitely represented the brand and made a splash in supermarket beverage aisles.