Although the domestic gum industry is worth $2.6 billion, sales have declined four percent over the last year which is why several manufacturers are trying to capture the loyalty of the youth market by making image adjustments to their brands and launching new lines. Kraft foods is debuting a possible category game changer by reaching out to teens this summer with the launch of its ID gum, an extension of the Stride brand but way cooler.
Packaging: The first-of-a-kind magnetic seal pack opens by pulling and turning the ID logo which reveals graffiti-style graphics inside. All of the designs on the package are created by young emerging artists. Individual designs appear on each stick of gum as well. Forward and backward-facing fonts denote each flavor which are available in spearmint, peppermint and berry melon. The idea to express teen creativity with the product development reinforces the lifestyle choice and experience message the brand wanted to deliver to its audience.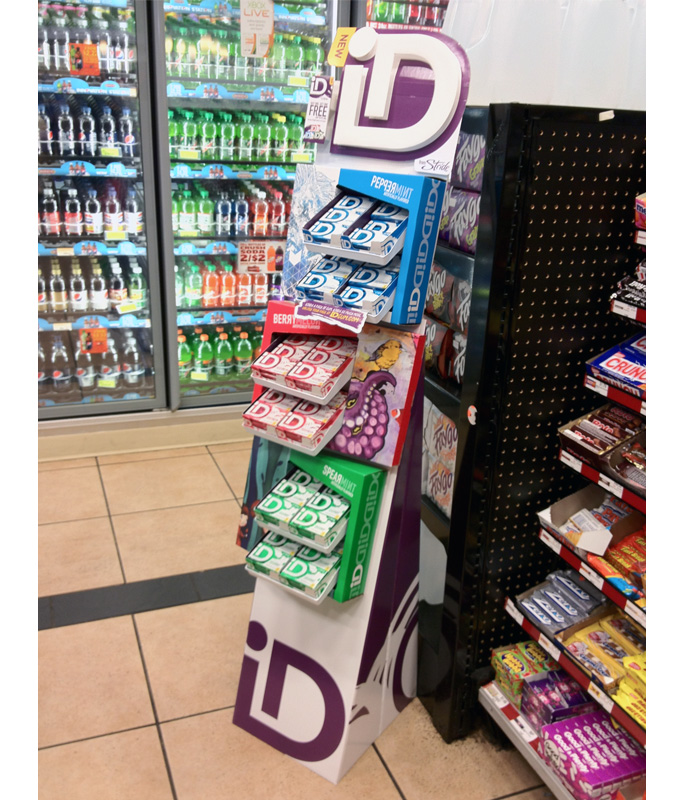 Inconjunction with clever packaging, Kraft certainly hit the mark with their marketing efforts on all of the various POP merchandisers deployed at retail. Shown below are two POS pieces that can be found in mass merchants, supermarket and c-stores across the US. BOGO coupons were incorporated into the floor stand display to further increase consumption, build loyalty and promote long-term category growth.
According to Vending Times, Kraft chief executive Irene Rosenfeld said chewing gum is a priority for the food giant. She also said "innovation and the need to hit lower price points" is Kraft's chief strategy to expand the gum category.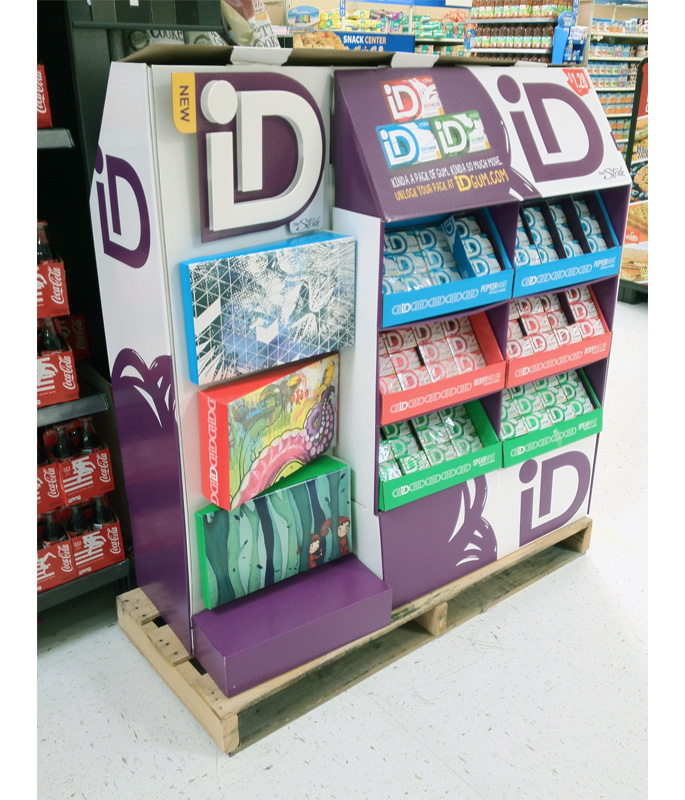 Despite recent growth across much of its portfolio, Kraft's gum and candy business has lagged in Europe and North America. Kraft's Cadbury gum brands — including Trident, Stride and Dentyne – were down mid-single digits in 2011.
ID gum is set to ship in August right alongside the all important back-to-school shopping season. In addition, a snazzy Facebook page was created to showcase new package designs and marketing ideas to keep teens socially engaged beyond the initial purchase.