With the surge in international brands heading towards the Indian market, it is easy to drown in the clutter of brand communication that shouts – 'pick me, take me'. This WOW factor makes it harder for a brand to create a visibility platform which highlights not only their uniqueness but also creates a connect with shoppers. It really takes a lot of effort in today's marketplace to make your brand presence come alive at retail. Pringles, from the Kellogg's stables, collaborated with SAB Creations Pvt Ltd to create the WOW factor with an exciting campaign that is hard to ignore.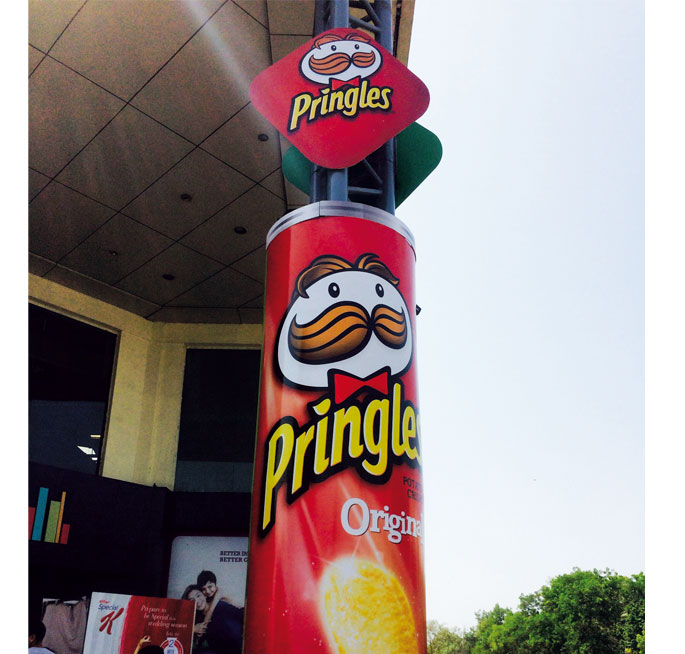 Pringles, a well-known international brand in the krisp category, recently launched their 99gms pack with general and modern trade retailers. Their initial phase included launching a floor stand display in the general trade to create hype amongst the masses. The next phase was all about targeting the shoppers at MT retail chains by creating spectacular larger-than-life displays to increase brand awareness and visibility for their new variant.
Below are the details which went out to create the iconic campaign.
For General Trade
The brand approached SAB Creations to develop retail visibility elements at the general trade level. They were looking for a floor stacking Unit (FSU) that met the following requirements: emphasize the iconic design of the canister, appeal to youth as they are the primary target audience, bring out the flavors of Pringles, keep it simple as it needs to go in general trade, maintain the premium look and feel of the brand.
Keeping the above in mind, The SAB Creations team began the design process. A lot of design options were explored before they came up with the final version which was well received by the Pringles team. The brand required two variants in the FSU design – one to accommodate 12 packs and the other to accommodate 24 packs. The 5500 floor stand displays produced were made out of metal and PP sheet with offset printing and were dispatched to various retail locations by the Pringles team.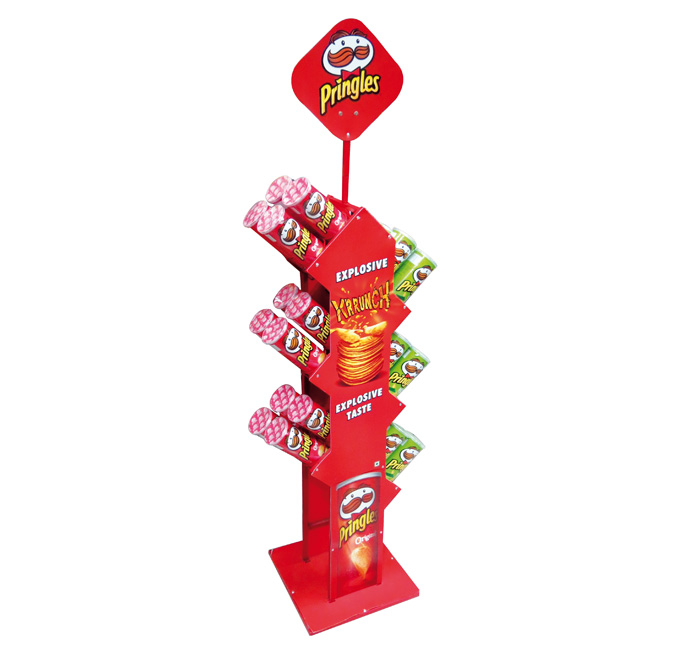 For Modern Trade
After general trade, team Pringles wanted SAB Creations to design and create spectacular displays in modern trade, specifically at the Hyper City Malad. The brand was looking to create awareness and visibility so SAB Creations designed and developed massive-sized 3D dummy packs that were placed on top of the bay. The size of the 3D mock pack was 15ft (w) x 4ft (h) and was made using MDF with metal skeleton and star-flex digital print. These huge replicas were challenging for SAB Creations as the team had to adhere to the brand guidelines while maintaining a premium look and feel.
In addition to all of the in-store promotional pieces, Pringles took their marketing message outside the store with an innovative pillar display in the shape of the canister which was branded half with the red pack and half with the green pack.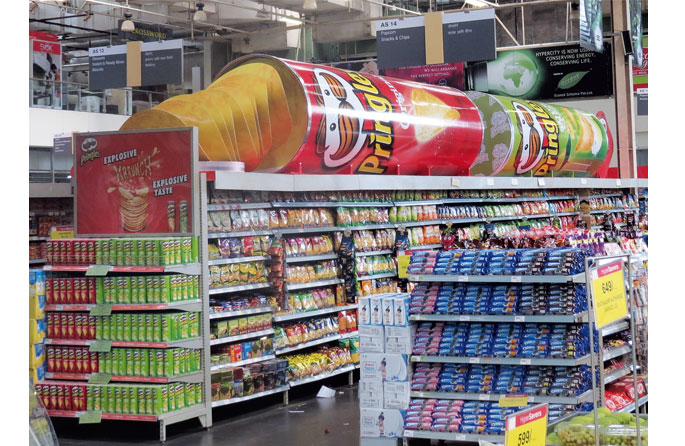 According to Jalpa Vyas, Design Head, SAB Creations Pvt Ltd, "This launch was a great success. Pringles increased their sales by leaps and bounds due to well executed displays. The store keepers said they were unable to match inventory stocks. The success of the design depends upon its ability to create the visual impact. We were happy to have achieved our goal. We knew it worked when we observed the excitement amongst the shoppers when they saw this spectacular display. They were stopping by and clicking photos. Team Pringles was extremely happy with the outcome, as we turned around the entire project in three days."

Says Balaji Murugesan, Director, SAB Creations Pvt Ltd, summing up the whole project, "This case study is a classic example of winning at the Point of Purchase."