Popon is pleased to bring you our 20th installment of cool POP displays, trends and ideas. Our vigorous store checking schedule presents us with numerous interesting examples of designers and brands coming together to deliver outstanding promotional materials that we like to share with our audience of dedicated POP professionals.
As always, if you are interested in showcasing some of your unique designs and promotions, do not hesitate to contact us for more details.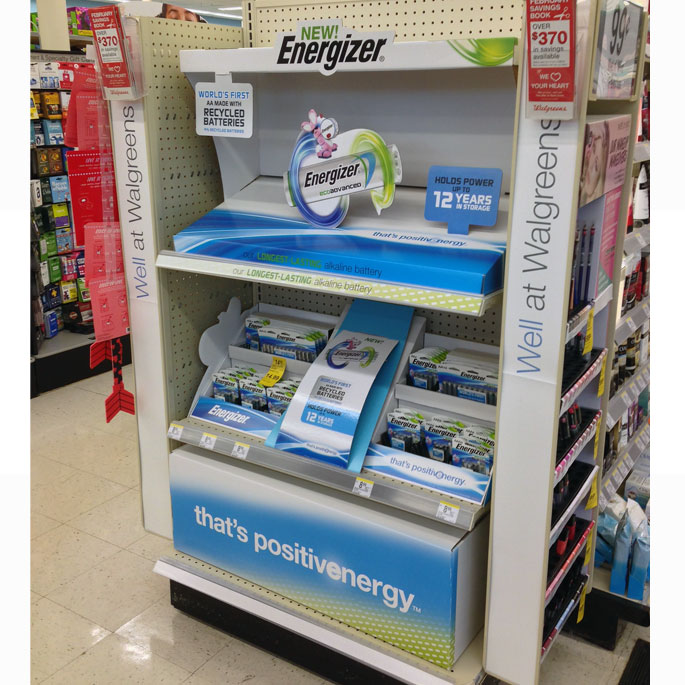 Energizer EcoAdvanced End Cap Gives Positive Energy
They said it couldn't be done……..a battery made with recycled batteries that maintains high runtime…….well, Energizer has proven their critics wrong. Combining award-winning science, technology and exclusive partnerships, Energizer is proud to be the first brand to introduce the world's first AA battery made with 4% recycled batteries.
Continuing their commitment to producing the most environmentally responsible products, Energizer, in conjunction with their recycling partners, have a collective vision to increase the amount of recycled content in their batteries. According to an earlier press release, Energizer's chief marketing officer Michelle Atkinson stated, "Our future innovations will continue to reduce the impact Energizer batteries have on the planet. By 2025, our vision for Energizer EcoAdvanced is to increase the amount of recycled battery material tenfold to 40%."
Energizer is bringing their new technology to consumers with several Point of Purchase displays in most U.S. retailers. The feature end cap display shown above is just one of many merchandisers delivering eco-brand claims to shoppers. Consisting mostly of creative shelf signage, the end cap presents Energizer's marketing messages via the top and lower graphic pieces. Sandwiched in the middle, a corrugate tray features several different packs of AA batteries.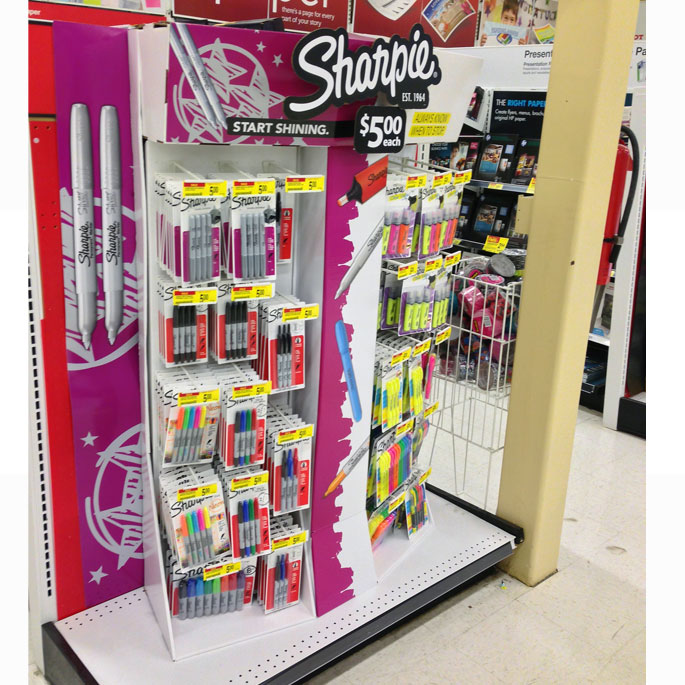 Start Shining Sharpie End Cap Display
Newell Rubbermaid hit office supply retailers recently with this visually appealing end cap merchandiser. The display featured several multi-pack variants but highlighted their metallic series using the Start Shining tagline and silver graphic symbols printed on the backer and riser.
Sharpie's metallic markers are made with a specially formulated opaque permanent ink in metallic gold, silver, or bronze which leave a brilliant sheen on both light and dark surfaces. Unlike paint markers, you don't need to shake or pump the metallic marker to get it started because the ink already resides in the fine-tip point.
Newell Rubbermaid is a category leader when it comes to marketing their Sharpie brand. Below you can find some links from our image gallery to a few other great examples of Sharpie displays that made a splash at retail.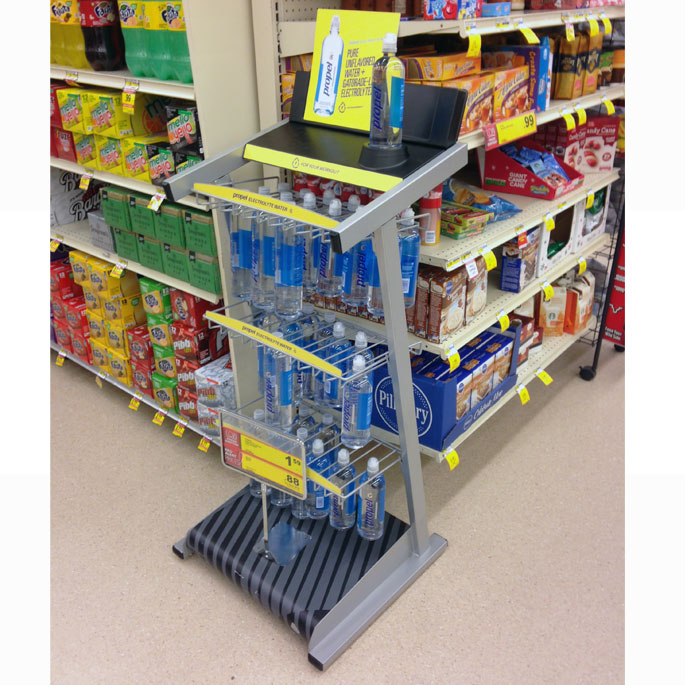 Propel Treadmill Display Keeps Shoppers In Shape
Fitness water brand Propel recently launched an unflavored water that contains Gatorade-level electrolytes to help fitness buffs get the most out of their workouts. Touted as the next level in hydration, Propel replenishes critical electrolytes which help the brain communicate with muscles and regulate the fluid balance throughout the body.
As stated in a recent media release, "It means something to consumers to say that there's Gatorade level of electrolytes," said Brett O'Brien, senior vice president and general manager of Gatorade.. Even if consumers do not understand what electrolytes are, they understand that they're associated with Gatorade, a performance drink with a 50-year heritage. "It was kind of a badge of trust to put that on there."
In addition to print and television commercials, PepsiCo is reaching consumers in-store with this innovative display. Designed to represent a treadmill, the floor display has a mini running deck and simulated control panel area that houses a Propel bottle. Additional product is merchandised via wire loops that suspend the bottles.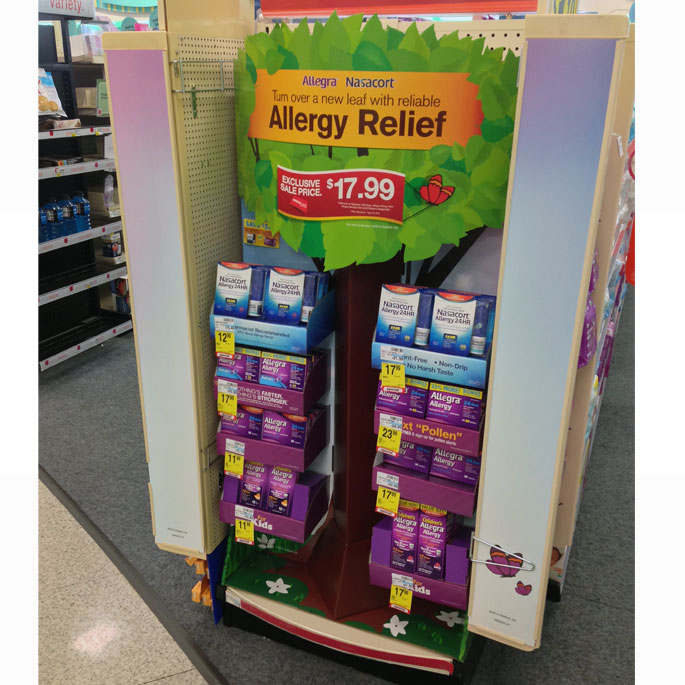 Allegra And Nasacort Turn Over A New Leaf
According to the American College of Allergy, Asthma & Immunology, allergic rhinitis, often called hay fever, is estimated to affect approximately 50 million people in the United States. They say the number is growing, and affects as many as 30 percent of adults and up to 40 percent of children.
Allergy category leaders, Allegra and Nasacort, were out in full force during the recent spring allergy season offering shoppers the one-two punch with their proven products. Facing tougher competition with the launch of Flonase this past February, Sanofi has ramped up marketing efforts to ensure the brands maintain their presence at retail.
One example of their commitment on the POP side of their promotional spend is this full end cap display. Spotted at CVS, the tree-shaped display merchandised several Allegra variants as well as Nasacort products. In addition to the wide range of allergy products on display, shoppers were offered a $3.00 savings via the coupon pad affixed to the back panel.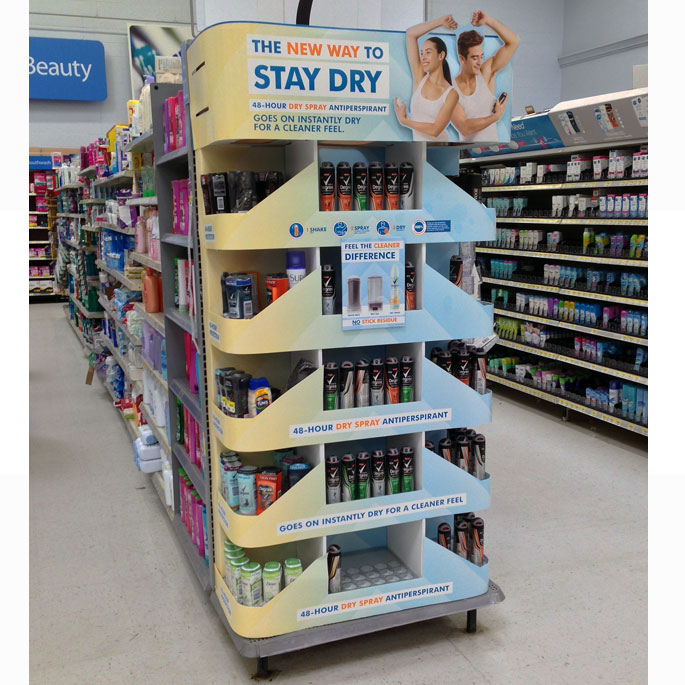 Dry Right From The Start
Top deodorant brand Unilever has expanded its personal care products with the debut of a new line of dry spray antiperspirants. According to their website, the new dry spray antiperspirant lets you spray on strong protection that dries instantly with no visible residue and keeps working for up to 48 hours. Unilever is offering the spray formulas in the following popular deodorant brands…..AXE®, Degree®, Dove®, and Dove® Men + Care®.
Back in the 1970's, the popularity of spray deodorants eroded because the propellants used in them were not environmentally-friendly, driving consumers into the stick deodorant market. Unilever hopes to create new interest with their spray products by offering a lighter package design and a more advanced sustainable propellant system.
The launch was supported by several retailers, TV, social media and in-store circulars. All of these new products are being promoted on store shelves and in POP vehicles.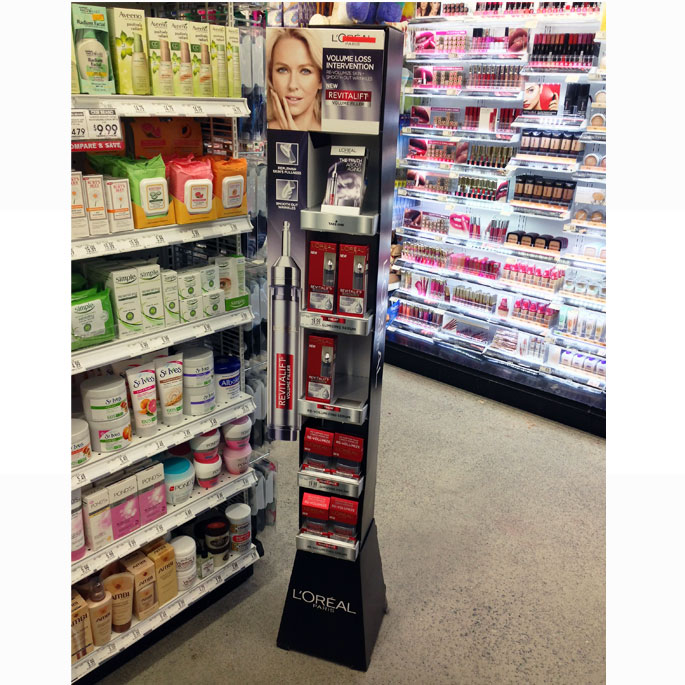 L'Oréal Paris Reveals a New Collection of Anti-Aging Skincare Products
L'Oreal has revealed a new collection of anti-aging skincare products designed to help correct skin volume loss. According to L'Oreal's website, the special formulation found in their new Revitalift Volume Filler contains exceptionally high concentrations of skin plumping ingredients Hyaluronic Acid and Fibroxyl, providing an effective solution to thinning skin, fine lines, wrinkles and volume loss.
To help shoppers seeking more youthful looking skin, L'Oreal has launched several POP displays in store. Frequently purchased together, the floor stand shown above merchandises the serum and cream Revitalift products. To help promote the science behind the product, L'Oreal included take-away brochures as well as a mini informative area just above the large product shot on the left graphic wing.