The J.M Smucker Company plans to introduce more than 100 new "clean" and "healthy" products in the coming year. A lot of the products are based around healthy alternatives driven by consumer demand. Mark Smucker, president of the Consumer and Natural Foods division stated that most of the recent and future launches are about clean labels based on simpler and better ingredients.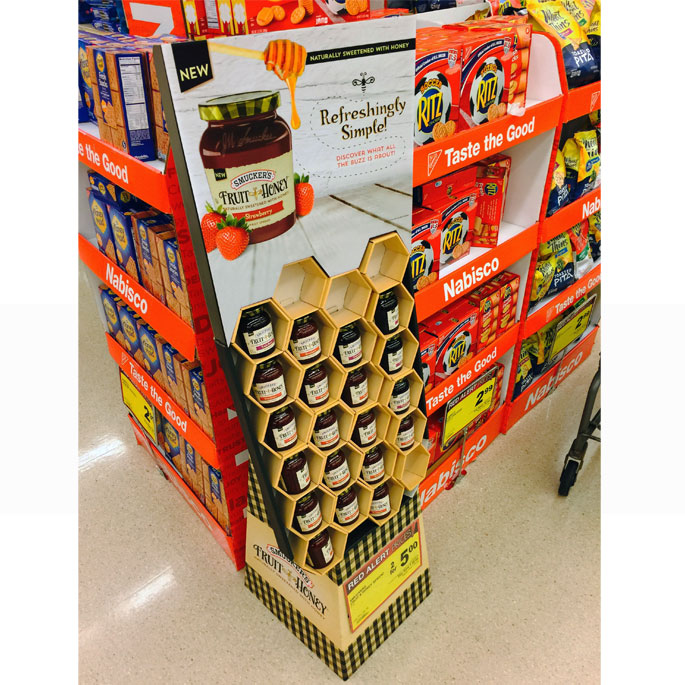 One of the segments Smucker's will be increasing its footprint in is the specialty spread category. "Looking ahead, we will be introducing fruit and honey fruit spreads, which we believe will resonate with consumers looking for alternative natural sweeteners," said Paul Smucker Wagstaff, president, U.S. retail consumer foods in a recent press release. "Honey has shown the most growth among sweeteners with many consumers using it every day as a substitute for sugar."
To support the launch of the Fruit & Honey line extension, Smucker's deployed this 'sweet' floor display to promote the new variant in store. Complete with product shot, a large and visually appetizing riser invited shoppers in for a closer look. A clever merchandising approach was achieved by designing the cubbies to resemble the honeycomb shapes found in bee hives. Albeit, labor intensive to assemble but quite effective. A checkerboard graphic pattern on the base completed the look.