Have you missed seeing the Pepsi truck on the road? Recently, you could have spotted it inside a store, quite literally. A massive look-alike Pepsi truck was placed inside Spencer's (India) to disrupt the aisles and grab the attention of shoppers.
The in-store branding initiative was part of a larger campaign that focused on the launch of the brand's new visual identity system which included trademarks, logo and packaging amongst others.
The 30 ft. long x 6 ft. wide x 8.5 ft. tall truck was stocked with PepsiCo snack and beverage products. In addition to plenty of products, a TV screen was mounted to the back of the truck that featured looped PepsiCo' commercials.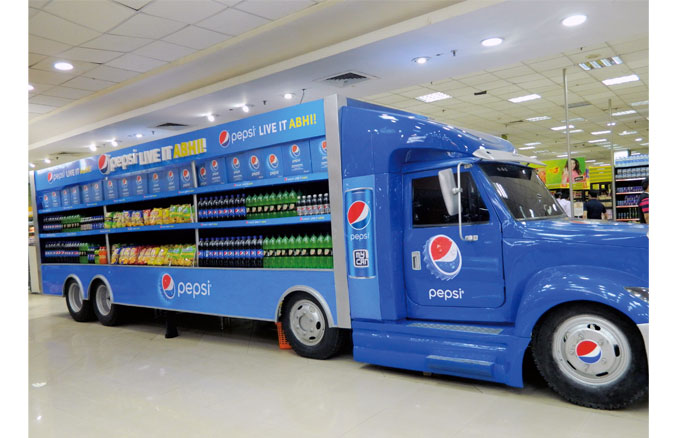 "This is a first-of-its-kind installation that is designed to create brand awareness and excitement for shoppers in-store. The Pepsi truck is becoming a center of attraction for consumers wherever it goes and has been a perfect launch platform for unveiling Pepsi's new identity system." shared a PepsiCo India spokesperson.
While selecting modern trade retailers to display the 'truck', the brand looked for stores that generated high footfalls and enough space for shoppers to interact with the display. In addition to its retail presence, PepsiCo also used social media to encourage shoppers to take their own pictures with the 'truck' and upload them to Facebook under the hashtag #LiveItAbhi.
"Shoppers are loving the Pepsi truck. They are excited and they love to take pictures with the truck in the background. The initiative has created extensive consumer buzz, " added PepsiCo's India spokesperson. The truck campaign drove incremental conversions which resulted in sales growth at all locations where the display was deployed.