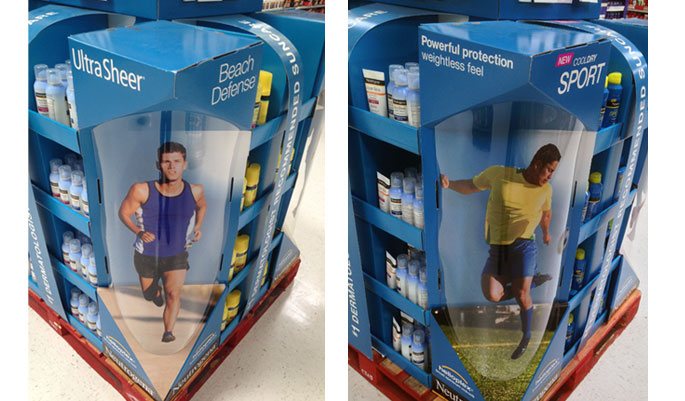 Johnson & Johnson, makers of Neutrogena and Aveeno skin care products, recently rolled out this sporty pallet display at Walmart stores. The four-sided pallet featured some of the brands top products that help outdoor enthusiasts block the sun's damaging rays.
New for 2015 – in addition to the wide selection of sun protection variants (Ultra Sheer, Beach Defense and Aveeno protect + hydrate) on the pallet, Neutrogena is using this marketing opportunity to debut a new product line called CoolDry Sport.
The CoolDry Sport line, which uses Helioplex (TM) and Micromesh (TM) technology, is being touted by the brand as the next innovation in suncare. Most sunscreens can leave a greasy feeling that makes skin feel hot and suffocated. CoolDry Sport is formulated to eliminate that glazed feeling so your skin stays naturally cool, comfortable and protected.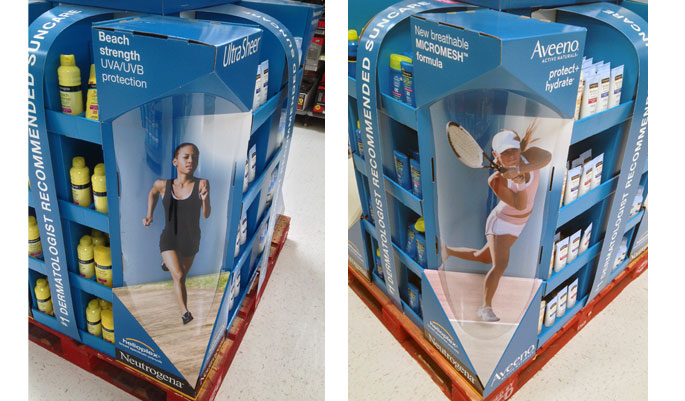 The Design…..aside from basic branding, the hero on the display was the curved graphic corners which served as great visuals against the cool and refreshing blue display components. As you can see from the above photos, each corner featured an image of an athlete which was printed onto a clear plastic sheet. The printed sheets were sized large enough to create a curved effect when tabbed into the corner supports. The detail that really made these graphic pieces pop was the artwork printed on the angled panel underneath each of the four athletes. The overall effect gave the appearance of motion and depth…..extremely effective.