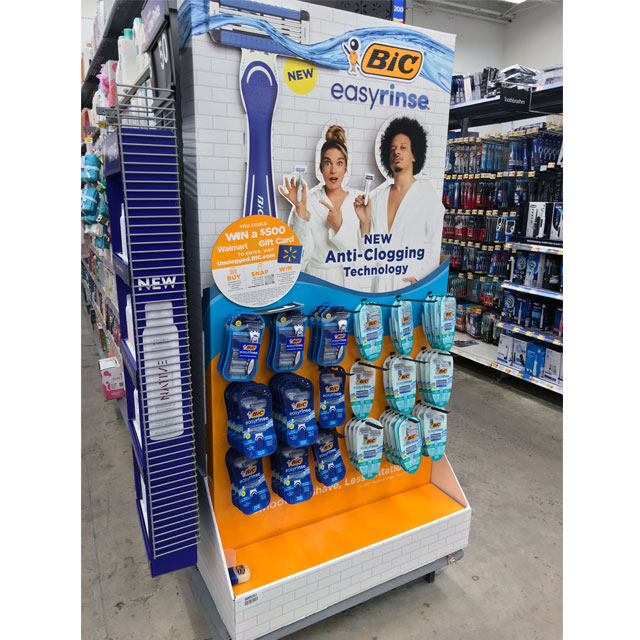 Building a Better Razor
Just how many blades do you need? BIC spent the last 5 years researching that very question and have developed a new razor that improves the shaving experience. Their solution, the EasyRinse, is a razor head that uses four blades that are spaced apart to reduce clogging. BIC also redesigned the razor head to put more even pressure on the skin, reducing nicks and cuts. All of these innovations resulted in the company filing 21 patents.
"We know 92%1 of people who shave experience clogged razors, so we are thrilled to announce that BIC has solved razor clog once and for all with BIC EasyRinse," said Katty Pien, VP of Marketing for BIC North America.
To help promote the launch of the EasyRinse razor, BIC has several marketing programs that target shoppers from multiple channels and platforms.
BIC is teaming up with comedian Eric Andre and actress Annie Murphy to introduce its newest shaving innovation. The campaign is called "All Shave. No Clog."
Buy-Snap-Win…….is a prize contest where shoppers provide a screenshot of their receipt and upload it to a website for their chance to win a $500 gift card or thousands of dollars worth of prizes.
In-store displays – several major retailers are supporting BIC's launch with point of purchase displays, like the end cap shown above which was produced for Walmart.
Most of the marketing programs were created by M Booth which was recently chosen as the company's PR AOR for North America. BIC EasyRinse for women and men is available now online and at retail stores nationwide.
Check out more BIC Displays
BIC Four Sided Razor Floor Stand
Bic More For Your Money Razor End Cap
Long Lasting Blades End Cap Display
Bic Shave More Save More End Cap Display
Sources include:
prnewswire