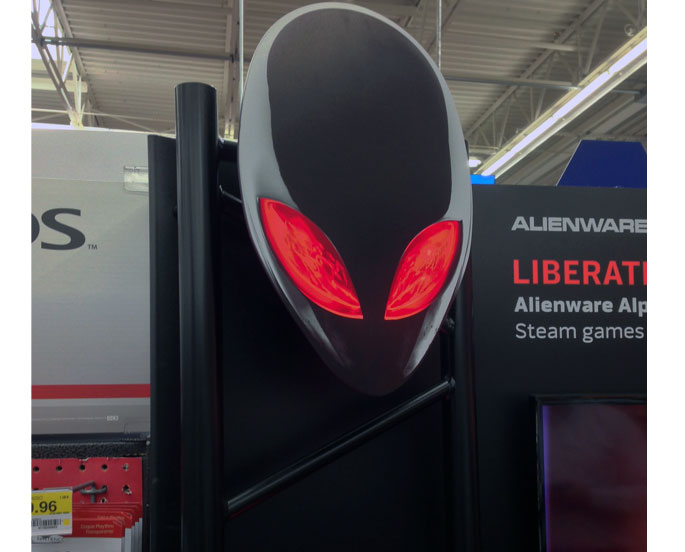 Established in 1996 by Nelson Gonzalez and Alex Aguila, Alienware is a high-end manufacturer of desktops, notebooks, workstations, and PC gaming consoles. According to employees, the Alienware name was chosen because of the founders' fondness for the hit television series The X-Files, hence the theme to their products, with names such as Area-51, Hangar 18 and Aurora. Alienware became a subsidiary of Dell in 2006 and continues to create some of the most legendary gaming systems on the planet.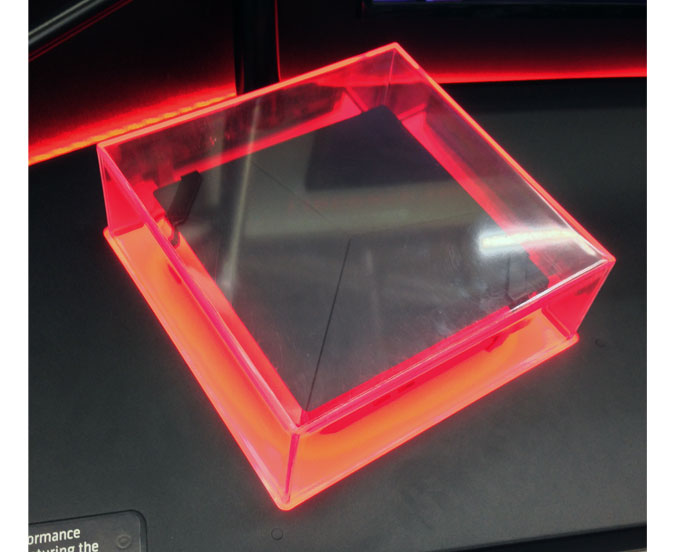 The product on display in this article is the brand's latest cutting-edge gaming system, the Alienware Alpha, which combines the freedom of PC gaming with the ease of a console. The exclusive Alienware-UI (user interface) allows gamers to navigate all of the consoles core functions without the use of a mouse or keyboard. With the Alpha console, users have quick access to thousands of their favorite games by connecting up with Steam Big Picture.
DUAL FUNCTIONALITY : The Alienware Alpha enables gamers to boot directly into Steam Big Picture for instant action or they can take a more traditional experience deploying a full version of Windows 8.1, allowing them to choose how they want to use the console. In addition to the dual platform functionality, another cool feature of the Alpha is its compatibility with most gaming controllers.
"We've been working hard this past year to break the mold and develop a system that finally brings hundreds of Steam games, including some really fun indie titles, to TVs." Said Frank Azor, General Manager of Alienware. "The team and I are excited to finally deliver our vision for big screen gaming and give our fans a console that  delivers true next-gen performance with the flexibility to choose how, what and where they want to play."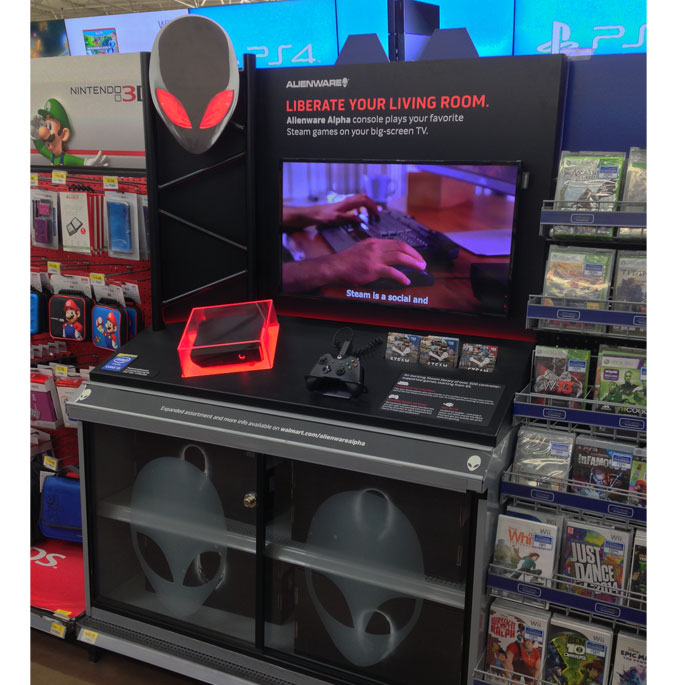 Alienware's new Alpha console recently landed in retail gaming aisles with this illuminated merchandiser. There are usually some pretty cool disruptive marketing pieces in the category but Alienware's inline display is a stand-out amongst the competition. The first thing that catches a shoppers eyes are the three illuminated areas featuring the Alienware logo, console cover and copy just above the demo screen.
Once shoppers are abducted by the red illumination, they are able to engage with the gaming controller and educational screen which highlights some of the unique product attributes included with the Alpha. Protecting all of the expensive product, two lockable, sliding doors featured alien head graphics, creating a nicely branded look from top to bottom. Gamers looking for the complete package were given an opportunity to purchase Steam game gift cards which were displayed in pockets consisting of three different incremental values.