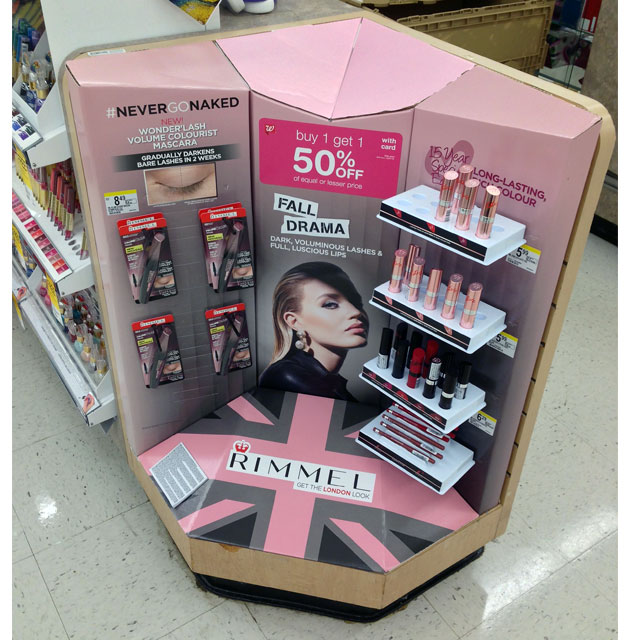 Voluminous Lashes & Luscious Lips Cause Fall Drama
Rimmel hit Walgreens drug stores with this great looking display which dares shoppers to empower their lashes with WonderLash Volume Colourist Mascara, Rimmel's first mascara combining instant full volume with gradual lash tinting.
In addition to showcasing the brand's new variant, the display also merchandised lipsticks and eye liners in vacuum-formed trays. The use of pink-to-grey gradients created a nice graphic touch from the top down, ending on the Rimmel logo base. Overall, the use of structural facets and color execution created  great visual appeal for this promotion.
Related
Keep Calm And Lip Balm Floor Display
Rimmel Buy 2 Corner Shelf Display
Rimmel Keep Calm And Balm End Cap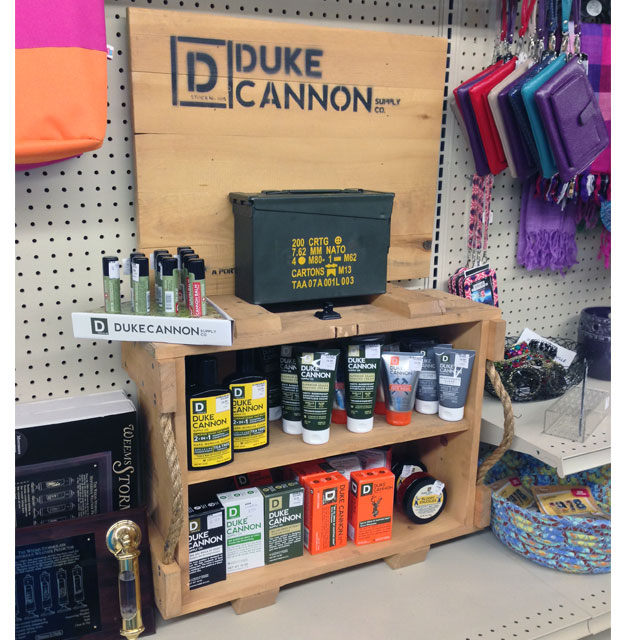 Duke Cannon Isn't For Everyone
Truth be told, we never heard of Duke Cannon until we found this display in a small-town hardware store. So here's a little bit of background as described on the brands' website about the company. Excuse the CAPS or not, but Duke Cannon's entire site utilizes bold type, all in CAPS!
THE SHAPE AND SIZE OF DUKE CANNON'S BIG ASS BRICK WAS INSPIRED BY THE SOAP ISSUED TO G.I.'S DURING THE KOREAN WAR. IT IS PRODUCED IN THE SAME U.S. BASED, FAMILY-OWNED PLANT THAT WAS THE SOLE SUPPLIER TO THE MILITARY DURING THAT ERA.

TODAY WE CONTINUE TO GAIN INSPIRATION FROM THE FINE SOLDIERS SERVING OUR COUNTRY WITH OUR RELATIONSHIP WITH BRAVO COMPANY 2-135.
Carrying over their military influence, Duke Cannon landed in select retailers with this very fitting shelf display. Designed to resemble an ammo box, the display instantly characterizes the brands military heritage with the rope carry handles and wood structure. Several variants were merchandised on the sturdy shelves. Definitely a unique display for an even more distinct brand.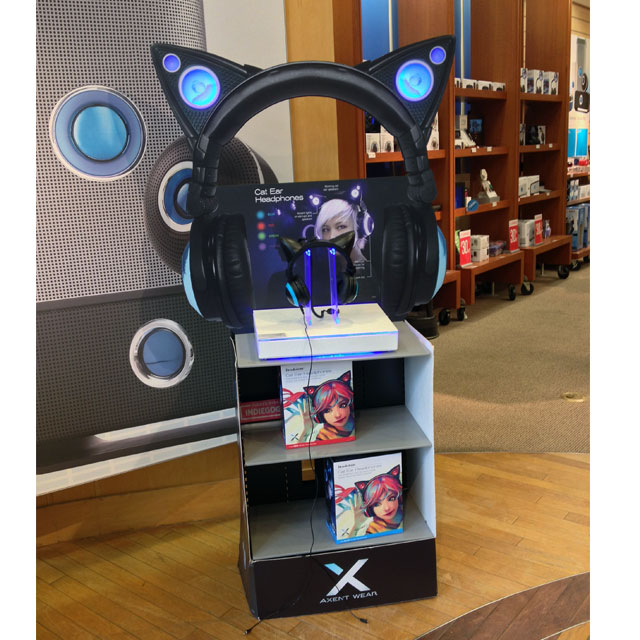 The Purrfect Way To Enjoy Your Music
Manufactured by Axent Wear and originally funded by Indiegogo, Cat Ear headphones can be found online and in specialty retailer Brookstone. The headphones are designed to be enjoyed individually or as a group. With the flip of a switch, the headphones transform from a private sound studio to a sound system that pumps through the external cat ear speakers.
The brand launched this floor display in Brookstone stores to promote the headphones at-retail. The upper portion of the display does a great job of generating attention in-store and providing shopper engagement via the demo headphones but the lower half could use some structural help.
Related
Sport Performance Shelf Display
Hear Your Music Come To Life Shelf Display